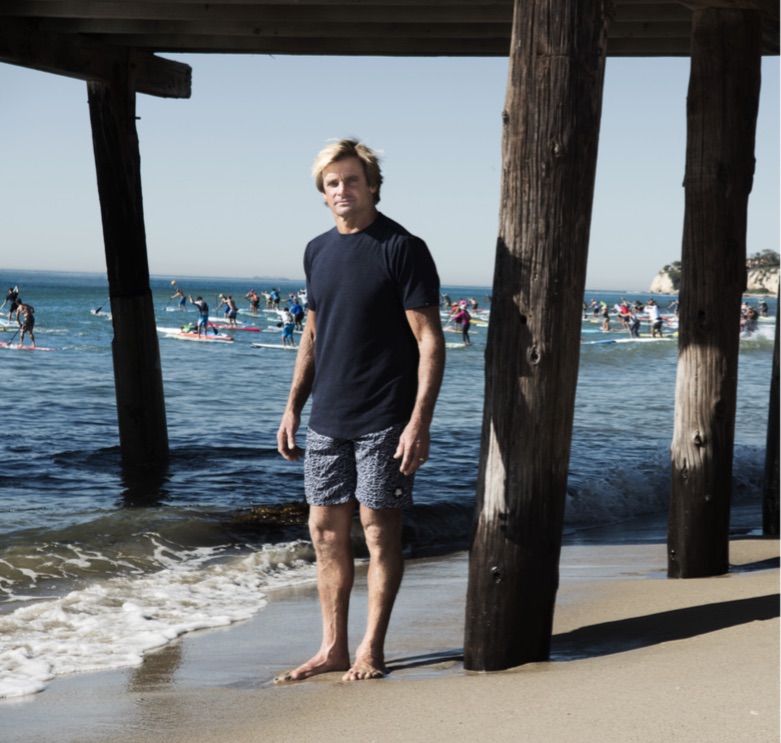 Photo Credit: Jennifer Cawley
When you hear the descriptor, "Half eccentric scientist, half 12-year-old boy," Laird Hamilton does not come to mind, not even a little bit. At 6'3" and 215 pounds with flaxen hair and olive green eyes, the 52-year-old best known as the best big wave surfer in the world looks every inch his former model self.
However, according to William Cawley, the CCO of Hamilton's new clothing company, Laird Apparel, the surf pro's boyish good looks completely fit a man who is truly young at heart because he "has not lost the ability to wake up in the morning, jump out of bed, run outside and do something completely different every single day." Essentially, his freedom of imagination transcends age, space and time.
Laird's innovative spirit is a simple fact. In addition to his storied, though completely non-competitive surfing career, he can be credited with the invention of tow-in surfing, as well as stand-up paddle boarding and hydrofoil boarding. He has acted, written a book, modeled for fashion books and action sports, and has a business portfolio that includes fitness equipment, coffee, SUP paddle equipment, nutritional supplements, branded exercise programs and, now, his own clothing line.
Some might be surprised that Hamilton—who readily admits that his idea of dressing up is "wearing a pair of walk shorts"—decided to start an apparel company. Longtime friend and actor, Sacha Baron Cohen, even joked, "The last person in the world I thought I would ever hear owns a clothing company would be the guy I've never seen wearing clothes other than board shorts his entire life."
But that's precisely why Hamilton is the perfect person to own a brand that's both functional, technically crafted and performance-based, yet still casual and cool. "I thought that, after having an apparel sponsor for 20 years, it was probably time for me to figure out how to do my own line. I selfishly wanted to build products that are more reflective of me, the space I need and the things I want but can't find," he says.
"I think there is a void [in the market]. I feel like the authenticity of what I want to bring to an apparel line is very unique. It has to have function and be aesthetically harmonious to what I do. At the end of the day, if you make stuff that's based on function and comfort, then I can't see how that wouldn't be a line that everybody wants."
The collection, which officially launched last October, is separated into three parts: Off Shore, Fitness and Lifestyle. Unsurprisingly, his favorite pieces are the board shorts. "I'm pretty simple," he states. "I live in Hawaii in the wintertime and Malibu in the summertime. I eat, sleep and do everything in T-shirts and surf shorts. Those are the mainstay, the things I'm in all the time."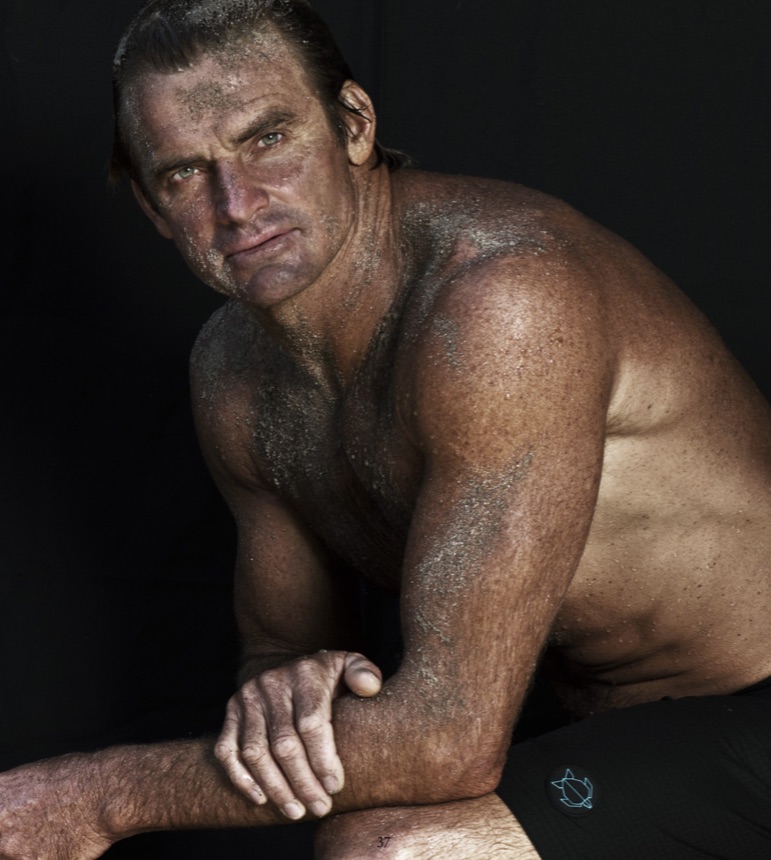 Photo Credit: Jennifer Cawley
They're also items that completely suit his lifestyle, wherever he may be. Hamilton can be found in the mud, dirt and jungles of Hawaii in excavator shorts, or hanging out by the pool in Cabo San Lucas in board shorts, or exercising at his Malibu casa in workout shorts. "These are situations that are authentic to me, and the line reflects this," he notes.
His eventual goal is to house all of his brands—including his branded Laird Superfood Guatemalan coffee—in several flagship stores across a variety of markets and expand to include womenswear. He adds, "I want to create a space where people can go and have a unique experience."
"My aspirations for the brand are to build it to a point where I'm able to sponsor people like myself [who] have dedicated their lives and work to their sport and their athleticism, and do what companies did for me, which was to support me so that I could pursue my dreams and not have to subsidize my sport with any other means in order to survive."
As someone who abstains from emailing, texting and social media unless he absolutely has to, Hamilton says, "I don't want to be bogged down by certain details." He lives very 'analog'—a full inbox would likely fill him with horror and send him straight to the surf for fewer complications.
He explains, "As far as my life and my approach to the bigger picture, I have certain demands when it comes to quality and authenticity. I have a really clear vision of where I see the company going."
Laird Hamilton has always been connected to the sea. He was born in San Francisco under the water sign, Pisces, in an experimental salt water tank called a bathysphere. He spends half of the year in the luxe SoCal surf community of Malibu, which, literally translated, means 'the surf that sounds loudly," "where the mountains meet the sea" and "gateway to the sea." (Not so coincidentally, it is also the name of a long surfboard with a rounded front end.)
The waves were always his destiny. Hamilton grew up in Hawaii, where he first learned the sport from his stepfather, former pro surfer Bill Hamilton. At the age of 16, he left high school to pursue a career in modeling and was discovered on a beach in Kaua'i by a photographer from the Italian version of Men's Vogue, called L'Uomo Vogue, landing him a modeling contract soon after.
Although Hamilton dislikes being the center of attention, hates the concept of celebrity and firmly eschews the spotlight unless he's sharing it with someone else, Hollywood also briefly beckoned, which led him to star in the 1987 film, North Shore. Despite cameos in films like The Descendants and last year's Point Break reboot, movies aren't Hamilton's particular bag—despite the fact that he's been a SAG member since his teens and that he is often pursued for film roles.
"I'm not pursuing it; I don't have an agent," he says. "I'll [only] do a reading if it makes sense. I look at it as part of my business, part of my brand. Athletes are in the entertainment business. It's one of the pieces of our work, and I treat it like that."
The film industry inadvertently led him to experience his most death-defying moment— aside from surfing a seven-story giant wave in Tahiti, named the riskiest in the world. While acting as Kevin Costner's body double in the 1995 film, Waterworld, Hamilton was also nearly lost at sea. "[I was lost] long enough to get scared," he admits now. "The fog was really bad, so there was low visibility and a unique current that was a lot stronger than normal, so it pulled me way off course. If it wasn't for the coast guard, I don't know if I'd be here right now. I'm lucky that I had an emergency tracking device and that they actually found me."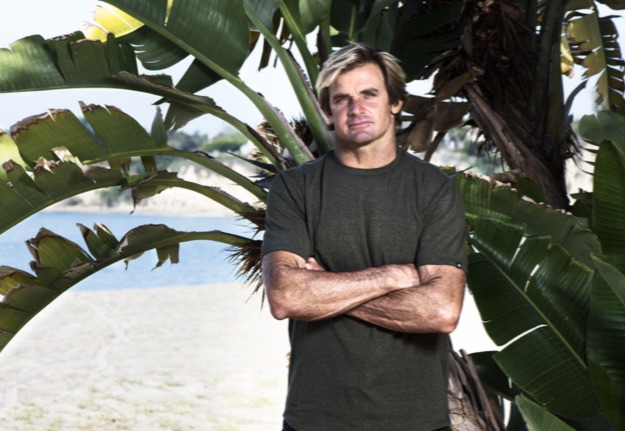 Photo Credit: Jennifer Cawley
In part, the ordeal inspired the slogan that would become his brand's motto—'Live. Life. Alive.'—and gave him a new lease on life. "You reflect [afterwards] and promise God you'll return from your sinful ways if he gets you back to shore," he says. When we ask how that worked out, he laughs, "For a time!"
He's joking: Hamilton's life is nothing near sinful. If anything, he's busy and fulfilled. Most of his time is spent with his wife, professional beach volleyball player turned model and TV star, Gabrielle Reece, and three daughters—his youngest are with Reece; his eldest is from a previous relationship.
Otherwise, he is working on his clothing line, having a Super Bowl-style season on the waves, surfing six or more times a day, working on solving environmental problems through biomimicry (empowering people to create nature-inspired solutions for a healthy planet), focusing on healing after his recent hip replacement surgery and, for the past year, traveling around the world filming a story about his life, funded by the World Surf League—including an adventure in Bermuda last October with Larry Ellison's Oracle Team USA.
Hamilton is constantly inventing, using his barn in Hawaii as a workshop of sorts for the 30 to 40 creations he has either shaped, designed, participated in, or tested. His current focus is jet surfing, using a compact board that has surfing purists rolling their eyes at his audacity. But hey, this is a man that dreams big and dreams often.
On that note, the mad scientist in superhero skin ponders what he wants to leave behind. "I consider myself to be more of an inventor," he says. "I have family roots in science, and I think of myself as more of a mathematician and a scientist than I do a surfer. I just happen to surf. I'd like my legacy to be, ultimately, my innovations."
At the end of the day, surfing, designing and inventing are simply different art forms. Let's just say Laird Hamilton is the modern-day master of them all.