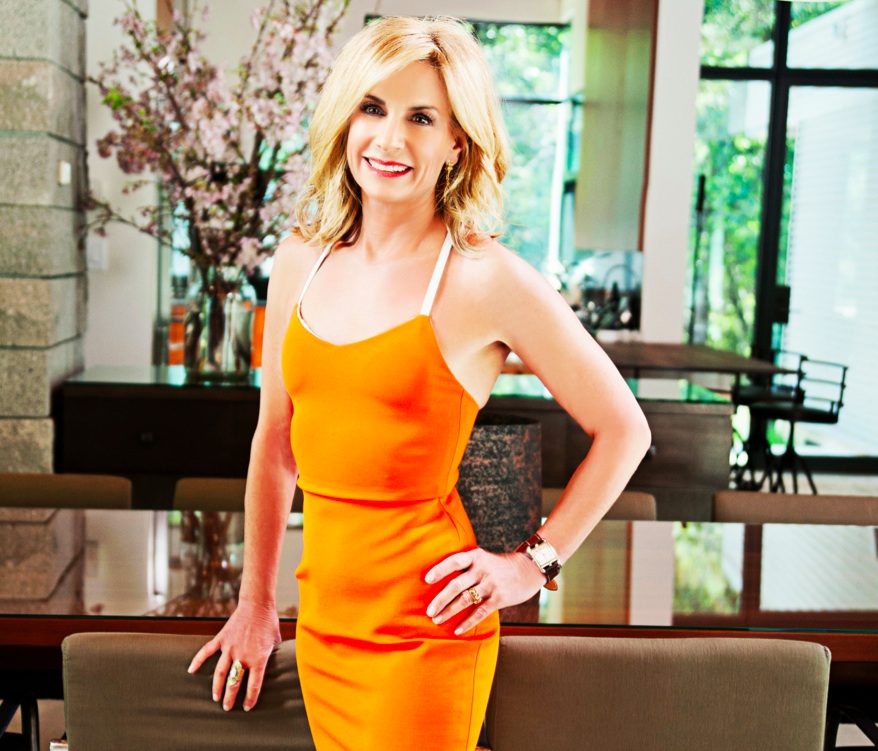 Photo Credit: Andreas Branch
Jamie McCourt is an anomaly: not only does she readily admit to making mistakes, she travels around the country teaching others—women, specifically—how not to follow in her footsteps.
McCourt, the former co-owner, president and CEO of the Los Angeles Dodgers, was once the highest-ranking woman in baseball, as well as one of the overall most powerful women in sports. But after divorcing Frank McCourt in 2011, she lost the team she had worked so hard to build, and was awarded $131 million in her divorce settlement—a tidy sum, sure, yet nowhere close to the $2.1 billion her ex-husband received when he sold their team to the Guggenheim Group.
She has spent the last six years starting over, paying for the financial missteps she made during her marriage—namely, not knowing enough about or being in control of her family's finances—and empowering women to be both financially solvent and intelligent so that they don't wind up like her: losing nearly everything she worked so hard for.
"What I want to teach [women] is why it's important to be self-sufficient," she says now. McCourt is sitting in her John Lautner-designed Malibu mansion, sun-kissed, relaxed and barefoot, coming off strong. Warming to her theme, she elaborates on the talk she gives at institutions like Harvard and MIT, simply titled, 'Money.' "My whole underlying speech is the fact that we don't talk about money because we're raised culturally to be embarrassed to talk about [it]."
Trust us, McCourt is no longer embarrassed. Not only has she also taught a pioneering class at the UCLA Anderson School of Management—`The Pursuit of Leadership: A Female Perspective' was the first accredited graduate-level leadership course specifically designed for women at a leading U.S. business school—but she's now writing a book on the subject.
"[The book will discuss] why it's important for women to be financially literate. I might call it 'Money'—I might call it what the speech is—because it's hit such a nerve. My reason for doing it is, I feel like if I was a lawyer, had a business degree, owned and ran a sports team and am in the real estate business, and this could happen to me, what's happening to everyone else?
"I am uniquely qualified to tell everyone all about my mistakes and how not to make them," she adds, noting, "You don't want to live through that to have your next subject to talk about but, the point is, I did, so how am I going to help people with it?"
Her purpose, she's found, is not only lecturing about financial self-sufficiency, but weaving in another topic in which she's well-versed. Through her investment firm, Jamie Enterprises, she has invested in high-value real estate, biotechnology and tech start-ups, like ZipCar, Kite Pharma and Heal.
"I tell girls now, 'Be your own start-up,'" she states. "I will say, 'Whatever you think you deserve, ask for twice that much. That's what a guy would do, and I know this first-hand. The only risk is that someone will say no.' I use myself as an example. I used to think if I did a really good job and kept my head down, whether it was in law or real estate, everyone was going to notice and people were going to say, 'She's so fantastic.' I wouldn't have to promote myself. [But] it's totally not true. It's unfair and unpleasant, but you have to become that person."
It's been a bit of a bumpy ride, but McCourt has become that person—and then some. The Baltimore-born entrepreneur started her career as a sous-chef while figuring out whether or not she wanted to be a lawyer. She opted for a career in justice instead of the food industry, and practiced law in New York and Massachusetts before subsequently focusing on real estate development. She then began working with the Dodgers from 2004 to 2011. Under her thumb, the MLB team set a club record for single season attendance and won back-to-back division titles for the first time in 30 years. She stills declares that the Dodgers are her favorite team (along with the Baltimore Orioles and New York Yankees) and has no bitterness towards them. "Why be gloomy?" she wonders. "Life is too short."
Instead of wallowing in the past, Jamie McCourt has started over. She applied her love of start-ups to buying a 22-acre vineyard in the Napa Valley's Rutherford region. She recently celebrated the second harvest of her still-unnamed vintage (which will be bottled in July) and is planning to produce a "cult, niche" hillside cabernet sauvignon for release in 2017.
"When I bought [the property], the vines were neglected and the house was, as well," she says, noting that it didn't take the "perfectionist" in her a long time before deciding to rectify both. "I never intended on making the wine, except for out-sourcing for my own personal use."
It was the house and her love of architecture that drew her to the Scott Johnson creation—a fated experience, given that Johnson worked for her while she was with the Dodgers. The Rutherford manse, an all-glass, modern affair with two bedrooms and a pool, was the first and only house she viewed. "It was perfect; exactly what I was looking for. It was fate."
Like her beloved Malibu home, the Napa place is big and open concept, so you can "see the inside looking out." The house overlooks the Valley and feels, she says, as if "you're walking in the land."
Both of her residences are outrageously beautiful, chock full of art and featuring an enviable indoor swimming pool. They are also surprisingly livable. "I don't care if people touch things [in my homes]," she says. "I don't believe in living with something you're afraid to touch. That doesn't make any sense to me."
Each house also includes a well-stocked wine cellar and a grand, industrial kitchen. This is not an accident—food has always been one of her biggest passions. "I love to cook," she declares. "I used to cook for my [four sons] every single night—serious cooking. I would get home from work and seriously cook. I've been a food person my entire life."
Because of this, and a long-lived promise to her sons to produce a col- lection of their favorite recipes, she decided to write another book—this time, in the culinary genre. She did this in typical Jamie McCourt style, which is to say, as a self-admitted "perfectionist": she went to longtime pal, Thomas Keller, the owner of Napa's beloved restaurants, The French Laundry, Ad-Hoc and Bouchon, for help.
She spent the next six months interviewing and hiring people to get the recipes just right and style the book beautifully. She hopes that the cookbook, called Cooking in a Crowded Life, will hit shelves next spring. But while she put pen to paper and wrote down her sons' favorite recipes, she will not, at a similar urging, open a restaurant. "It would be really fun and, believe me, I've thought about it, but you have to really hands-on."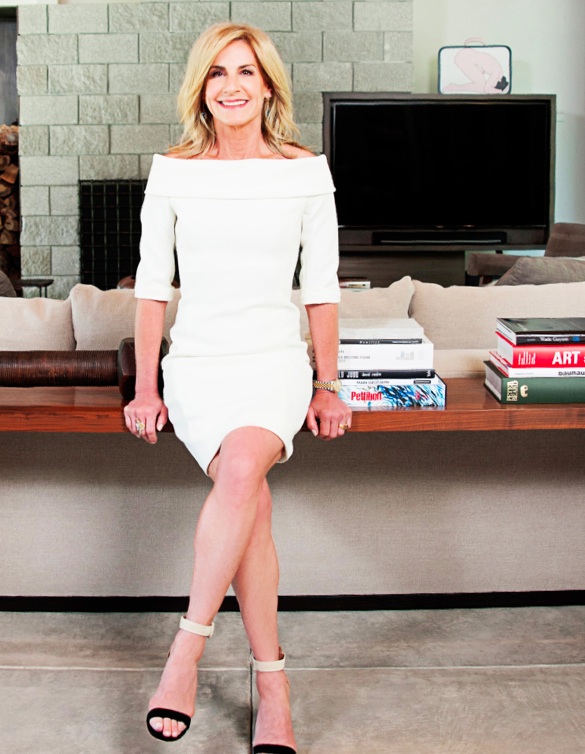 Photo Credit: Andreas Branch
For the moment, McCourt is focusing on the things that make her happy. She's still in the sports world, behind the scenes, but continues to devote herself to a plethora of business-oriented and philanthropic pursuits. She currently serves on the UCLA Anderson School of Management's Board of Visitors, as well as the North American Executive Board at the MIT Sloan School of Management, and the Board of Councilors of the USC Thornton School of Music. She also sits on the Board of Directors of the Wallis Annenberg Center for the Performing Arts and the Board of Directors of Business Executives for National Security, a non-profit through which senior business leaders advise the U.S. government on many difficult national security challenges. Furthermore, she is a Sustaining Member of the Pacific Council on International Policy and a member of UNICEF's Southern California Regional Board.
She is also a major advocate for contemporary art and a serious collector of all genres, serving on the Board of Trustees of the Los Angeles County Museum of Art (LACMA) and the Board of Trustees of the Museum of Contemporary Art (MOCA). Her collection is wide, varied and typically on rotation at different museums worldwide.
One thing remains consistent about each piece she owns: "I try to [choose ones] that have special meaning to me," she says, noting that Catherine Opie's Diana, a piece featuring the long-distance swimmer, Diana Nyad, is significant because "Cathy Opie is a close friend and I love Diana and I'm a swimmer". Some other favorites include the installation, Haube I (Frau) / Haube II (Mann), a moveable Isa Genzken piece that explores the interactions between men and women, and Triple, a sculpture by Ewerdt Hilgemann. Most of her pieces are by California-based artists because the Golden State is not only her home, she considers it her heart.
This is the state, primarily, where she raised her sons, built a business, lived, and grew. "I always tell people that I'm a grower, but I never thought about it in terms of self-growth," she admits now. "I always say I love to grow things, whether it's my four boys or my vegetable garden or a business from smaller to larger, like the Dodgers, or investing in start-ups. [But] I'm also curious, and that has contributed to me being able to love change."
Rolling with the punches, as she does, can only be described as a good thing, especially in light of what she's suffered through—namely, losing the ownership of the Dodgers, the team she loves so much—for the better part of the last decade. "I'll always think that there are reasons for what happened to me, and I make the best of it," she says. "I don't think I would own the vineyard had this not happened. I certainly wouldn't be in a position to talk about what I'm doing now for women."
While these mistakes have changed her course, they have not changed who she is at her core. "Inherently, I think I'm the same person [that I always was]. I'm fundamentally who I am. I've always been really clear about who I am inside, and that has been my saving grace."
McCourt will always be that little girl who, at age nine, told her parents she would one day own a baseball team… and then actually did it. She will always be the woman who beat the odds and came out on top.
She knows it, too. "I feel like I'm really lucky. I was never trying to impress anyone. I just wanted to make everything the best it could be—with Napa, the Dodgers and my children. I think that's just who I am. I grew up thinking I was going to change the world and make it better," she says.
When Jamie McCourt takes us around her home and tells us, "I'm big on taking down walls," it does not go unnoticed that she not only means it literally, but that she is also talking about herself.
Subscribe to discover the best kept secrets in your city