When you think of what's haute, the word hotdog probably isn't at the top of your list. However in a fortunate turn of events, it must have crossed Chef Jean-Georges Vongerichten's mind. The world-renowned chef is transforming a New York City staple into a hautedog you have to try.
Unlike your average street-cart offering, Vongerichten's creation is made with organic chicken and garnished with some of his signature homemade condiments like his popular Kimchi Relish. All of which comes at a slightly higher price point than your local $1 hotdog. This gourmet eat will cost you around $6, not bad for a treat with a Michelin touch.
"It's a New York City street food staple, and it's practical" Vongerichten told Observer during a recent visit to the grab-and-go sidewalk eatery. "I also liked that I could dress it up a bit to differentiate from the rest of the street 'dogs. It's the perfect bite for Mark guests and neighbors to grab before heading to The Met or Central Park."
The dressed up street cart can be found outside The Mark Hotel. Don't forget to get 'em while they're hot, the stand will close in September. Until then, this is the perfect addition to a summer day in the city. Stop by for your grab-and-go hautedog, and head to the neighboring Central Park for an afternoon picnic. It's the simple things that make life so sweet, or in this case wonderfully savory. Go get your grub on!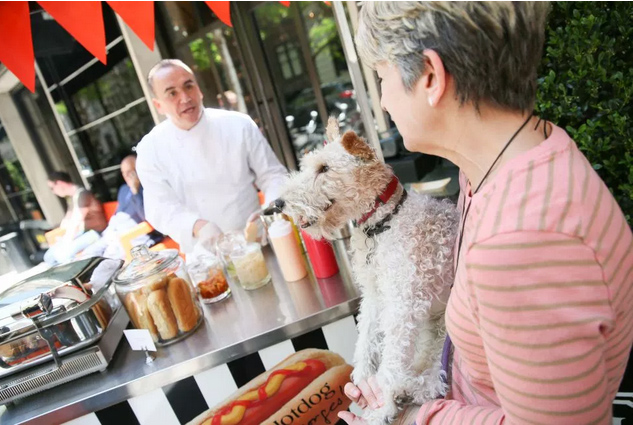 Subscribe to discover the best kept secrets in your city