Renowned Celebrity Makeup Artist, Melissa Formica talks to Haute Living about her passion for makeup, her must-have beauty products of the moment and her journey towards success. 

How did you find your passion for makeup?
I have always been fascinated by transformation. Makeup is an art, an expression. When you do a person's makeup, the final effect on the subject is not only an outer beauty, it also travels inward. I grew up watching old black and white movies from the 20s and 40s in which a woman could hold an entire room's attention with an arch of a brow like Marlene Dietrich; she was powerful and strong and her makeup reflected that. During the 80s and 90s I was obsessed with watching music videos – it was an incredible and visionary time for that and I so badly wanted to recreate the looks I saw on icons like Madonna, David Bowie and The Smashing Pumpkins. I would sit in front of my mirror for hours experimenting with different looks, amazed by the changes one could make with just the touch of a brush. With each look, my mood and attitude would change dramatically and that was the biggest thrill.
Tell us about your journey to becoming a makeup artist, did you go to school for it?
I was always an artistic person. I grew up drawing, painting and writing. My hands always needed to be creatively busy. In college I took photography classes and I believe that is where it all began. I staged amateur shoots wherever I could and ended up doing makeup for the models that I casted. I fell in love with doing this and decided to enroll in The Makeup Designory in Soho. As soon as I started, I knew in my gut this was what I needed to do. After graduating in 2008, I hit the ground running and landed one of my first gigs doing a runway show for NYFW. After that, I flew to Sicily for a cooking/travel TV show. I was committed to making it in my industry.
Favorite makeup brands?
Make Up For Ever has always been near and dear to my heart. They continue to inspire me with their products and artistry. I owe a lot of my technique to working with them for many years.
What are your favorite looks that you've created and on who?
Many of my clients walk the red carpet. One evening I had to weave a $10,000 Bulgari necklace into DJ/"It-Girl" Harley Viera Newton's hair for a Bulgari and Rome event. No pressure!
Who have been your top customers?
Alessandra Ambrosio, Toni Garrn, Hailey Baldwin, Courtney Love, St. Vincent, Peter Frampton, Paris Hilton, Oscar De La Renta, Marc Jacobs,  Alice and Olivia.
What is a day in the life of a makeup artist look like?
No day is the same for a freelance makeup artist. One day I could be setting up my kit at 6:00 am for a commercial shoot in a production house downtown, while another day I might be hopping floor to floor in the Condé Nast building to work with CEOs and VPs of Glamour, W Magazine, Brides or Self. No matter where my makeup brushes are taking me, I make sure to leave all my clients feeling confident and beautiful.

What 5 items do you always carry in your makeup bag?
My Temptu Airbrush, Make Up For Ever Artisan Brushes, Smashbox L.A. Lights Blendable Lip and Cheek Color Sticks, Marc Jacobs Beauty Light Filtering Contour Palette and Embryolisse Lait-Creme.
How do you like doing your own makeup?
For my everyday look I like to promote a fresh face: radiant skin with a defined brow and lip, eyes soft with lots of mascara. On the weekend, any look is game.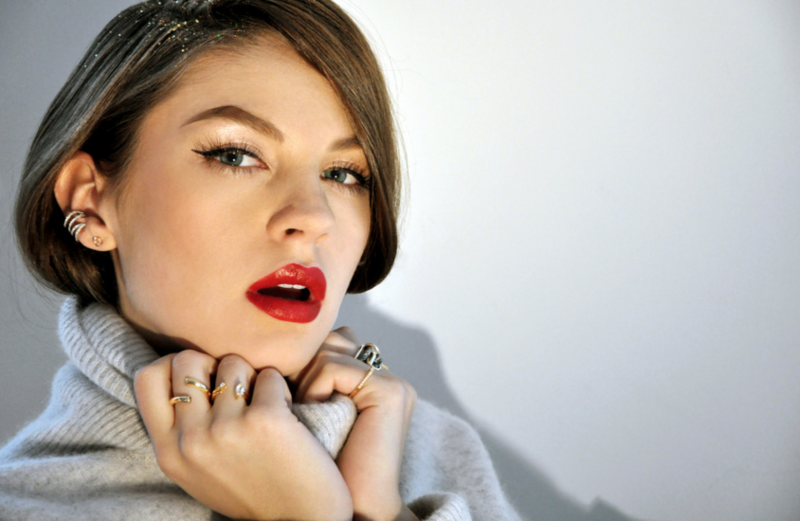 Favorite makeup trends of the moment?
Right now I love moody deep lips with a naked luminescent eye. For that special Valentine's date, I would create a soft, buffed-out, smokey gray winged liner and pale pink glossy lip.
Any makeup tips for starters?
Have patience. Sometimes making a mistake can lead you into another inspiration. Good lighting is key, especially natural light. When curling your lashes, I like to curl them in three places: the very base of your lash, the middle and then the tip. This will create a perfect curve rather then a bent lash.  Your eyes will look wide awake and bright as Miss Cara Delevingne's. Don't be afraid to try out a new lip color or eyeliner outside of your usual palette once in awhile, it may end up being your favorite go-to. Remember makeup was made to be played with so get your hands dirty!
To view more of Melissa's work or book her for your next event, make sure to visit melissaformica.com.