Defining Adrien Brody is no easy task. Is he A-list or art house? Is he a big-budget bet or part of Wes Anderson's mismatched crew of eccentric talents? Is he a New Yorker from Queens or a European aristo? Is he beautiful or… you get the point. His changeability and defiance of categorization are what help him disappear into his roles, and what keeps him working with the world's greatest directors. While exactly who Adrien Brody is may be hard to pin down, the one thing he always is… is an artist.
Most people know that he was the youngest man to ever take home a Best Actor Oscar for his turn in Roman Polanski's The Pianist, and his memorable trip onstage to collect the award. But not everyone knows about the sacrifices he made to play the role. Beyond the 31-pound weight loss, he learned Chopin (without reading sheet music), sold his apartment and, we hear, even broke up with his girlfriend of the moment to try to feel he had nothing to come home to, like the Holocaust survivors. In addition to having taken the art of acting to extremes, he composes instrumental music that he describes as "cinematic and downtempo," and, he paints. In fact, on the day we speak, Brody is readying his first show that will reveal his artwork to the public for the first time since he picked up a brush 22 years ago.
"What I love most about painting is the creative autonomy I have, which is not afforded to me as an actor," explains Brody. "Filmmaking is a collaborative art form and truly a director's medium of creative expression." Indeed, when it comes to canvas and paint, finished work begins and ends with the artist. So the success — or failure — of his first show titled Hot Dogs, Hamburgers and Handguns, is on his shoulders entirely.
"Whether I'm a commercial success or not, the fulfillment gained from the creation is what's important. That, and hopefully, bringing some joy, or laughter, or contemplation to someone," he says.
The show is opening on Wednesday, December 2nd at Lulu Laboratorium in Wynwood as part of a larger show by contemporary Spanish artist Domingo Zapata. Brody and Zapata are friends and spent time painting together this summer in Spain, where he encouraged the actor to take his painting further.
"Domingo was using Spanish culture as a reference, and I stopped to think about what was relevant to American culture. What I thought of was a hamburger! At first, I was laughing and made a joke about it, but then I started to like the idea as a starting point for greater introspection of more complex issues," he says. "I thought about fast food, and how it's a pervasive American export, [the] violent video games that seep into the young minds of our country and… guns. What these things have in common is that they are all destructive." The paintings consist of what he describes as large, pop-art items "in all their glory." The commentary is on the toxic environment that he and subsequent generations of Americans were raised in. But don't think he's taking the concept too seriously. "I have somewhat of a sense of humor about my work," he says with a chuckle.
When it comes to Zapata, he says, "He has been my brother in this, and along with my good friend, artist Georges Moquay, has been very encouraging to take the next step with my art. These are the kinds of friendships that we all need in life," he reflects.
In addition to making art, Brody also collects it, describing his collection as "eclectic." The actor has been a fixture at Miami Beach's Art Basel, and the week-long art-themed bacchanal that surrounds it, for years. "I have a buddy that goes religiously, so I like to go with him. I love art and it's such a fun environment. I just feel blessed and excited to be taking part in it in some small way this year," he says.
Brody's artistic leanings are a case of both nature and nurture. He was born in Queens, New York, to Sylvia Plachy, a well-known New York photographer, and father Elliot Brody, who also paints for pleasure, albeit in a more classical style. "My mother photographed Jean-Michel Basquiat, Andy Warhol and many other interesting characters for the Village Voice," explains Brody, who says he was also influenced by graffiti art that was pervasive in the streets of New York at the time. "I went to LaGuardia High School for the Performing Arts, and I applied for an art major," recalls Brody. Instead, he was accepted into the drama department, where he would flourish and fulfill his acting aspirations.
His career has been filled with intriguing roles, beginning with smaller turns, leading up to Terrence Malick's The Thin Red Line, Spike Lee's Summer of Sam and Barry Levinson's Liberty Heights. Then there was the role of a lifetime in Roman Polanski's The Pianist. Brody's trip onstage to accept his award has since become an Oscar highlight when he planted an impromptu kiss on Halle Berry's lips in a pure show of emotion, mixed with a little youthful swagger that endeared him to the audience.
The boost led to bigger-budget fare like M. Night Shyamalan's The Village, Peter Jackson's King Kong reboot and the neo-noir Hollywoodland, which he starred in besides Ben Affleck and Diane Lane. In 2007, he was picked by Wes Anderson to play one of three brothers in The Darjeeling Limited alongside Anderson's go-to guys Jason Schwartzman and Owen Wilson. The turn was a success and initiated Brody into the troupe and he went on to voice a field mouse in Fantastic Mr. Fox, and play a mustachioed villain in The Grand Budapest Hotel, Anderson's most commercially viable film to date.
"I try to find material that speaks to me," he says. As a result, his taste comes through in his choice of material. His choices to play Salvador Dali in Woody Allen's Midnight in Paris, go sci-fi in Predators and embody Harry Houdini for History Channel's Houdini (for which he was nominated for an Emmy Award) do say something.
This year, at the 2015 South by South West (SXSW) Film Festival, Brody released Stone Barn Castle, a documentary he co-directed. The film chronicles a seven-year renovation of a run-down stone barn resembling a castle that he bought in upstate New York in 2007. It sits on more than 80 acres and is a romantic place that captures the imagination. "The man who built this was one of the guys who constructed the Erie Canal, and this was something very special he did for himself. It was his grand achievement and a magnificent structure," says Brody of the property, which had been in a state of disrepair for many years.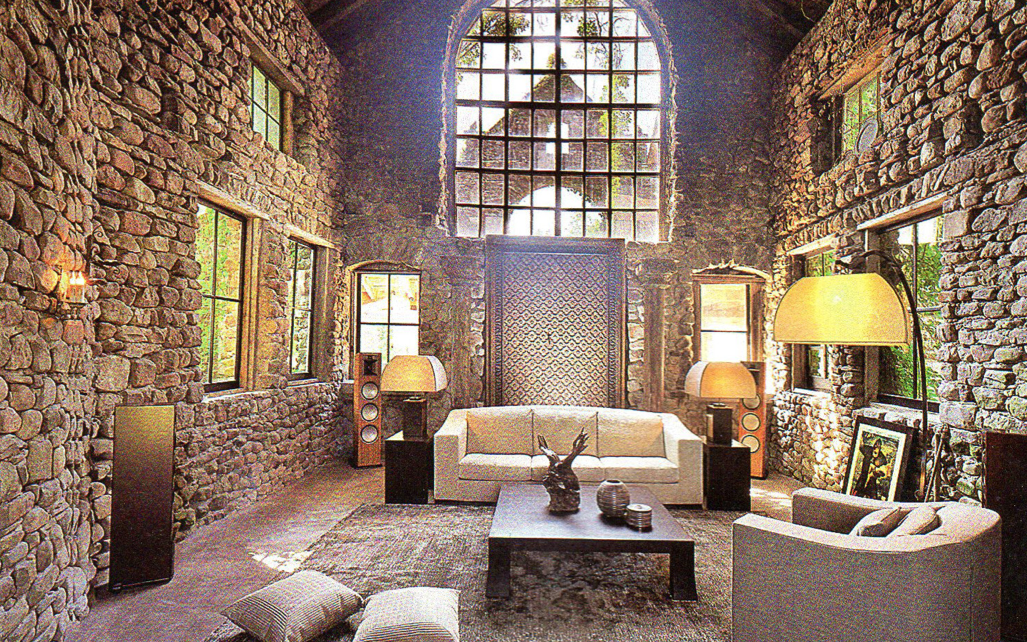 The renovation was not unlike a film project, explains Brody. "You have this beautiful, old structure that has been taken back by the elements, but you have an idea of something that has such potential for what it could become," he says. Through this lens, it makes sense that early on in the endeavor, the actor realized that this process might just be worth documenting.
He called upon filmmaker Kevin Ford, who worked on Three Days, to take the journey with him. Brody has called the film "renovation porn," which follows the work on the home and parlays the magnitude of the restoration, which at one time saw over 35 people working on the estate. The film is a look into Brody's emotional life and spiritual journey as well, adding a layer of the personal to the documentary.
"It was unearthing me as the ground was being unearthed," he says, an aspect the actor hadn't expected when he began. "It winds up dealing with very personal aspects of my life," explains Brody, who feels that letting the audience in is something of a sacrifice he must sometimes make as an artist.
Not long after he purchased it, Brody gave the media unprecedented access to he and then-girlfriend, Spanish actress Elsa Pataky. They used the castle as a backdrop for a 35-page Hello! magazine spread featuring the couple. Unfortunately, shortly after the magazine came out, the two split. Letting the media into his private life made Brody's life tabloid fodder for the very first time. The events are captured in Stone Barn Castle — although it was an unexpected twist for the actor.
Until Brody and Ford can figure out distribution, audiences won't be able to see the film, but at least they can know it has a happy ending. The final result is a breathtaking property where Brody can retreat between projects. "I have created some loft spaces on the property to do sculptural work, to paint, have motorcycles and cars and live this open kind of dream," he says. "I paint there religiously, and it is so therapeutic. It's kind of giving back to me all the energy that it drained having to complete this endeavor. I didn't know if that would ever happen."
Now that the project is finished, and Brody has a new life with Russian beauty Lara Lieto, the doors are now closed to prying eyes. "My feeling is that [talking about my relationship] opens the door for the people who might be less considerate," says the actor. But the two regularly make the scene in chic European locales like Sardinia, Cannes and Monaco.
Brody doesn't only travel to haute Euro locales though. When we speak, he's hot off a trip to Nepal with Bulgari, for whom he is a brand ambassador. "We were there
with Save the Children after the earthquake, [building] temporary learning facilities. These children were so wonderful and so gentle," he says. In addition to performing magic tricks that Brody remembers from childhood (he performed under the name "The Amazing Adrien"), he brought Halloween candy for the kids. He was stunned by their response. "I was trying to give them handfuls, and they would only take one or two pieces. They were so grateful for just one little piece of candy," he recalls.
The experience touched Brody. "That wouldn't have been possible if I didn't have that connection with Bulgari," he notes. Adrien's work with the Italian brand has been a natural fit. "I got a Bulgari Rettangolo right around the time of my nomination for The Pianist, and I was wearing that watch when I accepted the award," he explains. The actor also struck up a friendship with Nicola Bulgari through their shared love of cars. "Nicola is a car-lover like me and has an amazing collection of antique American cars. He has a lot of Buicks, and my daily driver is a Buick Grand National, so we bonded over that," says Brody.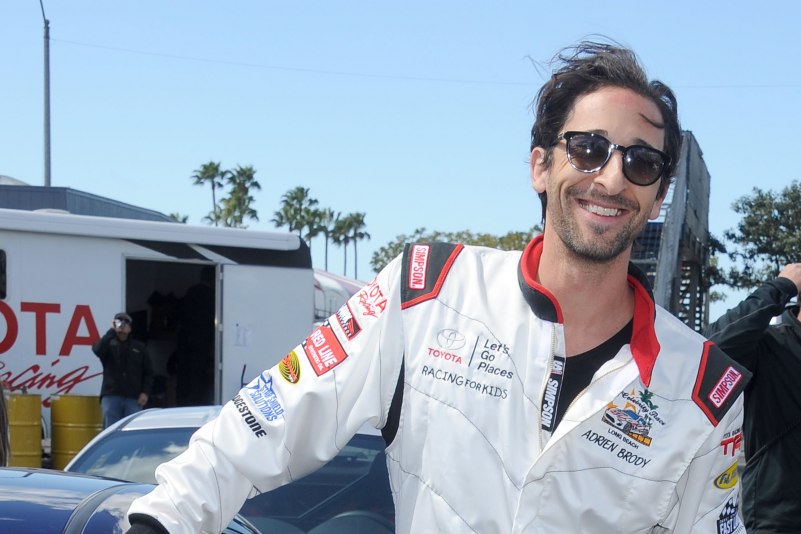 Saying Brody is a car enthusiast is a bit of an understatement. He spent his first paycheck from Steven Soderbergh's King of the Hill on a new motor for his '70s-era Challenger. "That shows you both how little I made, and how much of a gear-head I was," he laughs. Brody bought "these amazing muscle cars that needed work," which he did himself out of necessity. "When I was young, these cars were a few thousand dollars, now, they are no longer affordable for young people because the market for them has really changed," he laments.
Brody got to know General Motors' vice chairman Bob Lutz, who invited him to Detroit to build his own Z06 engine when it was just released. "I've always loved Corvettes, but the Z06 was above and beyond," says Brody, sounding like a fanboy.
His love of cars intersected with his budding directing career when Brody directed some car commercials, including a riveting one for Chrysler called "Arrive in Style." The 60-second spot reflected on vintage American glamour and the automaker's big return after the financial crisis. Narrated by Brody, it ran during the Golden Globes in 2011. He also did a spot for Dodge, called "First Dodge," and one for Gillette called "Boxer." Brody's touch elevates the medium, giving a glimpse of his potential as a director.
Don't be surprised if you see more directing from Brody, but in the meantime he has a number of starring movies coming out, as well. Upcoming projects include Manhattan Nocturne, Manhattan Love Story and Expiration, which he is starring in and producing through his production company, Fable House. There is also an epic called Emperor in which Brody plays the lead. "It's based on the life of Charles V who made the transition from King of Spain to become Holy Roman Emperor. He was the most powerful man in the world, and there were a lot of exciting things going on at the time: wars with France, espionage, murder plots, and that makes it a very interesting character to play," he explains. The most interesting character, however, might just be Brody himself.
Subscribe to discover the best kept secrets in your city