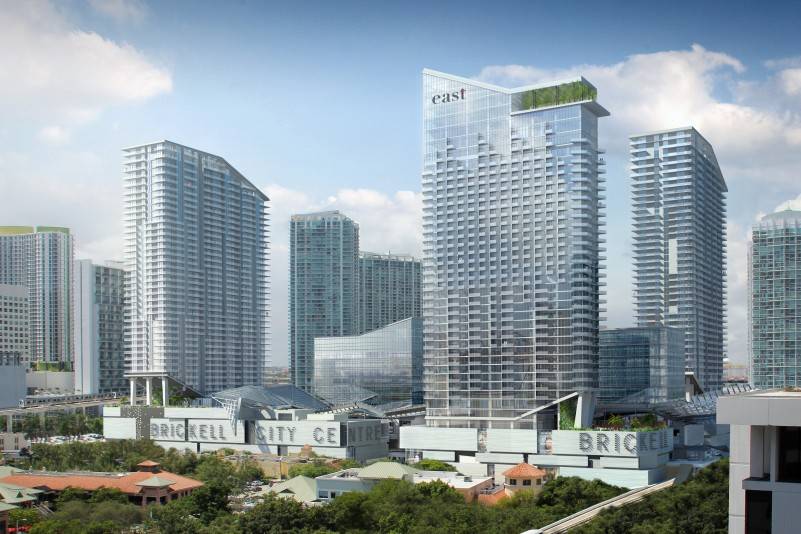 With Miami exponentially growing, buildings are going up and developments are bringing some of the most diverse restaurants to the Haute scene. EAST, Miami at Brickell City Centre, envisioned a signature restaurant that would fit the diversified cultural city, and they found just that.
The concept of EAST, Miami was the first project that Swire Hotels would take outside of Asia- they had already received much recognition for their popular EAST, Hong Kong and EAST, Beijing. Managing Director, Brian Williams, knew he wanted a latin menu for his new Miami market hotel, and began his search for the restaurant which would be nestled on their fifth floor; Parador La Huella was on his radar. Acclaimed as #11 in Latin America's 50 best restaurants on theworldsbest.com, it is one of the most outstanding restaurants in South America.
'La Huella,' which translates as 'the footprint,' is an appropriate depiction of this breezy, seaside grill that radiates a laid-back atmosphere. The casual restaurant setting is acclaimed for its mesmerizing views of the beach, unforgettable meals, and warm hospitality. Williams headed to Uruguay to visit the hidden gem on Brava Beach and to meet with restaurant owners, Martín Pittaluga, Gustavo Barbero and Guzmán Artagaveytia.
During our interview with Pittaluga, he recalls his first meeting with Williams hardly able to hold back a chuckle. "My first response was 'NO.' I had never been to Miami and I had an idea about Miami that.. lets just say, wasn't too great. I had a vision of a place with no identity or character." He sits back for a quick pause and continues by saying that the project was extremely interesting so he finally decided to give into his curiosity and visit Miami.
After one visit to the Magic City, Pittaluga found himself with a changed opinion. He saw a city that was becoming a major metropolitan destination in less than a century's time; seemingly overnight. "I saw a city that is constantly changing, and we wanted to be part of it. Especially the Brickell City Centre, which will be a city within a city, and that was very appealing to us," he adds.
The top contenders were especially attracted to the idea of how completely different it was going to be from their restaurants in Uruguay. "If this were another beach-front restaurant, we wouldn't be interested. It would be like competing with ourselves. Quinto La Huella is on the 5th floor of a jungle.. a concrete jungle. The only horizon is other buildings and we wanted the challenge," says Pittaluga.
The owners who had brought such fame to La Huella in their home town decided to take the plunge. "This was the antithesis of Parador La Huella in José Ignacio- Quinto La Huella in Brickell; It's two different universes. It's our style, our heart, and our soul, but not as a franchise."
The owners plan to keep the informal setting and provide much more than a meal. The goal is to provide all of their visitors with an unforgettable experience by carefully selecting staff, playing good music, and providing a phenomenal dish selection.
Just because the restaurant originated in their hometown of Uruguay, he puts great emphasis on the fact that it is not an 'Uruguayan kitchen.' "Obviously there is an Uruguayan identity because we are from Uruguay, but the kitchen will be a fusion with many different styles of dishes. The main attraction is definitely the wood fire [style of cooking], which is from Uruguay and particularly hard to find in Miami," describes Pittaluga.
The specialized technique of wood fire cooking gives dishes a smoky finish. The taste of the wood leaches into the food while it is being cooked, locking in the food's moisture inside. "The most popular dishes will most likely be the seafood, which is our specialty," says Pittaluga, which confesses that his favorite dish is the wood-grilled fish.
Los Angeles-based Studio Collective is working closely with the owners to design Quinto La Huella. Studio Collective is well known for their work on Drunken Dragon in Miami Beach, but this project will be different. The outside terrace will take you back to the ancient state of Babylonia, while still being held five stories high in the center of Brickell.
The L-shaped grill inside will sit 20 people and will be divided into two sides; one side for fish, and the other for meat. Many of the menu items take inspiration from Spain (shellfish), San Francisco (bread-making), and the rest of Latin America (the perfect flame-grill), all of which have earned La Huella a growing reputation as Uruguay's number one eatery.
The venture is about opening in Miami and challenging themselves to try something completely different, and they feel that they are at the perfect hotel for this expansion. "The hotel is the hotel it had to be in, which is EAST, Miami. They are open and modern and very focused on quality and service, which we are too," says Pittaluga. Swire Hotels and Quinto La Huella are excited to be in the United States for the first time, both bringing a diverse entity to the city of Miami. They are scheduled to open winter of 2015.
For more information about EAST, Miami and Quinto La Huella, visit www.east-miami.com
Subscribe to discover the best kept secrets in your city