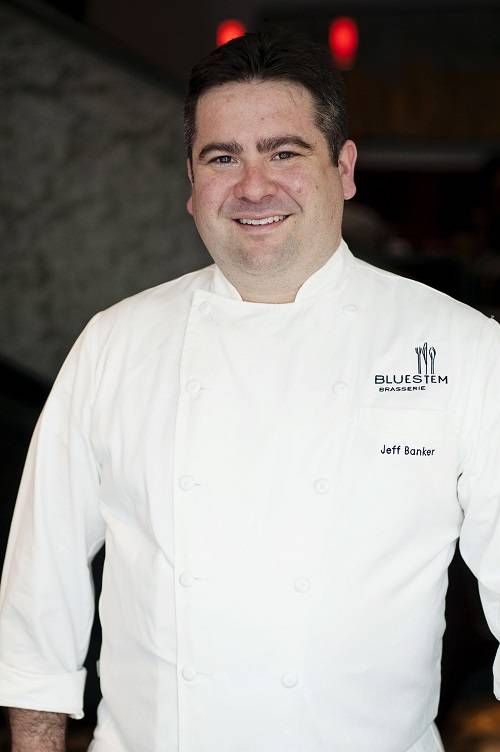 Photo Credit: Angie Silvy
Bluestem Brasserie owners Adam and Stacy Jed were definitely onto something when they opened their restaurant four years ago on San Francisco's busy Market Street. The thoroughfare, known more as a transportation corridor than a location for fine dining, is in the midst of a dynamic haute transformation, and Bluestem, located at the corner of Market and Yerba Buena Lane, has a front row seat.
With a second-story terrace overlooking the urban stage, and large windows that allow diners to take it all in, Bluestem Brasserie is a city restaurant with a true city vibe. The famed Olle Lundberg designed the modern space using soothing earth tones and soft lighting that casts a sultry glow. Reclaimed hardwood floors and tabletops are a nod to the Jeds' sustainable sensibilities. Despite the size of the place, and the perpetually packed house, sounds and conversation are muted so that diners can easily converse.
While the striking interior and the LED lit bar counter are worth a peek, the reinvigorated menu created by new executive chef Jeff Banker makes Bluestem a must-dine destination. Banker brings to Bluestem his skills honed at some of San Francisco's hautest restaurants including Postrio, Bix, and Acme Chophouse, and most recently his lauded Baker & Banker that he owned with wife Lori Baker. He took over the Bluestem kitchen in early August and has ramped-up the traditional brasserie menu with vibrant dishes.
The menu features contemporary seasonal cuisine in old-school portion sizes. Sharing is encouraged, and with so many delectable dishes, guests won't want to miss a thing. Start with the outstanding Star Route Baby Lettuces salad with avocado crema, toasted seeds, and shaved goat Gouda. Move to the Shared Plates portion of the menu and try the creative Seared Spanish Octopus, served with melon, sambal-sesame vinaigrette and house made rice cracker. Skip the bread – served on request – and instead order the Roasted Peach Flat Bread with burrata, pickled red onions, toasted hazelnuts and Villa Manadori balsamic.
The Large Plates section is a carnivore's dream, and features ample portions of roasted chicken, duck breast, lamb, pork, and three steak dishes. The Butter Poached Filet Mignon & Prawns paired beautifully with the Summer Vegetable Maccheroni, the lone vegetarian entree. The risotto style pasta with slow roasted San Marzano tomato sauce, eggplant puree, young goat cheese, Calabrian Chile Bread crumbs and mint perfectly complimented the grass fed, butter poached filet served with gulf prawns a la Plancha, green peppercorn brandy sauce and sautéed spinach.
Bluestem pastry chef Curtis McDonald makes dessert lovers very, very happy. A Market Fruit Crisp features vanilla cake, fruit filling, poppy seed and olive oil granola with brown butter bourbon sauce. The Cookie 'Fun Dips' is served on a huge platter that includes a selection of cookie butters in which to dip house-made accompaniments such as pretzels, dried apricots, fresh blackberries, chocolate cookies and biscotti. Yum. The Atomic Debbie Bar is a gooey butter 'blondie' with shortbread crust, toasted nuts, fresh summer berries, lemon verbena and crème fraiche ice cream with lavender salt. Jed provides kudos to diners who catch the nod to the 70's icon.
The amiable Jed clearly enjoys his job and spends nearly every waking hour at his restaurant. As he moves from table-to-table greeting guests, his genuine interest is palpable. Also genuine is his interest in giving back. Every evening from 4 – 6:30pm during Happy Hour, $1 from each order of the bar's namesake drink, the Bluestem Smash (a refreshing blend of St. Germain, vodka or whiskey, muddled seasonal fruit, mint, lime and sparkling wine) is donated to UCSF cancer research. Very cool. There is nothing more haute than a social conscience.
Bluestem, open daily from 11am – 11pm, is located at 1 Yerba Buena Lane, between 3rd and 4th streets in San Francisco and is easily accessible by BART (Powell St. station). For more information, reservations, and parking lot suggestions, visit www.BluestemBrasserie.com or call (415) 547-1111.
Food photos: Nader Khouri
Patio photo: Bluestem Brasserie
Interior photo: Ryan Hughes
Subscribe to discover the best kept secrets in your city