Photo Credit: Kelly E. Carter
Monterey Car Week is here at last. Billionaire and millionaire car enthusiasts have taken over Monterey County for the festivities that culminate with the world renowned Pebble Beach Concours d'Elegance on Sunday, Aug. 16. Haute Living is on the scene to bring you all of the action from inside exclusive parties and dinners thrown by Rolex, Bentley Motors, Pagani, Mercedes-Benz and more, as well as from swank gatherings such as The Quail and unveilings such as tonight's by Lexus. Last night we hit the 24th annual Gordon McCall's Motorworks Revival, the official kick-off gala, at the Monterey Jet Center.
McCall has turned what began as a small BBQ for friends into a world class event that showcases some of the top luxury brands of the world. One-off exotic cars, old and new, airplanes from the historic to the latest and an array of motorbikes were on display for the cocktail-attired guests, who milled about, sipping fine wines and nibbling on gourmet food. It's all done for a good cause and serves as a fundraiser for the California Highway Patrol 11-99 Foundation, which provides emergency benefits to California Highway Patrol employees and their families in times of crisis. For the third straight year, Joe Anderson and Mary Dewane, the proprietors of Benovia Winery in Sonoma and co-chairs of this year's Sonoma Wine Country Weekend taking place Labor Day weekend, brought to the event their popular Spirit of Benovia, a World War II-era DC3.
"We flew down here in the plane from Santa Rosa," Anderson said. "It took 45 minutes. We were flying at 3,500 feet. When you're flying this airplane, you can see the cows. You can see the horses."
The plane, built by the Douglas Aircraft Company in Santa Monica in 1942 and reportedly used by Chinese Nationalist President Chiang Kai-shek as his personal transport, is in exquisite condition with comfy leather seats and gleaming honey-colored wood. Anderson used to fly the plane himself until a heart condition prevented him from doing so. Now his chief pilot, Jeff Coffman, mans the cockpit. Anderson often donates Spirit of Benovia to charities, which uses it as an auction item; flyers float down to San Francisco and buzz over the Golden Gate Bridge.
"When we go down to San Francisco, we're at a much lower level and people are waving at us," Anderson says, beaming.
Also on display was the 1938 Packard once owned by race car legend Phil Hill that Anderson bought at auction here last year. Anderson and Dewane also have a Burger boat that was built for Charles Walgreen Jr., who passed away in 2007 at the age of 100. "He ordered the boat when he was 95 years old," Anderson said. "He took delivery when he was 97 and got three years of use out of it. That is the kind of optimism that I like to see in people."
A self-described gearhead, Anderson also has a 1965 Aston Martin DB5 and a 2015 Richard Petty super modified Mustang. Dewane has a 2014 white Aston Martin DB9 with blue interior "that matches her eyes," Anderson says with a grin.
The couple met when they were both in the healthcare field—he had his own company and she was CEO of another. "We're really blessed and like sharing our blessings with other people," Anderson says.
Also drawing lots of attention at the event was Gulfstream's G450, a high-performance, stylish aircraft that can cross a continent and cruise at Mach 0.80. Was it any surprise that waiting to board was real estate agent Roh Habibi, the star of Bravo's Million Dollar Listing San Francisco? Is business that great for this agent that he's shopping for a private jet?
"I'm putting a G6 on layaway," joked Habibi, before telling us why he was really in town. "I'm doing a big open house tomorrow with a Coldwell Banker property in the $20 million price range with Kim DiBenedetto. I said, 'I can't miss the McCall event. I've got to be here.' "
Spirit of Benovia
Spirit of Benovia owners Joe Anderson and Mary Dewane of Benovia Winery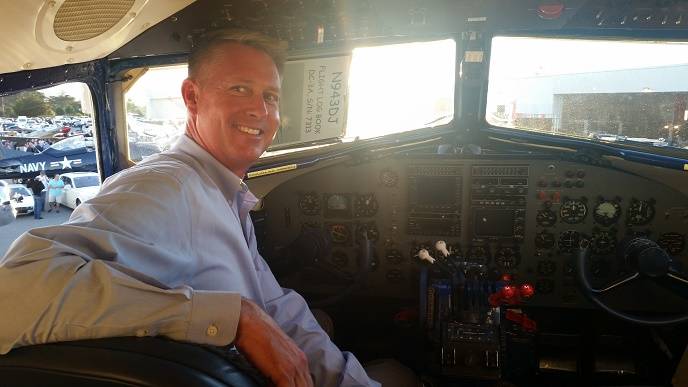 Spirit of Benovia chief pilot Jeff Coffman
1938 Packard and Spirit of Benovia
De Tomaso
Roh Habibi and Ramin Habibi
Photo Credit: Kelly E. Carter
Gulfstream G450
McLaren 570S
50th anniversary Shelby Daytona Cobra Coupe
Photos by Kelly E. Carter
Subscribe to discover the best kept secrets in your city