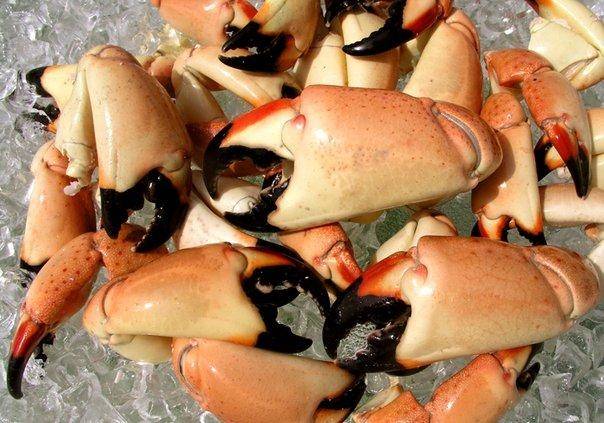 They may require a bit of work to crack into it, but foodies universally agree that the effort is worth it when it comes to stone crabs. And with the season officially underway, here's a guide on where to get stone crabs in Los Angeles — from seaside to the east side.
Water Grill
Long considered a premier seafood destination in Los Angeles—regardless of it's water-less downtown location—Water Grill is where business VIPs flock to for good fish. So it's no wonder that stone crab season is a popular time around the Grill, as Water Grill's impressively full menu is currently home to large and jumbo wild Florida stone crab claws with a tangy mustard sauce. And if you're craving some sea air with your meal, you can always make your way west and dine at their Santa Monica location.
L & E Oyster Bar
Silver Lake favorite L & E Oyster Bar procures their coveted stone crabs a bit north of L.A. in Santa Barbara by way of noted fisherwoman Stephanie Mutz. Limited supply and popular demand mean stone crabs aren't always available. But L & E Co-owner Tyler Bell tells us that when in house, the crabs are used in a variety of mouth-watering ways, including low country crab boils and even crab butter for grilled oyster and popcorn flavoring. Perhaps the most interesting menu option, though, is L & E's stone crab gnocchi.
Mastro's Ocean Club
Who wouldn't want to enjoy fresh stone crabs with the ocean breeze of Malibu in the air? Lucky for us, Mastro's offers both. Butter Cake may usually rule supreme at Mastro's, but in season, the stones give the restaurant's signature dessert a run for its money. Of course the cozy atmosphere and desirable window seating of the Ocean Club can make this Mastro's location particularly tricky to book a table. So plan early before stone crab season passes you by.
Il Piccolino
Jumbo and flown in direct from Miami is how West Hollywood eatery Il Piccolino does stone crabs. One of only a handful of local restaurants to offer the famous Joe's stone crabs, Piccolino loyalists know that when the season begins, they better book a table quickly before the popular special is sold out. The kitchen at Il Piccolino keeps it simple, serving their stone crabs pre-cracked and over ice—perfect for purists.
The Grill on the Alley
A Los Angeles institution if there ever was one, The Grill on the Alley may have brought modern touches to the menu over its 30 years in Beverly Hills, but one things remains: when stone crabs are in season, they're at Grill. Available both as an appetizer or main dish, the crabs are always a crowd favorite, especially during the restaurant's legendary 1 p.m. Hollywood power-lunch block.