Last weekend at Life Is Beautiful, the D Las Vegas hosted "Inspired by the D" — an immersive pop-up space located at the heart of the three-day music, food and arts festival. For the second year, the downtown casino hotel transformed the intersection of Fremont and Seventh Streets (the site of City Center Motel) into a special experience for concert-goers and guests of the D.
Guests enjoyed a beach party experience complete with a high-energy DJ, tiki bar serving freshly squeezed juices and volleyball nets atop more than 150 tons of sand. Photo booths allowed visitors to "Take a Smile, Leave a Smile," by snapping their picture to contribute to a massive photo collage that stretched the length of the space. The highlight of the activation was a balloon decorating stand that allowed festival-goers to customize their own balloons with colorful paints and glitters. Guests tethered their creations to nearby walls, tied them to belt loops and gave them as gifts to strangers throughout the festival. Above the sea of people surrounding each stage and among the throngs that flooded the streets of Downtown Las Vegas, hundreds of decorated balloons could be seen floating overhead. Welcoming all festival-goers, the unique space hosted thousands of guests throughout the weekend and provided a place to be creative, relax on the beach or dance with friends.
Next to Downtown Stage, the D hosted a two-level VIP cabana with plush seating, dedicated bars and prime views of headline acts including Kanye West, Lionel Ritchie and more. Owner and CEO Derek Stevens, who wore custom-made jackets embroidered with the D's logo and the names of bands performing at the festival, was an enthusiastic host to VIP guests and friends in the private cabana throughout the weekend. Notable names included rapper and hip hop producer Warren G, who enjoyed Outkast's set on Saturday night, Zappos CEO Tony Hsieh, Insomniac Events founder Pasquale Rotella, Las Vegas entertainers Zowie Bowie and reality stars Joe Meaux and Charles Watson from Discovery Channel's Sons of Guns.
Like Haute Living Las Vegas? Join our Facebook page or follow us on Twitter. Want Haute Living Las Vegas delivered to your in box once a week? Sign up for our newsletter.
Rapper Warren G, Nicole Parthum and Derek Stevens at the D Las Vegas' VIP cabana at Life Is Beautiful Festival, 10.24.14
Rapper Warren G, Nicole Parthum and Derek Stevens at the D Las Vegas' VIP cabana at Life Is Beautiful Festival, 10.24.14
Sons of Guns star Charles Watson with Derek Stevens at the D's VIP Cabana, 10.24.14
Sons of Guns star Charles Watson with Derek Stevens at the D's VIP Cabana, 10.24.14
View of Life is Beautiful festival grounds and ferris wheel from the D's VIP cabana
View of Life is Beautiful festival grounds and ferris wheel from the D's VIP cabana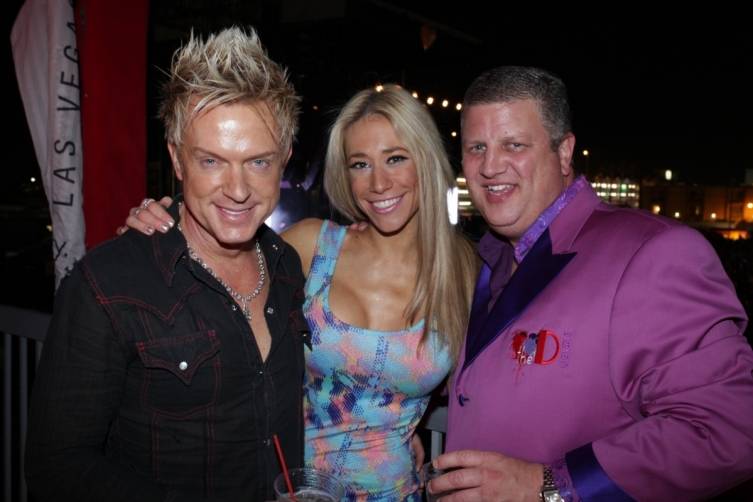 Zowie Bowie's Chris Phillips and Lydia Ansel with Derek Stevens at the D's VIP cabana at Life Is Beautiful Festival, 10.26.14
Zowie Bowie's Chris Phillips and Lydia Ansel with Derek Stevens at the D's VIP cabana at Life Is Beautiful Festival, 10.26.14
the D's staff hosts VIP cabana and INSPIRED by the D activation area at Life Is Beautiful Festival
The D's staff hosts VIP cabana and INSPIRED by the D activation area at Life Is Beautiful Festival