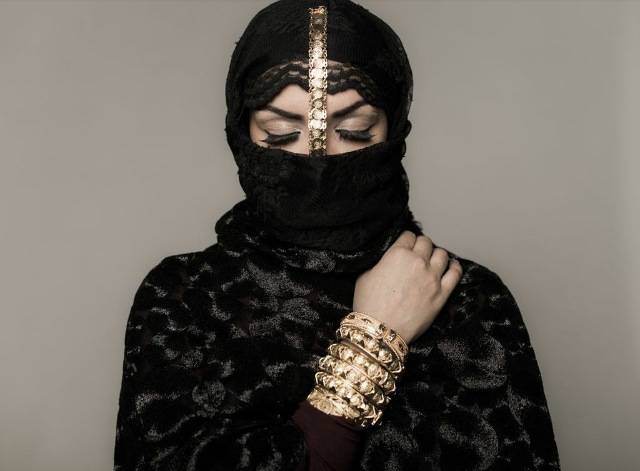 It's hard to believe that Art Basel is almost upon us yet again. In a little over a month, art collectors, enthusiasts, and the artists whose work they follow and hoard will make their way to Miami for the global art phenomenon, all the fairs and events surrounding it. Amongst them, SELECT Fair will be coming back for its third year but debuting a new program, new location, and female Saudi Arabian artist whose work has yet to be seen in the Magic City.
The artist at hand is Mashael Al Athel and the exhibit will portray life through the eyes of the women in Arabia, Rarely seen in the Western world is this unique perspective honoring the cultural heritage of Arabia and turning it into contemporary artwork. Al Athel's subjects are not the women seen in the news but rather the educated, cultivated, powerful, well traveled and beautiful souls that make up the true face of the women of the Arab world like her. "My art portrays the equilibrium between beauty and intelligence, modernism and conventionalism, expressionism and conservatism, western and Eastern sophistication," she says.
Al Athel herself is a graduate of economics, businesswoman and entrepreneur turned artist, although she discovered her passion for art at a young age and has always wanted to put the values and culture she was raised in and proud of into a portrait that speaks 1,000 words.
Subjects in her large oil paintings are women Arabian wearing different designs of "Niqab" on their faces. "The women in my paintings are sophistication and the adoption of western trends actually compliments her attachment, respect and love for her culture and traditions," she says. "I want the world to see the ambitious, progressive and powerful women of my region."
And now they will, at least the large majority of the art world who will attend Art Basel's SELECT Fair come December 2-7. During her visit to Miami, Al Althel will also be organizing an auction to raise funds for a number of causes that she believes in.
Subscribe to discover the best kept secrets in your city