When you're craving something other than the usual, Miami's got your back. Head to one of these haute haunts for a local libation that is sure to leave your taste buds begging for more.
1. Spicy Paloma, $18
Bâoli Miami
Keep the heat with this curious cocktail of Avion Silver tequila, egg white, passion fruit puree, and fresh Florida juices, like grapefruit and lime.
2. Trailer Park Smash, $11
Broken Shaker
Freehand Miami
This brown bag brew is anything but trashy. Shake and strain lemon, apple cider, caraway syrup, sweet vermouth and angostura bitters into a highball glass, top it with a Miller High Life, garnish with grated nutmeg and a lemon wheel, and most importantly: serve it in a brown paper bag.
3. Granmamm's, $18
Bâoli Miami
Cool and classy, this avant-garde aperitif wakes up your senses with infused cucumber, Plymouth gin, orange liquor, fresh cucumber puree, fresh lime juice and a mix pepper trilogy — all served in a wine glass, with fresh cucumber slices and a mint leaf garnish.
4. Smoky Negroni, $16 
Hakkasan
Fontainebleau Miami Beach
A mysterious mixture, this potent potion tantalizes its tasters with Spring 44 Old Tom gin, Carpano Antica Formula vermouth and Campari; adding a steamy effect with a Grand Marnier smoke infusion.
5. The Floridian, $15
James Club
The James Royal Palm Hotel 
Perfect for relaxing under the sun in the state that gave it its name, this crafted cocktail is the perfect combination of atlantico rum, mandarin napoleon, velvet falernum and an orange peel garnish.
6. Cabarete, $12 
Michael's Genuine Food & Drink
Part Aperol, club soda, prosecco, pieces of fresh watermelon, orange bitters, grapefruit peel and 2014's most popular flowered liqueur — St-Germain — this Michael's Genuine Food & Drink favorite was made for a refreshing respite in the Miami heat.
7. Grand Lusso Sour, $16
Lure Fishbar
Loews Miami Beach Hotel
The law of sweet calls for a little sour; so head to Lure Fishbar and try this mesmerizing martini of Martini Grand Lusso, egg white, fresh lemon juice and simple syrup.
8. The Strawberry Fennel, $15
The Drawing Room
Shelborne Wyndham Grand South Beach
A natural-born chemist, mixologist Albert Trummer created this aphrodisiac with love: a seductive combination of Grey Goose, dill, fennel oil essence and California strawberries dressed in Elixir #5 (vanilla essence).
9. Paloma Hermosa, $16
Living Room
W South Beach Hotel & Residences
At Living Room, St. Germain Elderflower is back with a kick — with Tapatio Blanco tequila, agave, egg white, fresh pieces of lime and grapefruit, and garnishes of lime wheel and edible flowers.
10. La Poire, $14
Meat Market
An aperitif-turned-main-event, this Lincoln Road La Poire fills a flute with champagne, Xante, Domaine de Canton, pear puree, simple syrup and a pear slice garnish.
11. Corn², $18
Yardbird Southern Table & Bar
When it comes to corn, go big or go home — especially when it involves an ol' fashioned glass of Blanton's bourbon, simple syrup, charred corn infused Lillet Blanc and a dash of fennel bitters.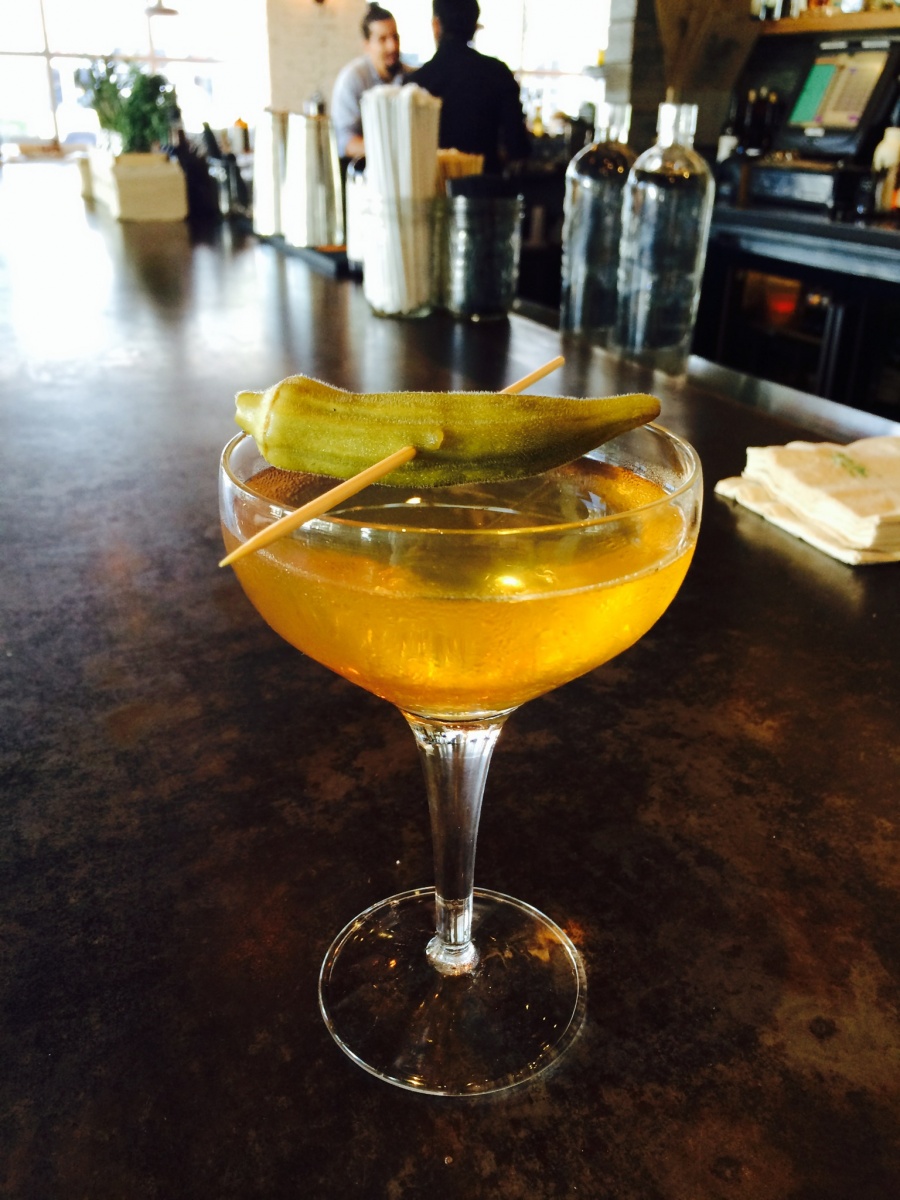 12. Old-Fashioned, $15
Swine Southern Table & Bar
If the South taught us anything, it's that there's never a bad time for bacon — so take your taste buds to Tennessee with Swine's Old Fashioned: a mixture of bacon washed Rye Whiskey, maple syrup and dashes of homemade Swine bitters.
13. The Kramer, $16
Michael Mina 74
Fontainebleau Miami Beach
For Micheal Mina 74's take on a cosmopolitan, this modern classic dresses to impress with Grey Goose Vodka, Aperol, St. Germaine Elderflower, Fresh Lime Juice, CO2 and la pièce de résistance: a purple orchid frozen in cylindrical ice.
Subscribe to discover the best kept secrets in your city