As New York Fashion Week invites come pouring in and knee-high boots replace strappy sandals in storefront windows, it's becoming clear: summer is winding down. But don't pack away your swimsuit and flip-flops just yet—there is still one killer long weekend to be had… Labor Day. Whether you are heading to the Hamptons or laying low Manhattan, Haute Living has rounded up everything you need to host the ultimate farewell-to-summer-soiree.
Williams-Sonoma Stainless-Steel Bar Tools Set with Stand
Champagne has its time and place, but to truly wow your guests—and give summer a proper sendoff—create a specialty cocktail. To sling drinks like a professional, pick up a set of stainless silver bar tools. This kit from Williams-Sonoma has everything you'll need to tend bar like a boss, including a strainer, a jigger, a bottle opener, a garnish knife, a stirrer and ice tongs.
Restoration Hardware Hammered Steel Rivet 3-Piece Cheese Knives Set
Serving cheese at crackers at a dinner party is a no-brainer. From gooey gouda to tangy cheddar, there's a type to please every palate—and bonus—it pairs perfectly with wine! To properly showcase the organic, locally-grown fromage you scored at the farmer's market (or Murray's Cheese Shop), cheese knives are a must. This hammered steel set from Restoration Hardware is the perfect fusion of style and function and will last you for many, many Labor Days to come.
Neiman Marcus Nautical-Theme Glass Plates
If there's one thing any good host or hostess knows—just ask Martha Stewart—it's that presentation matters. All goodies, whether clusters of store-bought red rope licorice or stacks of homemade macarons, look ten times more appealing when presented on festive serving ware. Pay homage to your favorite seaside town with these nautical glass plates emblazoned with cheery anchors, lobsters, and crabs.
Bond No. 9 New York Madison Square Park Potpourri Scented Flowers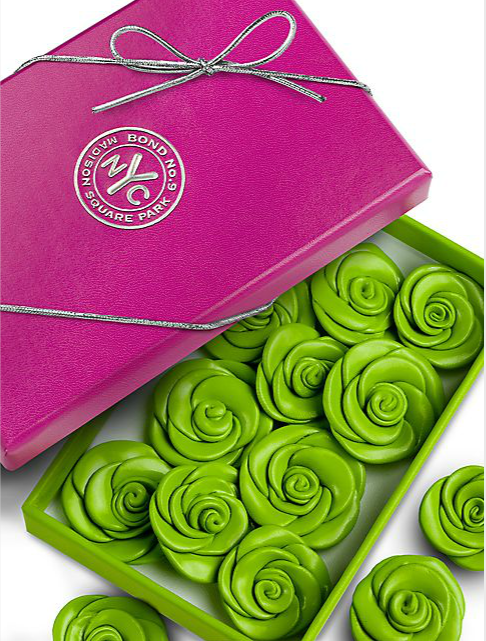 For indoor fêtes, candles are a must. But, when taking the party outside, open flames can blow out with one small gust of wind—especially when dining near the water or on a rooftop. To keep your soiree smelling sweet without having to keep a box of matches nearby, stock up on these scented flowers by Bond No. 9. They'll add a pop of color to any dinner table and deliver a fresh scent all evening long.
Subscribe to discover the best kept secrets in your city