"Goodbye" Los Angeles and "Hello" Miami!
By the time you read this blog, I will be back in Miami getting ready for the season that includes my son going back to school, my annual charity fundraising event "The Blacks' Annual Gala", Thanksgiving, Art Basel, the holidays and numerous events that the Miami fall social season brings. Of course, the best events are always produced by Haute Living Magazine.
Before I left Los Angeles I attended a wedding event for my dear friends and generous philanthropist couple Iris and Michael Smith's daughter Kaily Smith and Adam Westbrook, this was an event! An amazing production that captured the beauty and awe of a romantic, carnival fantasy. It took place at the St. Regis Monarch Beach in California; it included themed buffet stations, rides, a huge ferris wheel surrounded by tall flower walls assembled out of real white roses. Usher and Stevie Wonder provided entertainment for the Friday night "rehearsal dinner" and the talented John Mayer performed during the Saturday night ceremony. It was a beautiful celebration recognizing the union of two young lovers.
A few days later I was invited to a more intimate event that was different but also just as much fun for "Art Night at Cindy's" held at the Beverly Hills home of Producer Cindy Cowan in conjunction with Christine Peake PR. This was a cocktail party with a twist. Thirty female guests gathered for The ArtfulBachlorette (www.theartfulbaclorette.com) an evening of cocktails sponsored by Freixenentusa, Ultimate Vodka Martini's, Cava Champagne, and Zito Coconut water. The "twist" was the pencils and pads we used to sketch and draw the male models – a fun, creative evening that allowed us to drop our inhabitations and enjoy an art class and delicious libations.
TheArtfulBachlorette was founded by Samara Hodgson and Fleur Childs and has been covered by The New York Times, E News and Time Out to name a few. Guests included Laura Harring from Gossip Girl, NCSI, Mulholland Drive; Jill Wagner from Teen Wolf, Wipeout; Kelly Hu from Arrow, Scorpion King, Xmen; Nadine Velesques from Major Crimes, Sbitch, Flight; Rolonda Watts from The Rolonda Show, People's Court, Days of our Lives, Sister Sister; Trice Barto Exec producer of Wipeout; Alexis Woodall Two time Emmy Nominee this year and producer of American Horror Story, and Normal Heart. She also produces Glee; Cindy Cowan producer of Very Bad Things, Red Lights, Traffic, Savior amongst others; Lucie Jourdan producer of Top Shot, Only In America and a new MSNBC show on sex slaves; Shelley Fariello of OK Magazine, and Victoria Smurfit actress from Dracula, the TV series.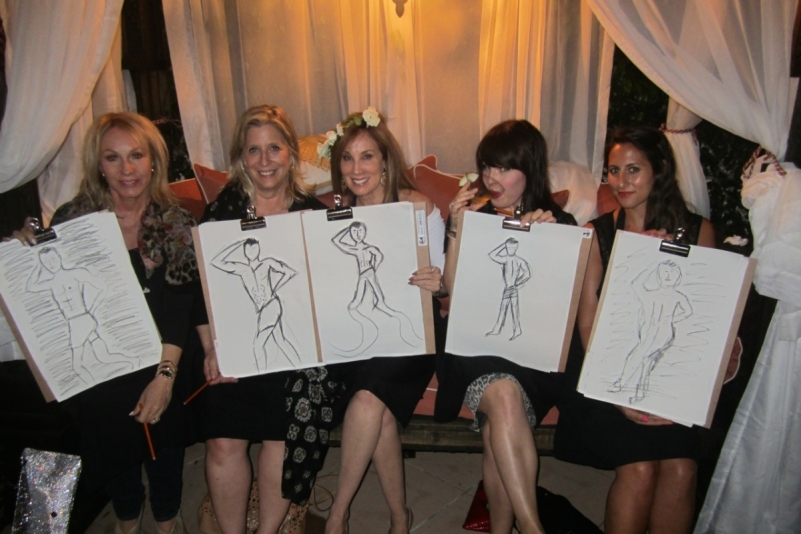 Another summer has passed, and how quickly does the time go past, but it is good to be back in Miami, back to my "routine" and excited to share with you many of the new projects and products I will be launching over the next few weeks. For regular updates and information follow me on Twitter @LeaBlackMiami.
Subscribe to discover the best kept secrets in your city