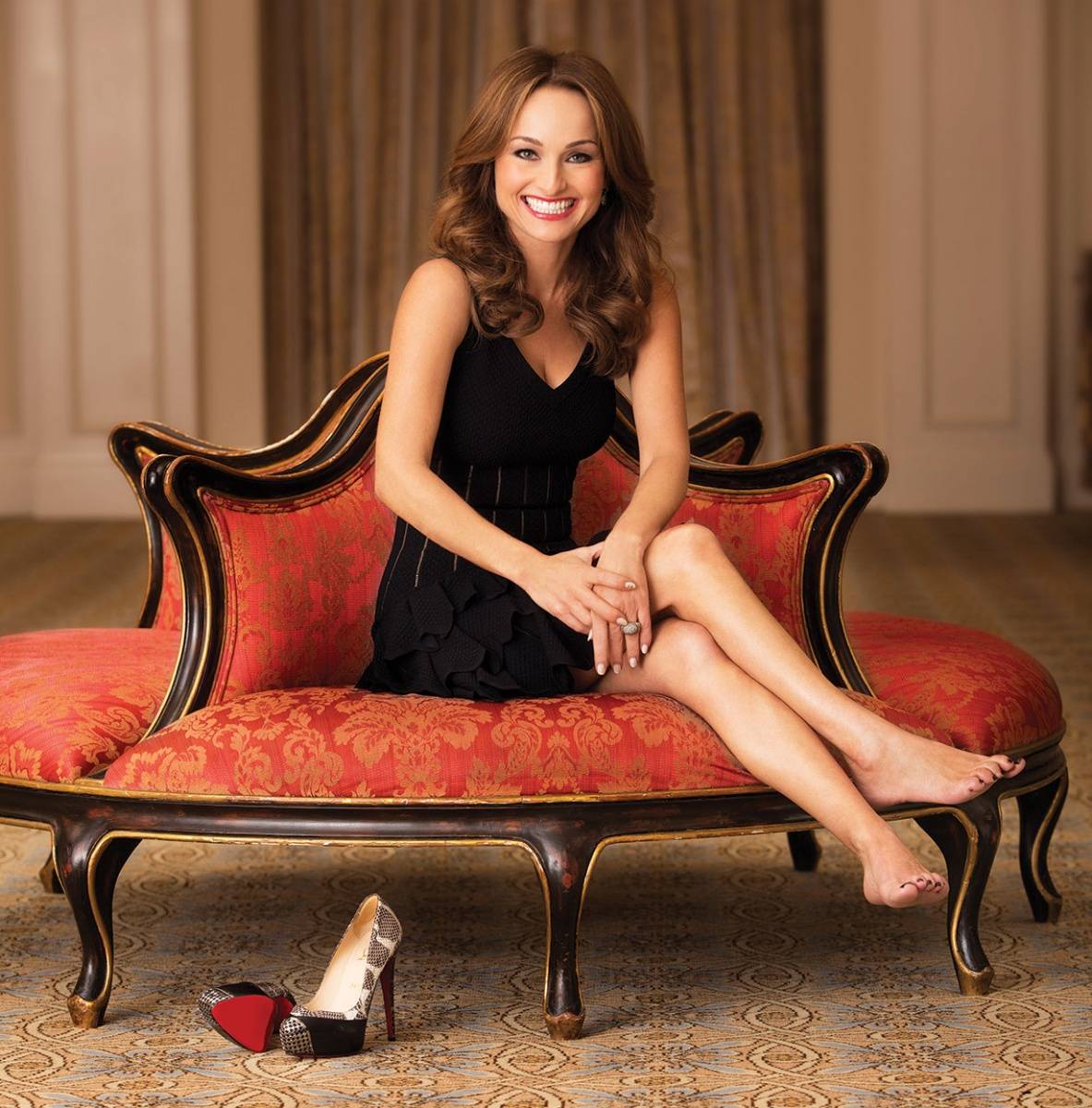 Chef Giada De Laurentiis may be widely recognized as the pretty and petite star of the Food Network, but underneath her sweet exterior, this lady is one tough cookie. The gorgeous cook — who happens to be an Emmy-award winning star — is not only a household name, but also an awe-inspiring role model for female chefs hoping to strike success in the predominantly male-driven world of culinary arts. "I think that I have inspired people to cook more at home, and I have empowered people with information so they can cook the food they like," De Laurentiis maintains. For the past twelve years, De Laurentiis has endeared herself to television audiences with her personality as much as her unique cuisine style, which marries classic Italian flavors with modern twists. She has mastered the fine line between ease and precision, making Italian cooking even sexier than normal.
De Laurentiis is turning up the heat several notches now that she's opened her first restaurant, the aptly named Giada. The Las Vegas eatery debuted on June 3rd at The Cromwell, the first standalone boutique resort on the Las Vegas Strip. Though it is a new venture for the stunning chef, De Laurentiis has no reservations about moving into uncharted territory. In fact, she's wished to open a restaurant for years, but chose to wait for the perfect collaboration. "I think The Cromwell is a great fit because my brand is accessible, but also boutique," she says.
Giada breathes new, feminine life into the Sin City restaurant scene, which is predominantly inundated with dark, masculine spaces. The restaurant is filled with light, warmth, accessibility and comfort, which is reminiscent of De Laurentiis herself. "I wanted to create a homey feeling to this place, and I wanted people to feel what it would be to come to my house for dinner," she says sincerely. At first impression, we'd say she's succeeded. Upon entering the restaurant, guests are greeted by a lingering, delicious aroma, an antipasti bar and overwhelming friendliness from the staff.  The killer view of the Strip isn't bad either.  "Seeing that view, I knew that I could to create the indoor-outdoor feel that I wanted," she explains.
The role of restaurateur is a seamless progression for De Laurentiis, whose dossier includes NBC The Today Show correspondent, Food Network judge, and seven-time New York Times best-selling author. It wasn't until a year ago — when she was introduced to the unfinished space at The Cromwell — that she decided to make the leap from chef to restaurateur.  "When I saw the raw space, I turned to my husband and said 'I feel like this is mine.' I had never had that feeling before," she remembers. De Laurentiis explains that the opening of Giada is additionally important because she is the lone female restaurateur on the Strip. "It would be myself and Mary Sue Milliken and Susan Feniger [of Border Grill], but I'm the only one-woman show," she says proudly.
This is not the first time the host of Giada at Home has utilized her female prowess in unfamiliar terrain. Indeed, the 43-year-old chef joined the Food Network in 2002 as the channel's first female Italian chef.  She notes that aside from seasoned female chefs Martha Stewart, Ina Garten and Rachael Ray, food television was — and still is — largely dominated by men. "Food TV has changed over the years that I've been in it, but this is a very male-driven business," she says. "As females, we all fight for respect."
It would seem that any network would want a host as attractive and poised as De Laurentiis, who comes with a celebrity pedigree. Her parents were both actors and her grandfather, Dino De Laurentiis, was a famous film producer, while her grandmother, Silvana Mangano, was a famous Italian movie star. But despite her family's star power, the once timid De Laurentiis admits that her shyness as a child prevented her from following in her grandparents' footsteps. "I was too shy and had no interest in going into that business," she recalls.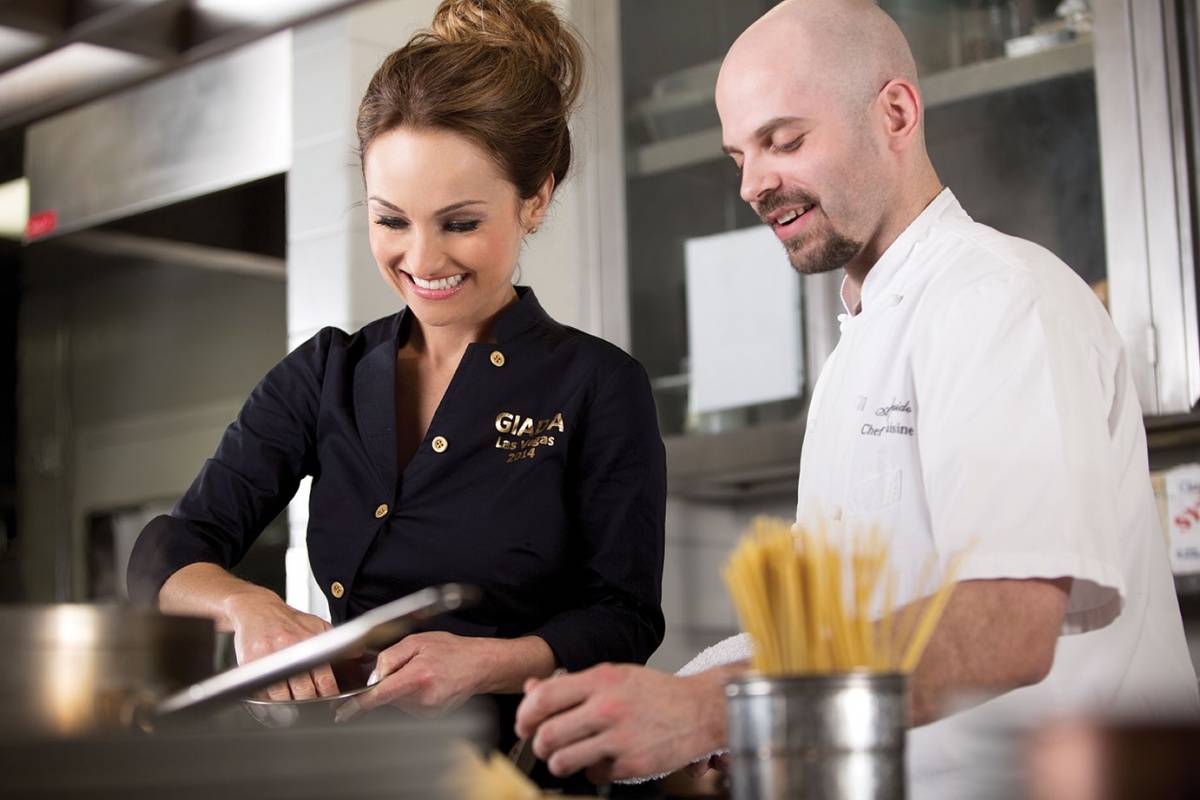 Instead, she cultivated her Italian cuisine in the kitchen of her grandfather's restaurant and later commenced her culinary career at the prestigious Le Cordon Bleu in Paris in 1996.  Upon returning to Los Angeles, she worked for the Ritz-Carlton Fine Dining Room and Wolfgang Puck's restaurant, Spago. De Laurentiis then developed a thriving catering company called GDL Foods, where she landed famous clients like director Ron Howard, before she was discovered by the Food Network. It took three months of being continually filmed on a home video camera, but De Laurentiis finally adapted to being on-screen. "My [late] brother followed me around with a little camera everywhere we went. That is how I started to become comfortable in my own skin," she explains.
This feeling of self-acceptance and confidence is part of what has made the personable chef so successful.  Along with the opening of Giada, she has a myriad of projects keeping her busy, including food shows Giada at Home and Giada in Paradise; she is also writing her fourth children's book, "Recipe for Adventure."
De Laurentiis knows what it takes to be successful in just about any medium, yet in today's visually-driven world, she admits that she would not be where she is without the exposure that television brings. She also cautions that not all chefs have what it takes to be on-screen. "To be successful on TV, you need to be a combo package," she explains. Her best advice for up-and-coming chefs is to "be meticulous about everything you do, work hard, and follow your gut."No doubt, De Laurentiis takes her own advice to heart.
Photography COURTESY OF CAESARS ENTERTAINMENT
Subscribe to discover the best kept secrets in your city