Movie star Gerard Butler is featured on the cover of Haute Time magazine. A friend of the Roger Dubuis brand since 2011, Butler shares his journey from small-town Scotland to SIHH.
From exclusive interviews with the top brands to your look at the best new watches, this issue of Haute Time magazine features the following stories:
Cover story: Gerard Butler
"To me, variety is the spice of life. So yes, I love going to the Oscar parties – it's a celebration of what we do in our profession and a celebration of excellence, the best performances in every capacity in that profession. But that's what the SIHH is – a celebration of the most sophisticated watchmakers on the planet," Butler told us.
The actor also discussed his journey to the top of the box office, despite what seemed to be insurmountable odds. "I went to my mom and told her, 'Mom, I must be an actor!' She was very sympathetic and loving, and said, 'Sure, son.' But at that time I thought this was never going to happen. I went back to my room and started crying because I thought, 'I'm a 15-year-old boy from Scotland, how is that ever going to be where I end up?' And yet here I am."
Carmelo Anthony's Watch of the Day
Haute Time Co-Founder and NBA superstar Carmelo Anthony shares his favorites from his daily Watch of the Day feature.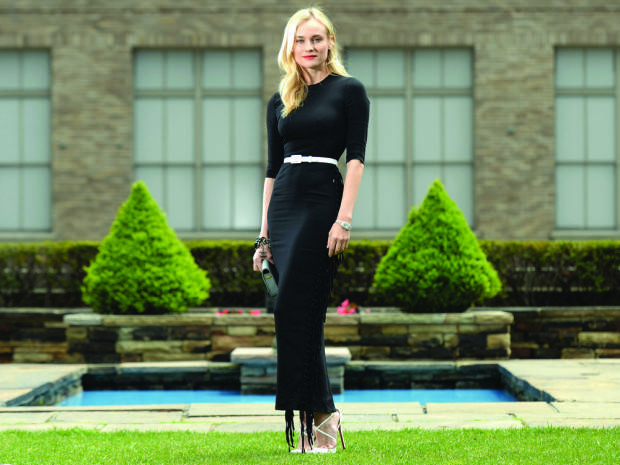 Woman of Substance: Diane Kruger
The perennial favorite on international best-dressed lists, the actress is equally beautiful inside as out. The actress has worked closely with the Autism Speaks organization to perfect her character, Detective Sonya Cross, on her hit show The Bridge.
Swizz Beatz: Haute Collector
From Panerai to Patek Philippe, Swizz Beatz shares his horological journey in his own words, with exclusive pictures of his favorite watches.

Best of Baselworld 2013
Haute Time's Carol Besler picked the year's most outstanding new unveilings from the prestigious watch show.
Karl-Friedrich Scheufele: Chopard's Family Man
The Co-President of Chopard has time in his blood, and he's used that insight to rebuild the maison's watch collections, starting with the L.U.C.
Matt Kemp: Haute Collector
The LA Dodgers superstar looks back at the origin of his style (his Grandma!) and the start of his personal watch collection.
Nas: Day in the Life
The poet laureate of rap gives us a glimpse into his world.
Rock the Watch
Haute Time's Daniel Novela gets wild, with a look at the watches favored by rock 'n' roll's biggest bad-boys!
To read these stories and more from the second issue of Haute Time magazine, check out our free digital flipbook!
Subscribe to discover the best kept secrets in your city