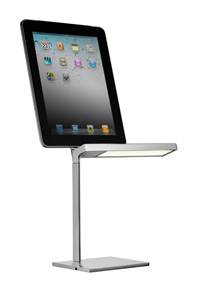 You can tweet, read, navigate, play games and do countless more things with an Ipad.  There seems to be an app for anything anyone can ever desire.
Now there is a new use for the Apple products, Flos, the renowned Italian lighting company, fused a light fixture with an Ipad into something that can light up a room for the user.
The D'E Light created by French designer Philippe Starck, is an aluminum stand with a USB socket above the light diffuser for an Ipad, Ipod, or Iphone (sorry droids).  The fixture also features a 2700 K flat panel for 299 total Lumens making it long lasting and energy efficient.
Subscribe to discover the best kept secrets in your city