VIP-LA gives Haute Living inside access to the most luxurious happenings in LA. Check out their recommendations for this week.
EAT: Komida, Hollywood
Hungry for something different today? Try Komida, the newly-opened, Asian-inspired spin on south-of-the-border cuisine in Hollywood. Think miso sake black cod tacos… Or soy-braised short rips with tequila salsa! Mmmmm!
Komida, the brain-child of Yamashiro's executive chef Brock Kleweno, is only open twice a week; Thursdays from 5PM to 9PM and Saturdays from 10AM to 2PM. These hours paired with the extraordinary eats are creating quite a demand! Kleweno has plans to add two additional days of service to the new restaurant's operations come November.
There are a variety of freshly made salsas, including Komida's signature, tequila salsa. Don't hesitate to dip the tortilla chips, wasabi guacamole, and chef Brock's pickled shishito peppers in the tequila salsa, they come with every order! For a tasty twist on the traditional taco, try the chicken satay taco!
DRINK: Villains Tavern, Downtown LA
A hot hipster hangout on the outskirts of Downtown LA, Villains is definitely worth the trip! Grab a kobe beef burger and a jar of beer.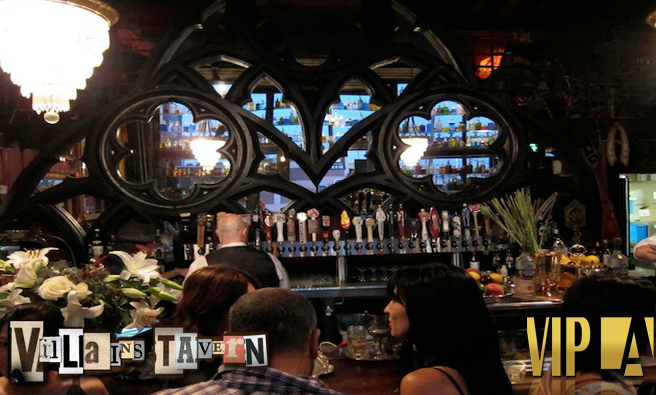 Villains Tavern is Downtown's LA's hottest hangout. People are venturing to the outskirts of Downtown LA to grab a craft cocktail in this beautifully designed tavern. Dana Hollister, the famed interior designer and bar owner's latest venture can be found in downtown's Arts District, under the 4th and 6th Street Bridges and tucked into an industrial area. Hollister didn't spare any expenses when it came to sourcing the design elements for Villains Tavern. When talking about her inspiration for the concept, Dana said, "I think it's really about the place. Whenever I work on a project, I always really get inspired by the building itself." Hollister has either founded or currently owns the 4100 Bar, Bordello, Cliff's Edge and the Brite Spot. "So this building talked to me about being on the edge of town, and kind of a little bit left of everything else that's here. And so for me it was all about constructing something that was unlike anything that was over here, and the idea of kind of like an outlaw place, or like a villains outlaw place [came to us.]. When we got that name together we realized we really had something."
The space incorporates 19th century design cues with reclaimed articles like the old Gothic-arched church window, rescued from a Brooklyn church, which has been re-purposed as a giant mirror and placed behind the bar. There are 600 antique apothecary bottles line the facade. There is a 1600 square foot patio with Argentinian furniture dating back to the 1900s.
The building is not the only thing designed well. The cocktail, beer and food menus are equally as exciting! You can find 28 beers on tap, with 20 of them that can be mixed with a shot of liquor for an $8 "Villains Mix & Match." There are a number of great cocktails offered, including drinks made with "squeezed to order" fresh juices. Food offerings include a 1/2lb Kobe style burger topped with a bacon marmalade, balsamic, and sour cherry spread, a German Weiner dog with braised red cabbage, olive tapenade, bacon and cheese, a grilled cheese complete with a chili-onion-tamarind sambol and the most interesting, fried chick peas, lightly crispy on the outside and chewy in the inside, all topped with chili flakes. View the entire menu here.
ATTEND: Los Angeles Wood and Wine Festival, Los Angeles
With over 70 star-studded events featuring celebrity chefs and major restaurantuers, the first Los Angeles Food & Wine Festival will be a delicious weekend in LA!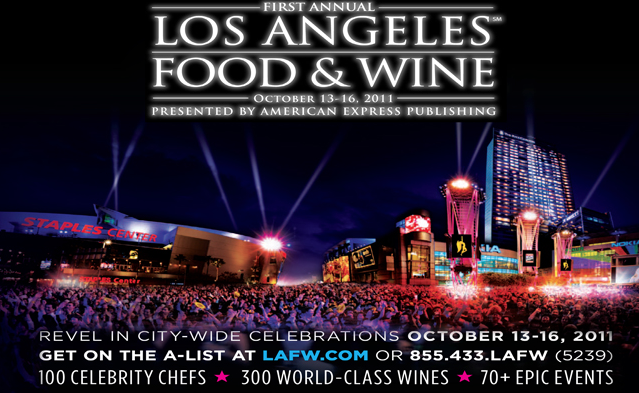 From October 13th to 16th, the first annual Los Angeles Food & Wine Festival will take place from Downtown LA to Santa Monica and everywhere in between. This delicious event features 100 celebrity chefs, 300 winesand more than 70 events!
There are a ton of tasty events planned for Downtown LA, Hollywood, WEHO, Beverly Hills and Santa Monica over the long weekend with tickets ranging in price from $100 to $500. There will be cooking demos, lunches, dinnersand, of course, exclusive after-parties. Kicking off with a red carpet premiere at the Nokia Plaza, whereHollywood celebrities and celebrity chefs will come together to taste 200 different wines, the Los Angeles Food & Wine Festival will revel in true LA glamour! The festival comes to a close at an exclusive, Wolfgang Puck brunch and charity auction on Oct. 16.
Expect all of LA's top chefs to join in the festivities, such as Sang Yoon, Nancy Silverton, Josiah Citrin, Daniel Boulud, Masaharu Morimoto and Tom Colicchio.
A portion of all proceeds benefit the Los Angeles Chapter of Meals on Wheels. So you'll be sipping wine and stuffing your face for a good cause!
All of you foodies out there can buy tickets online here.
VIP EVENT: Breaking Dawn Part 1, Hollywood Movie Premiere
Twilight Breaking Dawn Pt. 1 is the most anticipated movie premiere of 2011! Would you like to attend the Hollywood Movie Premiere?
The Quileute and the Volturi close in on expecting parents Edward and Bella, whose unborn child poses different threats to the wolf pack and vampire coven. See full synopsis and theatrical trailer here. On November 14th at the Nokia Theater, walk the Red Carpet, sit amongst the stars of the movieand mingle with celebs at the official afterparty. VIP-LA has your Exclusive Access
Contact VIP-LA for special offers, reservations and packages for these VIP happenings and more!
VIP-LA 310.988.2848 Members@VIP-LA.com
www.VIP-LA.com
www.VIPLAAccess.com
Facebook
Twitter
Subscribe to discover the best kept secrets in your city