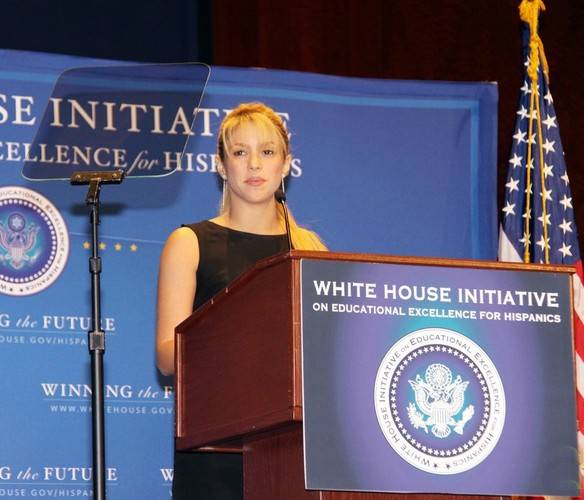 Colombian megastar Shakira has been making great philanthropic strides recently, especially in the realm of education through her Fundación Pies Descalzos (Barefoot Foundation). Because of her great efforts, the singer has now been appointed to a position on President Barack Obama's education committee.
The 34-year-old Grammy Award winning musician was bestowed a position as a member of the Advisory Commission on Educational Excellence for Hispanics earlier this week. She described the position as a "great honor" and was officially handed the role during a ceremony at the White House on Thursday, Oct. 6.
"Being here today is a tremendous honor for me. I am thankful to President Obama and I am humbled that my philanthropic experience could be helpful in some measure and can be used to amplify the message and work of the President and this Commission," Shakira said during the ceremony.
"I hope that through my appointment to this commission, I will be able to share what I've learned through the 15 years I have been involved in the education of Latino children. I am sure you will agree with me that race and ethnicity shouldn't be factors in the success of any child," she said.
"The Obama administration has made a point to improve Latino education and as I spoke to the President previously, I am extremely passionate about working with the White House to plan an early childhood education summit in the coming year. Thank you again, this is a great honor for me, I am so happy to be here," she added.
Shakira's Fundación Pies Descalzos was founded in 1995 and has since operated schools and educational projects in Colombia, South Africa, and Haiti, feeding and educating approximately 6,000 children. She has also served as a Goodwill Ambassador for the United Nations International Children's Emergency Fund since 2003 and, in 2005, became a founding member of Latin America in Solidarity Action.
For more information about Shakira's Fundación Pies Descalzos, visit their website.
Our Haute 100 list details the accomplishments of the most influential people in each of our markets. To see the entire Haute 100 Miami list, click here.
Subscribe to discover the best kept secrets in your city