Tory Burch's highly anticipated Madison Avenue flagship store opened its doors as scheduled last Thursday, September 8, on Fashion's Night Out. The dazzling new shop embraces a homey feel, evocative of a 19th Century townhouse, making the shopping experience one of added luxury.
Located at 797 Madison Avenue, the new spot is brand-new and the largest Tory Burch flagship. A modest entrance opens into rooms upon rooms of fabulous Tory Burch goodies – a first room chock full of accessories, a staircase and elevator, then the rest of the boutique, which stands at an impressive five stories.
While the main floor houses luxe bags and coveted shoes brilliantly displayed in back-lit shadowboxes and jewelry cases, the rest of the boutique feels more like you're raiding the enormous closet of your dreams – stacks of jeans, lines of stylish loafers, and rows of luxurious sweaters.
The second floor is decked out in gleaming orange lacquered walls, boundless natural light, and a large seating area. The third floor houses an additional seating area and playful purple-and-cream print on the walls. A VIP section sits on the fourth floor with access from the elevator and has a lounge feel to it to accommodate for private parties and shopping.
Each floor adheres to its own color scheme and the flagship as a whole was designed to feel more like a home than an impersonal, stuffy Manhattan store. It was designed by renowned architect Daniel Romualdez and has incorporated elements of Burch's own home in its concept, making for a very personal shopping experience as you glimpse what Burch's actual home must feel like.
Our Haute 100 list details the accomplishments of the most influential people in each of our markets. To see the entire Haute 100 New York list, click here.
6140050279_ff6686a01b_o
6140050451_40b7fd5cf6_o
6140050681_153153c770_o
6140050801_12ef12f1fb_o
6140050929_b2ecd97b36_o
6140051055_71119712f9_o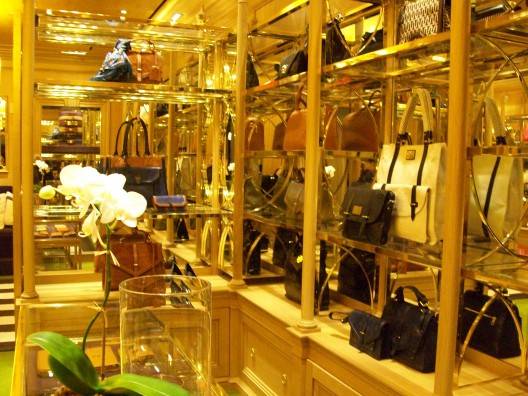 6140051935_ab3028f80f_o
6140604316_5494dee7b1_o
6140604728_db0de81958_o
6140605502_0d11c64d3a_o
6140605834_6de0f4931a_o
6140606226_ed200d268b_o
Subscribe to discover the best kept secrets in your city