Tis the season for charity luncheons, so yesterday I was off to the Waldorf Astoria for the 17th annual Women of Distinction Luncheon for the Crohn's and Colitis Foundation of America, where Ellen Crown was honored as the Woman of Distinction. This luncheon raises more money than any other of its kind in New York City, in part because of the efforts of chairs Elyse Newhouse, Carolyn Rowan, Michelle Swarzman, and Michele Sweetwood. Cynthia McFadden of ABC News, Primetime, and Dateline hosted the affair.
The Crohn's and Colitis Foundation of America is a non-profit, volunteer-driven organization dedicated to finding the cure for Crohn's disease and ulcerative colitis. The foundation dedicates a portion of the monies raised at this event to the Pediatric Challenge Initiative, which is a commitment to understanding how inflammatory bowel disease affects the youngest of patients.
After a beautifully catered lunch was served, I had the pleasure of watching a fashion show with some of the top designers like Kaufman Franco, Valentino, Jay AHR, CD Greene, Andrew GN, Dior, Jason Wu, Naeem Khan, J. Mendel, and Oscar de la Renta.
Some of my favorites from the raffle list included Larry Weinstein Furs' Dark Brown Horizontal sheared mink stroller valued at $22,0000; Beach to Ballroom 18K yellow gold frosted white topaz and amethyst briolette earrings valued at $3,500; and the William Goldberg Diamond and platinum Ashoka pendant necklace valued at $12,000.
In attendance were some of the women very much involved in the charity world such as Baby Jane Holzer, who looked as young as a teenager, Suzanne Bakst, Denise Rich, and Tinsley Mortimer.
To see more photos from the CCFA Women of Distinction Luncheon, check out the Haute Living events page.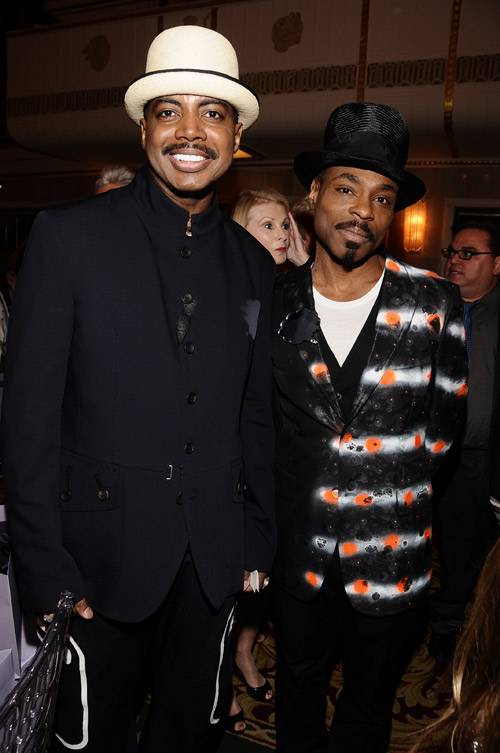 CD Greene with guest at CCFA luncheon
CD Greene with guest at CCFA luncheon
Elyse Newhouse, Michelle Swarzman, Ellen Crown, Alexa Maize, Michele Sweetwood, Carolyn Rowan
Elyse Newhouse, Michelle Swarzman, Ellen Crown, Alexa Maize, Michele Sweetwood, Carolyn Rowan
Eve Millstein, Ann Mantell, Elyse Newhouse, Arielle Perlmuter
Eve Millstein, Ann Mantell, Elyse Newhouse, Arielle Perlmuter
with Michelle Swarzman and Suzanne Bakst
with Michelle Swarzman and Suzanne Bakst
with Tinsley Mortimer
with Tinsley Mortimer
Subscribe to discover the best kept secrets in your city