You know what they say, the clothes makes the man. And where a man shops and what his clothes say about him all add to his mysterious allure. So here's your cheat sheet boys, drop some dough at this haute spots and make the women fawn over you.
Jake
Named after the token "hot boy" from Sixteen Candles, Chicago-born fashion hotspot Jake focuses on upscale designer collections along with some lesser-known up and comers. The styles are more timeless than trendy so it's a great place to stock up on high-end basics including the perfect dark wash denim.
Jake is located at 939 Rush St. in Chicago.
Haberdash
Opened by a former lawyer gone rogue to follow his dream, Adam Beltzman had one goal with Haberdash: to bring back  the traditional men's store of yesteryear. A local, one-stop shop tailored for men and only men. A store where gentlemen received a high level of service and were made to feel comfortable shopping for their wardrobe. The Old Town boutique offers the perfect mix of clothing, shoes and accessories to take you from work to weekend and from day to night for the modern, contemporary man.
Haberdash is located at 1350 N. Wells in Chicago.
G-Star Raw
From it's conception in 1989, G-star Raw has been know for innovation and pushing boundaries, continuously experimenting with rough, rudimentary and raw styles to create distinct and unorthodox looks. With a corporate philosophy of "Just the product," G-star's minimalistic urban, military look can turn any bloke into a sophisticated European gentleman.
G-Star Raw is located at 1525 N. Milwaukee in Chicago.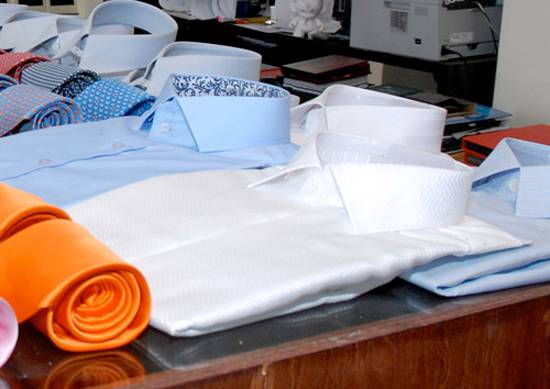 De Louice Custom Tailor & Design
If you're looking for a more custom, off the rack style, De Louice Custom Tailor specializes in designing European cut suits and tuxedos exclusively for you. With your choice of fabrics, linings and accouterments, De Louice can build you the perfect wardrobe to fit your style and body. Très chic!
De Louice Custom Tailor & Design is located at 1755 W. North Ave. in Chicago.
Brooklyn Industries
Brooklyn Industries is an artist-owned and operated cutting edge design company. Founded by Lexy Funk and her partner in 1998, Brooklyn Industries' stores engage the local community in art, clothing, design and style. With a layered, vintage city feel crafted out of industrial design concepts, everything they make is sustainably designed and socially responsible.  Brooklyn Industries was named a "Green Power Pioneer" by ConEdison Solutions and Community Energy, Inc., in recognition of their commitment to using 100% National Wind Power in its stores and offices.
Brooklyn Industries is located at 1426 N Milwaukee Ave. in Chicago.
Subscribe to discover the best kept secrets in your city