Photo Credit: David Clerihew

AFTER SIX DECADES IN THE MUSIC INDUSTRY, SIR ROD STEWART WAS READY TO START SOMETHING NEW. AND NOW, HE HAS: HIS VERY OWN WHISKY.
BY LAURA SCHREFFLER
PHOTOGRAPHY DAVID CLERIHEW
STYLING ASSISTANT FAYE CARNON
SHOT ON LOCATION IN ESSEX, U.K.
ALL CLOTHING SIR STEWART'S OWN 
Photo Credit: David Clerihew               
Sir Rod Stewart CBE (that's Commander of the Order of the British Empire, to you) is painting a picture, and it ain't a pretty one. His tale of woe goes like this: there was once a teenager from the U.K. (and no, this isn't a limerick) a lad who didn't quite get the whole 'drinking in moderation thing' and, after a night of binging on whisky, got so violently ill (re: 'sloshed,' 'toasted,' or 'drunk as a skunk') that he literally refused to touch the stuff again for 62 years. The man in question, of course, is Sir Stewart, and much like his 16-year-old self, he still doesn't always know (or, more truthfully, care to adhere to) his imbibing limits.

Let's chalk it up to the fact that Stewart simultaneously rediscovered his love of said liquor and launched his own label this past summer with Wolfie's, a 40 percent ABV blended Scotch. And thank goodness for that, because he'd have a real problem selling something he literally couldn't stomach the taste of.

"I was far from a whisky drinker. I got terribly, terribly drunk on whisky at age 16 and really didn't touch it ever since," the 78-year-old rocker admits on an early September afternoon from his 18th-century estate in Essex, a county in the east of England, just two days after wrapping an 18-show North American tour. "A lot of musician friends I've spoken to won't drink a certain alcohol because they had a bad experience with it. And that was me with whisky. But it's certainly one of my favorite [libations] now. Obviously, I'm going to say that — I own a whisky brand — but the truth is, I don't drink much liquor neat anyway. It's not good for your throat — and I'm a singer."

"I've heard that about you," I say.

But what could have possibly made him change his mind after six decades of abstinence? A miracle? Hypnotization? Magic? Nope, none of the above. "A musician friend of mine in Glasgow [John McLaughlin of Johnny Mac and the Faithful], who I've known for some time, said he had a friend in the whisky business who wanted to start a label, and would I be interested? I said, 'Of course.'"
It was meeting his now-business partner, Wolfie's CEO Duncan Frew, that really sealed the deal. "When I met Duncan, we hit it off because we're both football [soccer] fans and Celtic F.C. supporters. We're like Laurel and Hardy."

"Who is who?" I wonder of both men, who are currently sitting side by side in Stewart's massive home gym, a plethora of Celtic F.C. paraphernalia behind them, as if to make a point.

"You'll have to make up your mind when you finish the interview," Stewart says with a wink. [Side note: I still haven't figured it out.]
Photo Credit: David Clerihew

What I do know is this: it's been a two-year journey since the gents met, and Stewart has been an active owner at every stage — from the labeling, to the bottle shape, to which of his song lyrics should be included and where — as well as, of course, the liquid itself, and he assures me that he has been extremely hands-on. While Frew might have conceptualized all ideas, he did run "everything by me, absolutely every detail," according to Stewart, from "the glass to the label to the many tastings of the liquid." In fact, he was right there with Frew earlier this year at this distillery, where he met with everyone from the coopers to the master distillers of Wolfie's. But even before that, Frew had instilled his trust.

"I don't think we've gone a day without speaking since [we decided to partner up]. Duncan runs it all by me to see if I approve, but he knows what he's doing. He's been in [the spirits business] for 20-odd years."

But back to Laurel and Hardy. The slapstick comedy duo's signature phrase, "Well, here's another nice mess you've gotten me into!" flashes through my head as this pair riff off one another — and only because they're describing some of their recent shenanigans out "on the piss." Their friendship — and working relationship — is clearly anything but (a mess, that is).

"We had a skinful last night at The Ritz," Stewart declares, explaining, "We had some mixes last night, some experiments, and it was really tremendous. It was like apple pie, custard, and ice cream all together."

Frew adds, "[Michele Lombardi], the head bartender at The Ritz, is making a special cocktail for the hotel called 'Rhythm of My Heart.' It was too good; we might have had a few of those last night." [Side bar: This libation is top secret; its ingredients will be announced just before Burns' Night, an event of which marks the January 25 birthday of Scotland's most eminent poet, Robert Burns].

To this particular twosome, Wolfie's is something that can truly be drunk anywhere — and trust me, they do. Frew begins to laugh when he describes the dichotomy of two recent nights promoting the product, and you'll see why. "We got a Rolls-Royce to The Ritz last night and had the best mixologist in the world making us these amazing cocktails infused with smoke. And then, a few days ago, we drove up in Rod's new LaFerrari [a stunning, $4 million white whip which has its own Celtic F.C. themed, burglar-proof garage] to The Cock, a lovely, wee country pub. We had all the old men, locals, sipping on it neat. It's amazing to see how people do different things with it, which is what's so fun about it."
There's a lot to love about the product itself outside of the Scottish Laurel and Hardy's promotional style. For starters, it was created as an homage to Stewart's career, drawing inspiration from his early hell-raising days with Faces, with subtle nods to Americana to boot.

Which, basically, is enough of an impetus for any true fan to try it, but both Stewart and Frew know that a name alone isn't enough to inspire brand loyalty. That said, on this front, they're armed and ready.
"[Fans] aren't going to drink it just because I'm associated with it. I have to convince them it's a very, very unusual and brand new taste of whisky. I'm not a connoisseur by any means, but this one is so acceptable to the palate," Stewart declares.
Frew is a connoisseur, though, and he's standing by the brand (obviously) as well. "We worked really hard to make it as smooth as possible. That was the biggest thing. It can be mixed and drunk straight. We want people to have fun with it, play around with it, and enjoy it."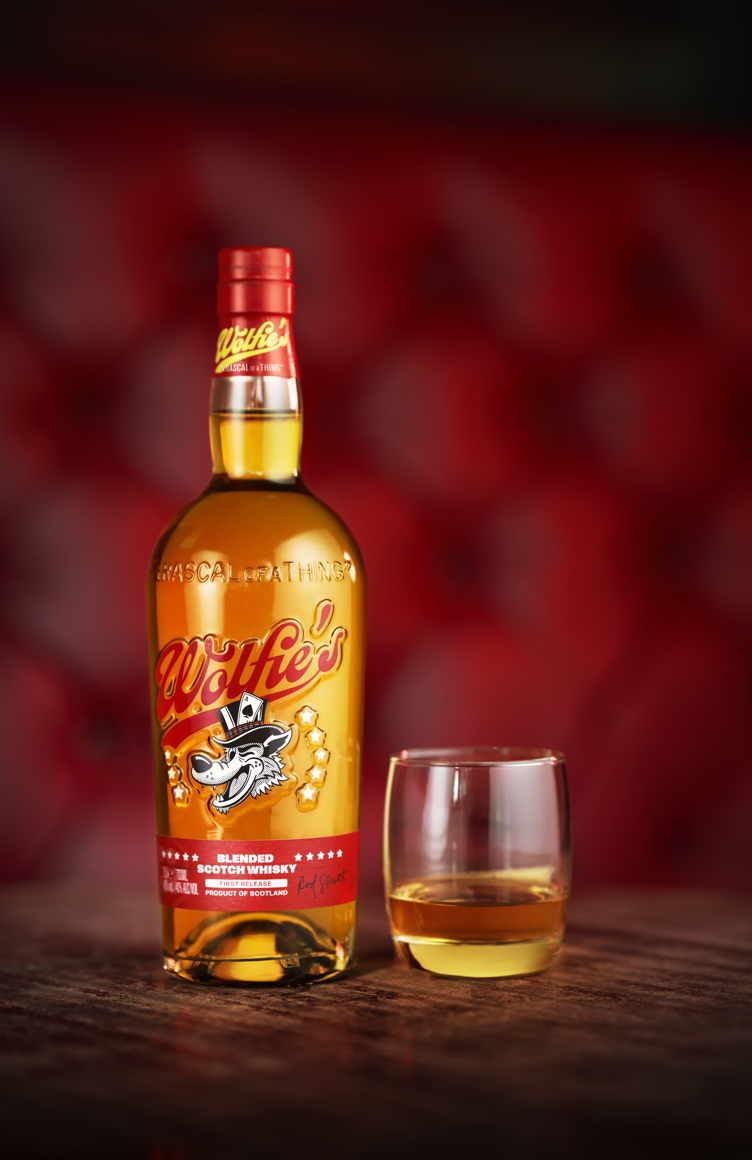 Photo Credit: Jonas Mohr

Whisky enthusiasts will certainly do just that: it is truly enjoyable to drink.Wolfie's perfectly marries grain and malt whiskies, resulting in a lightly peated, smooth, and wonderfully balanced final blend filled with flavors of warm cinnamon, fresh vanilla, and baked apple. It has delicate notes of sweet peat and pears in syrup, with a finish of candied citrus peels and gentle oak spice.

The whisky is handcrafted in small batches on the banks of Loch Lomond from malted barley and unmalted cereals using a three-step process of preparation, distillation, and maturation. Each undergoes separate, age-old processes to finely turn the sugars into alcohol. For the single malt, the wash is distilled twice in large copper stills. For the grain whisky, distillation takes place in continuous column stills made of stainless steel with copper elements. American oak bourbon casks are chosen to age the liquid slowly, allowing all the flavors to mature. Before filling, coopers char each cask to release wood compounds that impart flavor and color to the maturing spirit.

Some might argue that the exterior is just as important as what's inside, and so, lyrics 'Rhythm of My Heart,' referencing the opening track from Stewart's 1991 album Vagabond Heart, are emblazoned on the base of each bottle. This choice is strategic, given that his recording of the song was a nod to his Scottish heritage, having adapted the melody from the traditional folk song "Loch Lomond" — which is where the spirit is produced.

And when it comes to where these two plan on taking the brand, the sky really is the limit. Says Stewart, "We want it to be a success, obviously, all around the world. And you know, when I'm no longer on the planet, I'd like people to order a drink of Wolfie's and say, 'Oh, I remember this song' at the same time." [Frew, too, is always thinking big picture, but for now, has a more immediate piece of good news — he tells Stewart during our chat that the Celtic F.C. Women team has asked Wolfie's to sponsor them. Go Celtic pride!]
Some of Stewart's best recent memories have taken place while drinking Wolfie's, although, admittedly, when drunk in excess, it does have the tendency to do quite the opposite.

Take his recent July 6th show at Edinburgh Castle, for example. It was an iconic show to play — especially for a man who takes such pride in his Celtic heritage. But the show's aftermath was just as memorable for the rocker, as it turns out.
Frew sets the scene, saying,"We've actually got the band converted as well. We do Wolfie's appletinis after every show, which go down a treat. [At this show], we had a bartender who was a bit heavy-handed with the whisky, and it was an interesting evening."

Stewart is more than happy to expand here. His hangover has finally dissipated, after all. "It was two weeks ago, and we're still hung over," he says with a husky laugh, adding, "I have six females in the band, all gorgeous, and great musicians as well, and six guys — so there's 13 of us. And after every show, we get together in the dressing room and talk about how great we are and how good we were. This particular night, we had appletinis. And, as Duncan said, the barman overmixed — he put too much whisky in — and we were on the floor after about an hour."

I have so many questions, but in regard to this night, the details are in the vault (if the guys actually remember them at all, that is). So, I ask one lingering question about the brand instead. What's in a name? 

As it turns out, Wolfie's, as conceived by Frew, is apropos of nothing. For his part, Stewart thinks it's "fabulous" — and I happen to think it's fitting. There is something decidedly wolfish about his countenance, from his cheeky smile to his spiky hair. Well played, team.

As Stewart says with a shrug, "It just gets the imagination going. And so why not?"
Photo Credit: David Clerihew
SIR RODERICK DAVID STEWART NEEDS TO KEEP MOVING. He is a giant, restless ball of energy — leaping up frequently to wander, take bathroom breaks, show me a photo, or greet visitors (he thought his 94-year-old sister, Mary, had arrived to "clean his silver." I think he's joking.). This might be why he's still performing as he approaches his 80th birthday — this constant state of motion will keep him forever young, if you will.

But, because he's seen and done it all (as one of the best-selling recording artists of all time and as a man whose career has spanned six decades inevitably has), he gets bored very, very quickly. It's partially, I think, why he was up for the challenge of launching a whisky label when he didn't even drink whisky — it was something new, something refreshing. It's most certainly why he likes discussing it. After 60-plus years of answering the same mindless questions on repeat, Stewart loves being able to change the narrative.

And so, I could ask him about his achievements, to which he'd likely yawn in my face. Or, far more likely, he'd respond with something cheeky to entertain himself, like a modern-day Loki in leather pants. I opt for a different course of action entirely, and we talk about how he entertains himself on tour, lest he become idle and, in turn, become a troublemaker.

Stewart loves performing. He's never happier than when he's on stage, and that's a fact, even after all these years. "That two hours on stage is the most potent drug you can imagine," he admits. "It's highly addictive. It's all the bloody in-between time I don't like, sitting in hotel rooms… although when I am sat around like that, I build my model railroad so that I'm not idle."

So hear this: when Stewart travels, he brings part of his model railroad with him, which he's been working on for the better part of 30 years. I say 'part' because the entirety actually fills up the majority of his home gym, much of which can't be transported by private plane (which is how he travels). "It's something I'm working on for five or six hours a day. While all the banders are sitting around picking their noses, I'm occupied," he says, not smugly, but cheekily, as per usual.
He shows me a photo of said model train city, and I'm flabbergasted by the sheer scale of it. But then again, after 30 years of working on one project, what should I have expected? I'm surprised even further when he tells me that his love for this hobby nearly changed the course of his career.

"My dad [was the first person who] bought me a model railroad, but he also was the first person to buy me a guitar instead of a part for my train set. When I was young, I said, 'Dad, I don't want a guitar; I want that signal.' So, it's always been a huge part of my life, and it's a huge part now," he explains.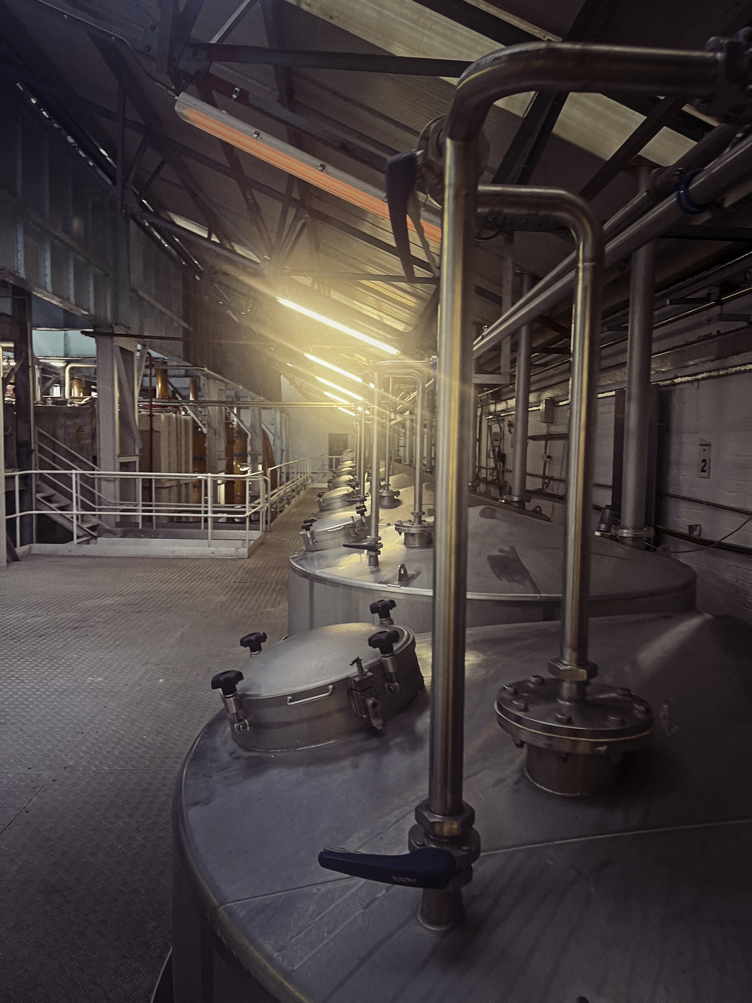 Photo Credit: Jonas Mohr
This is what Stewart really wants to discuss when pressed: how his parents truly felt about his decision to become a musician. "No one's ever really asked me that," he says.

Well, someone just did. Though I feel like the answer is obvious, if his father pulled a fast one and bought him a guitar instead of the model train part he had been begging for. "They were extremely cooperative with me," he tells me. "They said, 'Go for it, son.' Way back then, to be in a rock band was like, 'What do you want to do that for?' My dad was especially encouraging, though. He bought me my first guitar when I didn't really even want a guitar. His idea was, I think, 'There's some money in this, son.' So, my whole family — including my two brothers — clubbed together and bought me my second guitar, a Zenith, that I still have and have had since I was 16 or 17 years old. I beg any parents out there who have children who want to go into music to be encouraging because everyone should have that chance."

Interestingly enough, Stewart's early history didn't revolve around music. It wasn't until his late teens that he picked up a guitar at all. He was born during World War II in Highgate, North London, the youngest of five children. His father, Robert, was a Scottish master builder from Leith, Edinburgh, with a penchant for model trains and football; his mother, Elsie, was an Englishwoman from Upper Holloway in North London. Yet, every one of his family members played a part in making Stewart both the man and musician he is today, coming together to pay for the tools he needed to succeed. "We didn't have any money," he admits. "We lived in rented apartments, but my family always found room and money to give me to keep me going. I owe them so much."

It was with their support that he left school at age 15 with aspirations of becoming a professional footballer, even going for trials at Third Division club Brentford F.C. in the summer of 1960 (which, fortunately for the history of music, didn't happen.) They also fully supported his musical career, which began, after a stint busking, in 1963 when he joined The Dimensions as a harmonica player and vocalist. In 1964, he briefly played with Long John Baldry and the All Stars before becoming a member of the Jeff Beck Group in 1967, and later, Faces in 1969; the same year that he also released his first solo album, An Old Raincoat Won't Ever Let You Down. His third album, 1971's Every Picture Tells a Story — home to one of his most iconic tracks, 'Maggie May' — was really his breakthrough, though, topping the charts in countries including the U.S., U.K., Canada, and Australia.

That's just the start, and likely where I'll finish because Stewart's slew of accolades, achievements, and milestones are seemingly endless. I couldn't possibly attempt to include them all here, but suffice to say, he's responsible for some of the most iconic songs in history, inclusive of 'Forever Young', 'Rhythm of My Heart', 'Tonight's the Night', 'I Don't Want To Talk About It', and 'Da Ya Think I'm Sexy'; has 31 studio albums, the most recent being 2021's The Tears of Hercules; and has been ranked by Billboard as the 15th Greatest Artist of all time.

But back before he sold an estimated 250 million records and singles worldwide, before he became one of the few stars to enjoy chart-topping albums throughout every decade of his career, before he had two inductions into the Rock and Roll Hall of Fame and the ASCAP Founders Award for songwriting, became a New York Times bestselling author, a Grammy Living Legend and winner, and was officially knighted by the late, great Queen Elizabeth II for his services to music and charity, he was just a boy who wanted the approval and pride of his parents. He still remembers that boy well.
As such, he tries to pass along the wisdom and life lessons he's procured over the course of his 78 years to his eight children (and his eight grandchildren). Those kids are Sarah, 60, with former girlfriend Susannah Boffey; Kimberly, 44, and Sean, 43, with first wife Alana Stewart; Ruby, 36, with ex-girlfriend Kelly Emberg; Renee, 31, and Liam, 29, with second wife Rachel Hunter; and his children with current wife of 16 years, Penny Lancaster Stewart: 17-year-old Alastair, the face of Wolfie's first campaign, and Aiden, 12. 
Photo Credit: David Clerihew
His own parents were amazing, and Stewart tries to be the same for his brood (which is no mean feat with eight kids). But he's of a different era, and he's a rocker. His lifestyle now — the LaFerrari, the Essex mansion, the private plane — these things are drastically different from what his own parents had growing up, but fundamentally, he still has the same values as his late parents. Needless to say, there are certain parenting differences: "I don't think I'm as strict with my kids as my mom and dad — especially my dad — were," he admits. "I'm very lenient with them. None have gotten into any serious trouble. A couple dabbled with drugs, but that's all done now. I'm very proud of them all. When I'm on the road, I miss my family so much. I miss my wife. I always find them a wonderful luxury when I come home." 

But tour he must — it's very nearly in his blood to the point that he can't imagine his life without it. Yet, that part of his life may abruptly come to an end on November 22, the last official date of his 11-year Las Vegas residency at Caesars Palace. Will he return? On this front, not even Stewart is certain what the future holds.

"I've got one more session to go in November, and I'm not sure what's next. Purely, I love Caesars Palace. They treat me like a king; they really do. But because I've made a swing album with a guy named Jools Holland, I really want to start singing that stuff. I want to promote it. If I go back to Vegas — and I'd like to — if the album's a big success, maybe I could do a swing show, big band stuff. Who knows?"

If Lady Gaga can do it with a jazz and piano show, why can't he, I reason?

"Absolutely," he agrees, adding thoughtfully, "She's a good singer, by the way, Lady Gaga. Really good."

My vote would be for a Rod Stewart/Lady Gaga swing show, so here's hoping. They're both incredible, consummate performers (with equally incredible hair). And I can't speak for Gaga, but Stewart shares that he's so dedicated that, on days he's performing, he refuses to speak until it's show time. He goes by self-prescribed orders, days of total silence, wearing a sign that says, "Doctor's orders, can't speak, voice rest."

He discovered several years ago that this moratorium on speaking preserved his vocal cords and enhanced his performance, but even before this "always gave 110 percent on the stage [including] being on time. I'm particular about that. I like to start the show right when it's announced, whether the place is full or not, whether people are late coming in or not. Anybody can tell you that in Vegas, I go on at 7:30 p.m. sharp. I like to think I've always been a true professional and that that hasn't changed."

I'll say. It's a total task to give the fans what they want this consistently, especially what they want is for Stewart to strut around in tight-fitting leather pants at each and every show, year in and year out. And although he divulges that these days, those pants have an elastic waist, who cares? He's still giving the fans what they want. He's still achieved the pinnacle of success — although he personally doesn't see it that way.

"It's not really like that," he protests. "You have your ups and downs. I'll have a great album come out and then immediately after have an album that doesn't do as well. I've got a great team around me that keeps me up there, and I work extremely hard. I enjoy it, though. There's no job in the world like mine. Getting up in front of 10,000 people — singing and sending them all out smiling — is incredible. It's not like being a footballer or a baseball player, where half the crowd wants to see you lose. They all want me to win; they want me to be as good as I am. It's just been a tremendous life."

With or without whisky, I take it. Though obviously, the glass is always better when it's half full.  
Photo Credit: David Clerihew
Subscribe to discover the best kept secrets in your city