Photo Credit: Victor Demarchelier
KATIE HOLMES IS THE ULTIMATE QUADRUPLE THREAT — WRITER, PRODUCER, DIRECTOR, AND STAR — OF NEW FILM RARE OBJECTS. NOW, IT'S TIME TO WATCH HER FLY.
BY LAURA SCHREFFLER
PHOTOGRAPHY VICTOR DEMARCHELIER
STYLING BRIE WELCH
HAIR TOMMY BUCKETT
MAKEUP GENEVIEVE HERR
NAILS ADA YEUNG
SHOT ON LOCATION AT BACCARAT HOTEL, NEW YORK
Kintsugi," also known as "kintsukuroi," is the Japanese art of repairing broken pottery, transforming shattered pieces into something different and exceptional by mending those fractures together with something rare, like gold. It is also a philosophy: the notion that, instead of being considered damage, these flaws are simply part of the object's history — and that those very flaws are what makes it truly beautiful.
This concept also happens to be the underlying theme of Katie Holmes' upcoming IFC film and third full-length film directorial effort, Rare Objects, an adaptation/interpretation of Kathleen Tessaro's bestselling 2016 novel of the same name. "I feel like the metaphor here is that you're better for having been broken, and that you're more beautiful when put back together again," Holmes explains as we sit down to chat at the Baccarat Hotel in early March.
With this in mind, Rare Objects becomes more than a mere movie. It is an exploration of resilience — an inside look at the restorative power behind female friendships and an ode to empowerment all wrapped into one — where, through each other, women find the internal strength to go on. It reveals that, like that very glue made of gold dust, we are capable of putting our shattered pieces back together again in beautiful and, yes, rare and ways, with the knowledge that it's okay to show our scars.
It's certainly a lovely sentiment, with an equally fantastic result, one that Holmes has been diligently working to create since securing the film rights five years ago. She's worn every hat imaginable during the process — star, co-writer, co-producer, director — to get the final product right, cherry-picking both the cast and crew to make her vision come to life.
In Rare Objects, she tells the story of Benita (played by American Rust's Julia Mayorga), whose life of promise has been effectively snuffed out after a sexual trauma leaves her in pieces. It is only when she finds a job working in an antiquities shop of "rare objects" that, through her interactions with its quirky, charming staff and customers (played by Derek Luke, Alan Cumming, and David Alexander Flinn), her healing truly begins.
Holmes clearly put her heart and soul into the project and shows the same passion when discussing it. This was a story that she knew she had to tell, but with that knowledge came a real responsibility to get it right — which is why, ultimately, she chose to oversee every aspect herself. "I had a lot of passion for bringing this story to the screen, and I wanted to do it all," she admits, adding, "I like finding stories and creating the atmosphere of creativity and getting to work with people I love."
Her all-star crew included mainly friends and former colleagues, including Oscar-winning cinematographer Lisa Rinzler of Buena Vista Social Club fame; production designer Michael Fitzgerald; casting agent Avy Kaufman, who not only gave Holmes her first shot in the industry with 1997's drama The Ice Storm but also cast her directorial debut, the 2016 family drama All We Had; and last, but certainly not least, best friend and costume designer Brie Welch (who also, incidentally, happened to be the stylist on our cover shoot).
Of this curated dream team, Holmes says, "Personally, it was just amazing to play a role in bringing wonderful people together, letting them do their thing, and being able to learn from them. I mean, it takes a lot of time to be good at something. It takes many years of study, so you want the people who've done that and know how to bring it. Brie and Michael and Lisa, they helped so much obviously with creating beauty, and we wanted it to be beautiful and rich so you could leave with this wonderful experience even though you're watching certain scenes that are horrible."
And they are. For as elegant as the film is as a whole, there is a stark realism in many shots that's almost painful to watch. But it was Holmes' intention to confront those hardships head-on cinematically and bring her truth to Tessaro's words.
Photo Credit: Victor Demarchelier
"It all had to be quite real, and quite rare," she notes. And here, it strikes me how very rare, and brave, Holmes herself is for choosing this particular project: it's a bold move to not only take on such a beloved book, but also to make such significant structural changes to it. The setting, formerly Depression-era Boston, is now modern-day New York, and its leading lady, Irish immigrant Maeve, has been replaced by Hispanic medical student Benita. That being said, the bones are still there: it is still the story of a young woman trying to reclaim her self-worth after surviving a tragedy and of how love — of herself and of her friends — put her back together again.
Holmes defends these changes to the ground (not that I'm asking her to, mind you); she says they were entirely intentional — especially the modernization aspect. "The hardships of the Irish in the 1930s don't exist to that degree in today's world, so I felt like, if we were going to modernize it, we were going to need to change Benita's origins, and then her name, in order to make her relatable," she explains.
But the setting? Well, that one was less necessary — unless you're Holmes, that is. She's a New Yorker, after all, and in a way, Rare Objects is the ultimate love letter to her sprawling, imperfect, messy, gritty, glorious city.
"First of all, I never get tired of shooting here; it's home. Plus, I really wanted to shoot in New York City because of the proximity of neighborhoods. We needed to be able to bring Benita and Diana [Holmes' character] together in a way that felt as natural as possible. And you can believe that someone like Diana would go into that store. You can run into people from different walks of life all the time, just on the street in New York, so it felt like an important aspect of the story. And we set out to be as authentic as possible. We didn't necessarily want to show landmarks, because that's been done. We wanted to find places that really highlighted a New Yorker's point of view, like Queens, because that was Benita's neighborhood. The subways were very important to us, too, because that is [the] heartbeat of the city; it's the artery — that's how strangers connect."
Or, you know, they might meet in a fictional mental facility, as Benita and Diana — an eccentric, wealthy New Yorker who is defined by her fragile mental state and a co-dependent love for her brother — do. While Holmes' character arc doesn't sound particularly relatable, she is absolutely one you hurt for … and root for.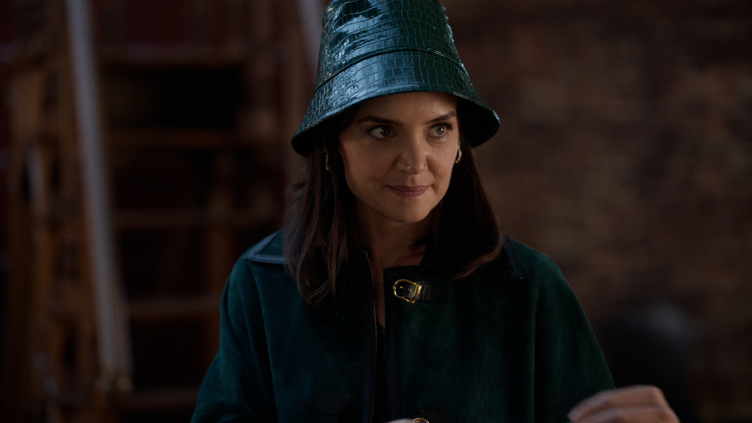 Photo Credit: IFC Films
She felt the same. "I was passionate about playing Diana because I wanted to highlight the best of women — that understood closeness and support that we have for one another. I loved seeing that these two characters found each other again, that they were there for each other.
There was something very poetic about their friendship, and I think it does feel true to female friendship; it was so relatable," she says.
Holmes would know; her own friendships served as some major inspiration for the closeness between Benita and Diana. Her tightknit crew of confidantes gave her endless, unfiltered feedback on Rare Objects, watching copious cuts and lending their support.
"They're a soundboard for me, and I'm one for them. I grew up with a lot of female friends; I went to an all-girls high school. So, very early on in life, this whole idea of women supporting women, that was innate, because that's what we did. It was like, Oh, you didn't finish your work? I'll write that for you! Will you listen to me read my paper at 4 a.m.? Sure!"
That feeling of camaraderie has continued throughout her life, thanks in part to the fellow moms she's met while raising her nearly 17-year-old daughter, Suri, of whom she says, "She's the greatest; my heart is her … She's definitely my favorite thing about life." As for the female closeness, Holmes also says, "I feel like also just being a mother, raising my daughter, the other moms that I've met — especially when my daughter was little — we will love each other forever because we cared for each other's babies. You know what I mean? Like, first, second, third grade, when they're so little, you depend on each other. There's so much that women go through and help each other with and just kind of understand. It's a beautiful relationship that women have with each other."
This is the crux of the story Holmes wanted to tell — a tale that was authentic to women, authentic to friendship, and authentic to, you know, life. "Benita's not fully healed by the end of the film, but the fact that she goes back and she continues to try even though she's gone through these different heartbreaks, I feel like that's true to life and the timing of life. It's the small steps that are important, not the big, grand steps. It's those little shifts. And you believe that Benita's going to have a good life. We don't need to see the whole thing, we don't need to see what's next to know that she's going to be okay."
But redemption and salvation? Well, of course that should happen. I mean, who doesn't want a happy ending?
Holmes puts it this way: "I love the idea that Benita, who starts off going through something really traumatic, ends up in this world of old and special objects because she's very special. She's not old, but she's experienced and valuable, and she learns that along the way. It resonated with me; I felt like if we all looked at each other that way — as rare objects — maybe we would treat each other better. And if you just start to pay attention, maybe you can."
She says this earnestly and a little innocently, but then, Holmes is an optimist. "I like to put hope out there if I can," she admits. "I don't want to sound silly, but I think it's nice to do that, to just give people an enjoyable experience, and to feel okay at the end. Like, maybe [Benita's] going to be okay, and maybe I can be okay, too. Because really, we're not as different from each other as we might think."
Photo Credit: Victor Demarchelier
WHEN KATIE HOLMES ARRIVES FOR OUR COVER SHOOT at the endlessly elegant Baccarat Hotel, she does not look like the Katie Holmes I expected. Her hair is wet after a post-hot yoga shower; she is makeup-free, clothes loose. Instead of extravagant baubles, her jewelry du jour is a hooped nose ring. The only hint that she is more than a typical New Yorker is the lone paparazzo outside, whose flashbulbs cut a blinding swath through the morning drizzle.
Her voice is the same — girlish and happy — but she is far more open, more honest, and more relatable than I expected. I am not in the slightest surprised that she has such a close-knit network of friends. When you meet Katie Holmes, you want her to be your friend, too.
At the time of our interview, she is still starring in the off-Broadway play The Wanderers (which wrapped April 2) at the Roundabout Theatre Company. She is explaining her hesitancy at doing the play — not because she didn't want to, but because it demands (and receives) such honesty from the audience. There are no do-overs, no edits. She wasn't sure she was ready for this kind of exhausting, emotional exercise night after night.
"It's interesting, because there are definitely days where you're like, I just don't think I have anything in me tonight; I don't know. I'm tired, I'm spent. But then you get there, and something clicks. It's in those moments, when you feel like you've got nothing left to give, that's when you learn. That's when it's like, Oh, that's what it's all about! I feel like that's like life. As soon as you think, I've got this, it's like, No, you're just at a plateau. You've got to keep going because you're about to really learn something important. You have to fight through it! It's like those days when you don't want to go to the gym: you tell yourself, I'm too tired today, I'm not doing it. But the fact that you make yourself go shows you something about yourself. You learn that you're resilient."
In this particular instance, she found that testing herself was the only way she could continue to grow, and so she learned not to fear the uncomfortable, but to face it. She did have a little help from her friends here though, namely Welch, who urged her to test her limits. "When I signed on to do the play, Brie told me that being on stage really changes a person. She said, 'It's really good for you, you should do it.' And she was right, because it brought me confidence."
Photo Credit: Victor Demarchelier
When I ask her how, specifically, she responds, "Because you have to face the audience every night. That's when you have the ability to say, Okay, here I go, this is me, I'm doing it. Hello, here I am! Especially because we live behind the screens so much, it's been really good for me to just experience putting on a play and being open with the audience. It's very intimate. You're letting them in, and they're letting you in."
It takes a lot of courage to bare yourself to a different audience night after night, but I think we've already established that Holmes is braver than you think, and she isn't afraid to ask anyone — including herself — the hard questions, including the one that's the crux of The Wanderers: "Can we ever be happy with what we have while we have it?"
"I mean, it has been really profound to do this play every single night because of these themes," she admits, sharing, "I have a line in the play that says, 'She would find some way to endure this happiness,' and I'm like, Maybe that's part of living in the moment, really being able to say, 'No.' So I'm planning on taking all of this in as much as I can, and enjoying it, instead of thinking about all the other things that I need to be doing instead."
There's something incredibly freeing in revealing herself in this way, especially given how private she's been for so long. (Understandably so, given that paparazzi are still, after all this time, trailing in her wake.) She is human, after all, and to err is part of life. She isn't perfect, and the world shouldn't expect her to be. "I feel like we are living in a world right now where perfection is really valued, but that's not real. It doesn't actually exist, and if you realize that it doesn't actually exist, then you're never actually disappointed," she notes wisely, adding with a laugh, "I've never wanted to be perfect! I just wanted to be nice, do a good job, and have a full life — but I knew better than to fall for perfection."
But doesn't every little girl want that perfect life, that white picket fence, Prince Charming, and 2.5 kids? Not Holmes. "I think my curiosity about life and about things far outweighs a need for perfection," she says.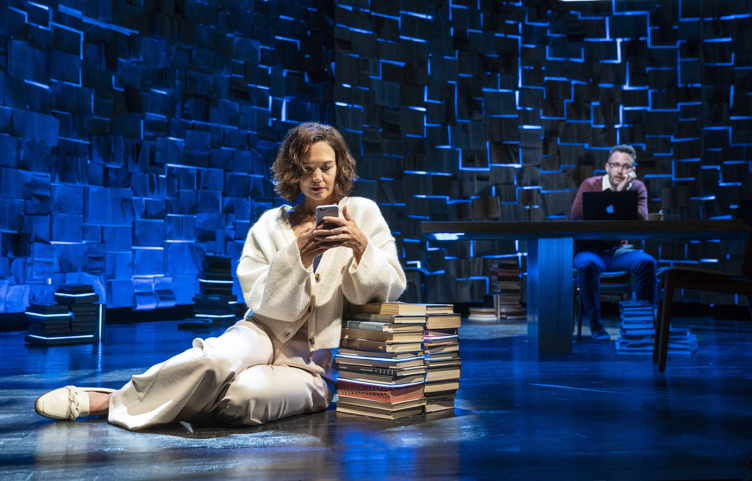 Photo Credit: Joan Marcus
Curiosity has led her to every role, and as she's gotten older, it has informed her choices, leading to new, out-of-the-box challenges. Her career has been robust and comprehensive thus far and includes her infamous six-season leading arc on The WB's Dawson's Creek. Then, (in no particular order) there was Showtime's Ray Donovan; the miniseries The Kennedys and The Kennedys: After Camelot as First Lady Jacqueline Kennedy; blockbusters such as Batman Begins; and arthouse films, including Ang Lee's The Ice Storm and Peter Hedges' Pieces of April. She made her Broadway debut in the 2008 limited run of Arthur Miller's All My Sons and returned to the Great White Way in 2012 to star in Dead Accounts. And in 2021, she launched her production company, Lafayette Pictures, where she has written, directed, produced, and starred in projects like 2022's Alone Together. She is also currently writing a screenplay with Rare Objects co-star Alan Cumming for a vehicle in which they'll star as brother and sister.
And because she's tried and enjoyed everything, there's no true need to choose just one medium at the moment. Because really, who says a girl can't have it all? "I would like to continue directing movies, but I also want to continue stage work, because it changes you, in a way. It also helps me with my confidence, and it's really a delight to perform with great actors every night. On film sets, you're kind of always rushing against your time. I also love directing. So ideally, I'd like to go on and off; do a film, do a play. That would feel really nice."
There's never enough time in a day to get it all done, especially when you're a working mom. But, at this exact moment in time, Holmes says that she wouldn't want to be anywhere, anyone, or doing anything else.
She might be telling a half-truth, but I'm inclined to believe her (especially because she's just finished telling me that she has a terrible poker face; when she's upset, she simply can't hide it). She is both metaphorically — and literally — happy with where she is. Right now, right here, on this velvet couch, talking to me in this quiet hotel room, surrounded by facets of shimmering Baccarat crystal. "I am happy!" she declares. "I'm just sort of living life, living in the moment. It's not hard to do that at the Baccarat Hotel though, looking out at MoMA."
She's smiling, peeking out the window, looking not quite like a kid on Christmas … but close. And I can see the child she must have been, that same little girl she still seems to have living inside her. "My friend found her My Little Pony set recently, and I was like, Can we play with it now? I'm totally down for My Little Pony play for an hour. And I loved it! I mean, don't most self-help books say that you should indulge your inner child?"
Too right. Like kintsugi, being unafraid to let your hair down and let your inner child out is also a metaphor for life — and if it isn't, it should be. Holmes agrees. So, before she sets off for the subway (how's that for a non-diva?), she wisely reminds me in that happy, girlish, Katie Holmes voice, "You're never, ever too old to play."
Let that be a lesson to us all.
Photo Credit: Victor Demarchelier
Subscribe to discover the best kept secrets in your city