Check out our picks for the ultimate gifts to get your luxury-loving dad this Father's Day.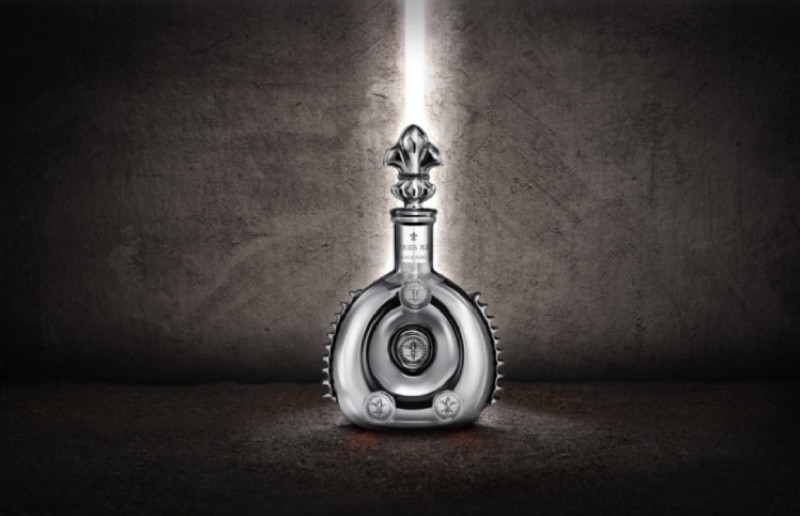 Photo Credit: Benjamin Colombel
Louis XIII Black Pearl. This incredible collector's item is the result of a close collaboration with crystal-maker Baccarat, an unusual tête-à-tête between two sensibilities and two temporalities. The edition is an exclusive, individually numbered series produced from a century-old tierçon that has been hidden in a cellar located at the heart of the Grollet family estate. It is extremely rare, extremely covetable, and therefore, the perfect gift for the man who thinks he has everything. To purchase, please email contactus@hauteliving.com.  
Photo Credit: Rolls Royce
Rolls-Royce's Champagne Chest. This gorgeous champagne chest from Rolls-Royce's bespoke design collection is the ultimate accessory for the dad who enjoys road tripping in his RR Phantom. Its chassis, made from machined aluminum and carbon fiber and natural grain black leather embossed with the signature "Spirit of Ecstasy" and flanked by Tudor Oak. The case also includes a set of four glasses (arranged to evoke a V12 engine); four cotton napkins embroidered with the "RR" monogram; two hammocks adorned in 'Hotspur Red" Rolls-Royce leather; and thermal champagne coolers. A caviar configuration is also available, which includes two thermal caviar caissons, two blini caissons, two Mother-of-Pearl spoons with anodized aluminum handles and three porcelain bowls. $47,000.
Photo Credit: PerUs
2016 PerUS Alessio. This decadent Bordeaux-style blend from Tench & Sugarloaf Vineyards is great for a oenophile father. The winery, which is located in the heart of Oakville Napa Valley, is made by Russell Bevan, one of the most 100 point winemakers in the valley. Your dad should be sold on the taste and pedigree alone, and he would be lucky to add it to his personal cellar: PerUs is one of the newest cult California cab producers and is only released its members allocation list (and select retailers) $295 per bottle. Inquire at info@peruswine.com.  
Gurkha Maharaja cigars. Gurkha, which is known as the "Rolls-Royce of cigars" has an impressive limited edition in its Maharaja that your dad simply must try. The beautiful Maduro wrapper pairs Dominican binder and fillers to create a smooth and sweet taste on the lips. Ten of these medium-bodied beauties are housed in a 10-count Mahogany wood humidor in 10 individual mahogany coffins, keeping with Gurkha's tradition of presenting cigars in unique, award-winning artistic packaging. $2000 per cigar, $20,000 for the set.  
Louis Vuitton Baseball Jacket. Take your dad back to his golden years with this sleek and chic Ready-To-Wear baseball jacket from Louis Vuitton. If you want some cheese with your haute gift, pair it with a "World's Best Dad" trophy. $5,200.
Photo Credit: Tod's
Tod's No Code Sneaker.  Tod's No Code sneaker is a definite departure from the brand's classic Gommino loafer, but equally as stylish. This trendy shoe is made in an elasticated knit with a light, net weft, leather inserts and an EVA outsole (composed of Ethylene Vinyl Acetate), ensuring grip and max cushioning. Stylish, sleek and functional. $695.
Photo Credit: Gucci
Gucci Stirrup and Web silk tie. Every professional dad is in need of sleek ties, so why not give him the best of the best? The Stirrups and Web print silk confection is a combination of two archival codes that is available throughout the brand's Spring/Summer 2019 collection. $210. 
Photo Credit: Tiffany & Co.
Tiffany & Co. engine-turned cufflinks. These 18K gold engravable cufflinks from Tiffany & Co. are perfect for the unique and stylish dad—and for the unique way you choose to show your love for him. Price upon request. 
Photo Credit: Dior

Dior Homme Motion backpack. This stylish pack from Dior is perfect for the dad who's hip and less traditional.It's both elegant and practical thanks to multiple pockets and a spacious interior that adapts to different everyday uses. It's lightweight, compact and functional design makes it ideal for everyday use. $1,450, available at Dior Men boutiques.
Photo Credit: Briggs & Riley
Briggs & Riley Baseline. If your father is world traveler—regardless of whether he's on the go for business or pleasure—he'll benefit from the spacious, sleek and completely functional Baseline Collection by Briggs & Riley. The collection includes CX Expansion-Compression Technology, the only expansion technology in the world that works without straining zips and allows 25% more packing space for the man who has endless amounts of business suits (or tuxes!) in his arsenal. The case also has a special area with a coat hanger to fold and hang said suits and keep them wrinkle-free. It's a must. Large expandable spinner, $715. 
Hadoro iPhone Emperor Dragon Sometimes, the man who has everything needs to go a little extra, and that's this amazing iPhone from Hadoro. Featuring a 3D pattern of a dragon on the back panel, this is pure artistry, as the dragon design incorporates high-quality detailing and finish. Furnished from specially-made carbon fiber known for being an extremely strong but also superbly lightweight material, the iPhone Dragon is perfect for design enthusiasts who want to make a strong statement. Along with the carbon fiber body, the dragon design also incorporates high quality detailing, like the dragon's gold nails and its sapphire glowing eyes. It's epic. $6125
Photo Credit: Bose
Bose Alto Frames. If your father is a techie, he's going to go gaga for these sunglasses from Bose—sunnies with a total twist. These "Frames' aren't ordinary sunglasses—they're actually the world's first wearable sunglasses that act as headphones. With a proprietary open-ear design, Frames can stream music and information, take and make calls, and access virtual assistants — while keeping playlists, entertainment, and conversations private. And yes, they do even block up to 99% of UVA/UVB rays as well and are even scratch and shatter resistant. This gift is so good that you might even be tempted to keep it for yourself! $199
Photo Credit: Poly
POLY Savi 8200 headset. If your father is a business professional, this is both a practical and excellent gift that he'll completely appreciate. The POLY (formerly Plantronics) Savi 8200 series headset delivers hi-fi stereo sound, while blocking out background noise with active noise canceling (ANC). For the most sensitive environments, you can turn up noise canceling with the close conversation limiting feature for additional privacy. The Savi 8200 Series headset system makes call management effortless with three-way connectivity that lets you switch seamlessly between all of them. $459.95.
Photo Credit: Aroma 360
Aroma 360 Museum360 XL Diffuser. Let's be honest—it isn't just women that appreciate the finer things in life, and that goes for scents as well. The Aroma 360 Museum360 XL Diffuser is a machine that's made for the olfactory-enhanced male, given that it scents entire homes up to 6,000 square feet, covering multiple areas at a pre-selected scent concentration level without the use of residue-creating, unnatural substances or sprays. Guy-friendly scents that you can buy for optimal use include Russian Roulette, Midnight in Paris, Shadow Dancing, Blue Moon and Back to Black. $1500. 
Photo Credit: Maison Margiela
Maison Margiela Fragrances REPLICA Jazz Club. Speaking of guys who like to smell good, why not treat your father to a new scent this Father's Day? Maison Margiela's Jazz Club is the ultimate scent for the upscale gentleman thanks to warm and spicy notes of rum and tobacco that will transport him back to a jazz club thanks to the faint, sweet scent of honeyed cocktails and woody cigars boxes. Key notes include pink pepper, rum absolute and tobacco leaf absolute. $126.