Photo Credit: Scott McDermott
Photography by Scott McDermott
Grooming by Angel Gabriel
Shot on location at Restaurant Daniel – NY 
Daniel Boulud is a man of many crafts—most notably, being one of the most famous and highly regarded chefs in the world. As one of the few masters and early pioneers of French cuisine and fine dining, Chef Daniel has paved the way for generations of young chefs to come. And, even more than a chef and restaurateur, he's also a mentor, a champion for young talent, a philanthropist and, of course, a perfectionist. That explains how he's been able to master so many crafts with such precision and expertise.

As we enter the chef's NY flagship for our cover shoot and interview—the two Michelin-starred restaurant DANIEL—we first walk into Chef Daniel himself, dressed dapper as ever in his well-fitted chef's jacket and a warm smile on his face. He's standing next to one of his staff members, who's slicing Ibérico ham with extreme concentration and precision—of course, with Chef Daniel watching his every move. "What's the occasion?" we ask. "We're just having a snack with the staff," he explains. Always the entertainer,
Chef Daniel ensures that everyone who works for him gets to enjoy life's delicacies together, which to him is one of the most important aspects of what he does—teamwork. His team is extraordinarily close-knit and work with him on a consistent basis.

Afterward, we make our way into the iconic dining room—a gorgeous, picturesque space that has been captured for decades on TV shows and movies, as well as played host to Manhattan's most elite diners. Through the dining room, Chef Daniel leads us into the kitchen, where the chefs are hard at work behind the counter, preparing for the night's service. It's a well-oiled machine, with the Executive Chef Jean-François Bruel leading the pack as the crew delicately prepares each dish. And up above the kitchen rests his personal office, the "Skybox" at DANIEL. Here, he's able to multitask—working on his day-to-day responsibilities, holding meetings, entertaining guests and also keeping an eye on his hard-working team. The views from the one-of-a-kind office that is uniquely Boulud are certainly some of the most special in town.

It's no surprise that the chef chooses to spend as much time as possible at his flagship—he truly has all he could ever want there. "My life revolves around here—it's basically based on three decks," he laughs. "I live right above here with my whole family [points to the ceiling]. I live just 20 steps above the kitchen. So, there's my apartment, then the office in the Skybox and then the kitchen—this is the epicenter of my life."

Because his schedule demands an extraordinary amount of time out of him, he tries to remain in his happy place at DANIEL (and New York) as much as possible with his family. In the midst of our interview, his daughter Gigi runs into the Skybox to give her dad a hug. She perches on his lap as we continue chatting. "See? Everyone is right here!" he exclaims.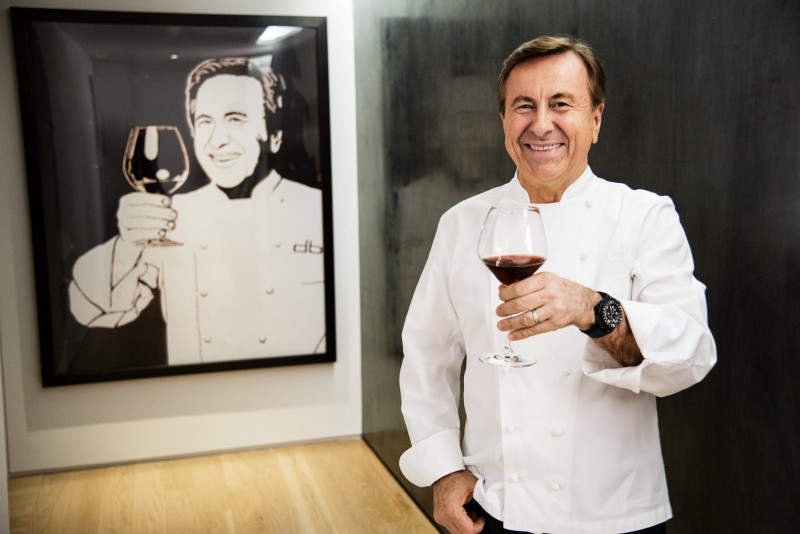 Photo Credit: Scott McDermott
New York has served as a very special place for Boulud throughout the entirety of his career. Although he boasts 19 total restaurants in New York, Boston, Washington, D.C., Palm Beach, Miami, Toronto, Montreal, London and Singapore, New York is where his career started out and where he continues to expand at the moment. This past year, he celebrated three significant career milestones: the 25th Anniversary of DANIEL in May 2018, the 20th Anniversary of Café Boulud NYC in September 2018 and the 15th Anniversary of Café Boulud Palm Beach in December 2018.

"I'm extremely proud that DANIEL is 25 years old. It's been in this location for 20 years," he explains. "We have changed elements in it; we keep it fresh and relevant, but it remains who we are. We really try to protect that, but at the same time, we have to constantly evolve with time to try to find that balance between tradition and change—where we don't want to go totally off the rail of what may be the brand that DANIEL represents. But we still want to attract new generations and be able to show them that service, elegance and sophistication in dining still exist."

While he notes that the core DNA of DANIEL and The Dinex Group goes hand in hand with luxury dining and "soulful dishes rooted in French tradition," the way he and his team cook has had to transform over time in order to keep up with the constant progression of new tastes, desires, products and methods of cooking.
"The food we're cooking is not the food that I was cooking 10, 15 or 20 years ago," he notes. "But it's still the food I like to cook, so the recipe has evolved. The recipes have changed with the team—we work as a team a lot."

While Boulud's cuisine is synonymous with fine dining and elegance, he also asserts that there's more to it than just that. "My passion for cooking is beyond just the exclusive gastronomy," he shares. "I mean everybody can have expensive clothes and good taste, yet you still want to eat a burger." And it's worth adding that the man does make one of the best burgers in the world.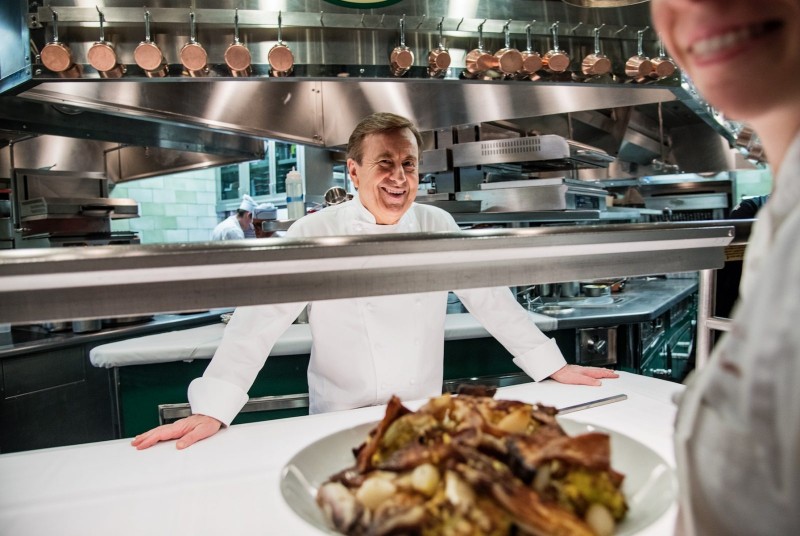 Photo Credit: Scott McDermott
"For me, it's amazing because when I created the signature DB Burger, I was only 18 years old—and it's still not out of fashion," he says.

When prompted on how the digital age and social media has affected the industry, he has mixed feelings on the medium. "[Social media] is so much information so fast. It's great and really gives you the pulse of life around you and your business. Sometimes you can express your artistry and show your expertise in many ways," he shares. "But you also can't take it for granted and think that if you have a certain amount of followers or you hit a certain amount of people, it's going to translate into full business."

To keep himself and the business up to date on this tool, he often looks to his younger staff for guidance. "70 to 75-percent of our staff is below the age of 30," he says. "We look for young and inspired talent to always keep learning. The guidance and motivation and certainly the aspiration to work together and learn from one another is what keeps us going. They want to learn about our history and past, and it's important to study from each other because you cannot advance in this world without having a reference somewhere of something."

Chef Daniel's passion for educating the youth extends far beyond his core staff—he also serves as Chairman of the board of Ment'or/Bocuse d'Or Team USA with Jérôme Bocuse and Thomas Keller. Through this nonprofit program, the acclaimed chefs help grant students funds to give them the chance to have a sabbatical to travel and learn from other distinguished chefs throughout the globe.

"We raise money to be able to support young chefs because we know they work very hard to learn their craft, and they're passionate and dedicated, but often don't have the money to take months off at a time to go travel and learn from other chefs around the world," he explains. "So, with the Ment'or grant program, we fully finance them to train for a year. And then we all gather together in Lyon as teams and compete against the 24 countries that are involved in the program. We've made podium twice with the silver and gold medals, and we look forward to making it again," he adds as he proudly shows off the prominent trophies on display in his office.

In addition to the Ment'or program, Boulud also serves as the Board Co-President of Citymeals on Wheels, which he's been deeply involved with for 20 years. Through the foundation, the chefs and volunteers in the New York area cook and deliver food to the home-bound elderly around the city, who don't have the means to cook or buy food for themselves.

Photo Credit: Scott McDermott
"This program has zero commercial value for me other than supporting the community. As a New Yorker for three decades, I've always been involved in the program in some way. It was created by food critic and writer James Beard and Gael Greene in New York and has cultivated a great community of chefs that are involved in the foundation," he explains. "We've been doing the annual gala at DANIEL for the past 20 years, and we've raised more than $15 million since its inception. We've served more than 60 million meals throughout the five boroughs—that represents about 18,000 meals per day for roughly 35 years. So, the number and commitment is huge."

While he's balancing his philanthropic passions and demanding career, he remains dedicated to keeping his legacy alive by expanding The Dinex Group's presence in New York and beyond. Up next is the group's largest project to date—the upcoming One Vanderbilt two-part concept, launching in 2020. One Vanderbilt will serve as the city's second-largest tower, following the World Trade Center.

"It's exciting to be opening there," he says. "There will be about 8,000 people in the building, and it's not even finished yet—it's already at 60-percent occupancy. So, it's a massive project."

While he can't reveal too many details on the highly anticipated eatery yet, he gave us a few hints. "There will be a sense of nature, rather than having guests look through a window and see a street. I want them to look into nature—that's all I can say right now. The element of nature will be very important to the concept. It's a lofty space with lots of beautiful, natural light," he shares.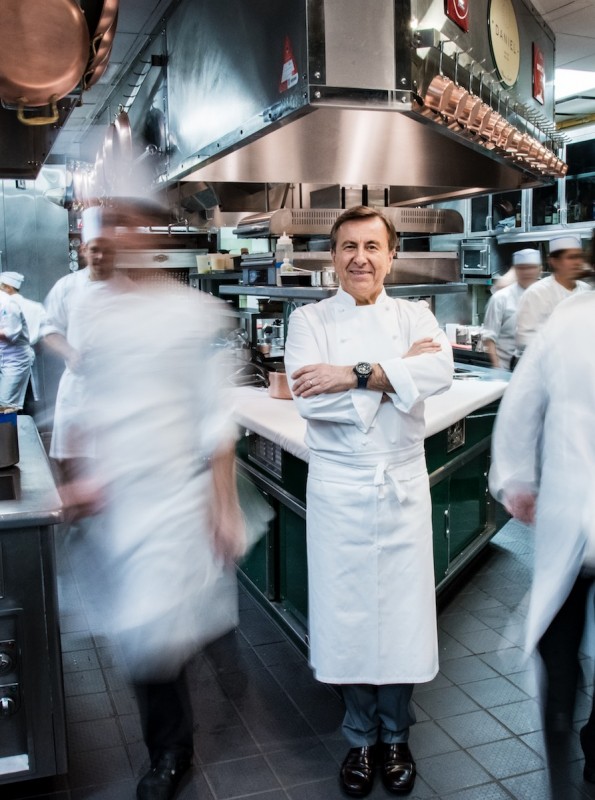 Photo Credit: Scott McDermott
"It will be very simple yet very complex all at the same time. It's totally different from anything I've done before. It's a departure from a more traditional French restaurant like I've done in the past. But it will still have The Dinex Group DNA," he assures. "It's an opportunity for me to look at things differently—culinary-wise, service-wise and the location also. Because it's near Grand Central, I imagine we'll do a business lunch and a more social dinner." 
The project will surely be an iconic one for The Dinex Group portfolio—for its size and also for its unique location, as well as its departure in cuisine and format. However, until then, Boulud is focusing on maintaining perfection in all of his other beloved destinations and also squeeze some time in for his other passions in life outside the kitchen. "When I'm not working, I like to travel [for fun], play golf and I also follow Formula 1 very closely," he says. "I've been lucky enough to make some good friends at Ferrari, so I plan on attending the Grand Prix in Montreal and Austin—and possibly Mexico and France. It's an amazing experience to be there."

With a deep love and appreciation for the finer things in life—he boasts impeccable taste in art, design, fashion and timepieces, aside from food and wine—we were curious as to what the legendary chef who finds beauty in the smallest details in life considers the ultimate luxury.

He stops to think for a minute with the signature Daniel Boulud grin on his face. "Well first, amazing cars, a beautiful house, a family and wine," he begins. "But also, the ultimate luxury—and fantasy—is having no limit as to what there is you can find, what you can drink. Like the most rare ingredient at its perfection. For example—the perfect truffle. Yes, everyone loves truffle—but how many people have had the perfect truffle? Out of four or five months, the perfect truffle might only come in two or three weeks—it has the perfect aroma, texture, size, everything—you can just tell. To me, that's the ultimate luxury."

Well, touché. The man certainly knows perfection, and he deserves every bit of his time that he's granted to enjoy it. For now, we'll wait with anticipation—and cravings of his decadent DB Burger—until he graces us with another one of his culinary masterpieces in 2020. 
Photo Credit: Scott McDermott