The completion of Hudson Yards is a historic milestone in Manhattan's history. Debuting in early March, the mixed-use complex brings forth breathtaking architecture, premier living accommodations, workspaces and retail + culinary concepts from some of the world's most renowned names, developed by Related Companies and Oxford Properties Group. Hudson Yards has now made Manhattan's West Side a place to be, enticing guests with the best the luxury industry has to offer. But for now, we're focusing on one of the most exciting aspects: food. With concepts from globally-acclaimed chefs like Thomas Keller, José Andrés, David Chang and so many more, guests can taste the cuisines of the world delivered at their finest, all within steps of one another. Here, we go on a tour of the globally-acclaimed tastes of Hudson Yards.
TAK ROOM BY THOMAS KELLER
Photo Credit: Deborah Jones
Michelin-starred chef Thomas Keller debuts his latest concept, TAK Room, to the new complex. Embodying the theme of "throwback flair, timeless fare" TAK Room pays homage to the glamour of New York in the '50s and '60s, presenting exquisite Continental cuisine with Keller's signature touch.
Guests will be treated to five-star service with the restaurant's unique a la carte menu, made all the more special by touches like Champagne carts to start, gueridon service, multiple dishes featuring interactive tableside preparations and beautiful live music on a nightly basis.
Photo Credit: Deborah Jones
Aside from the incredible cuisine Keller is offering at the restaurant, partner Ken Himmel, Related Urban CEO, also notes that the alluring upscale atmosphere is also making it a unique destination for diners of all ages in Manhattan. "It's really interesting because even the younger crowd of diners are coming in and getting dressed up for the occasion," he states. "It's rewarding to see because that's a trend that has faded in recent years. And even more so, we're getting a lot of large parties. So people are coming to TAK Room and using it as a gathering place to all be together."
Keller and Himmel have ensured that these groups of people will want to stay and return again with each aspect of the experience. The spaces range from an open dining room, to a sexy lounge and bar, with consistent service and innovative food, beverage and entertainment offerings. From an impressive wine list to a creative cocktail program and unrivaled preparation of cuisine, all needs are met in one setting.
Photo Credit: Deborah Jones
The pair tapped TKRG VP of Branding and Creative Development Laura Cunningham and Simon Rawlings, creative director of London-based David Collins' Studio, to help complete their vision. "We wanted someone to do the restaurant who has never done a signature restaurant before in the United States—particularly in New York—which is what drew us to this design team. Rawlings has a very accomplished reputation in Europe, especially in London, so it was a natural fit," Himmel shared. 
The beautiful era of New York glamour is captured seamlessly within the design of the space, with deep greens, burgundy hues and bronze accents highlighting the interior. Cast glass and polished walnut with lustrous terrazzo are juxtaposed to bring forth a breath of nostalgia and modern-day luxury. Additionally, a contemporary art collection lines the walls, introducing an exhibition-like experience throughout the restaurant.
Photo Credit: Deborah Jones
While it is certainly an exciting scene, the incredible food and beverage program are what keep the reservations in-demand at TAK Room.
"The menu is about the integrity of sourcing the best products that you could possibly get in America," Himmel explains. "And Thomas [Keller] is one of the few people that has access to these products—and that's key."
Keller's access is indicative in signature dishes such as the New York Strip Steak from the coveted Snake River Farms—a rare hybrid of Japanese Wagyu and Black Angus Beef; the Wild Dover Sole Meunière, which beautifully represents Keller's craft, cooked and served to a warm, golden brown and filleted tableside from a gueridon; Roasted Four Story Hill Farm Free Range Chicken with Thyme Jus (which also happens to be one of Himmel's favorite dishes)—displaying Keller's unique rotisserie preparation, presented in an oval roasting dish and dressed with fresh herbs and locally-sourced caramelized vegetables. Other fan-favorites include the Classic Caesar Salad prepared tableside, the Hand-cut Steak Tartare and the Double Oxtail Consommé Célestine, which serves as a beautifully-done transition dish between courses.
Photo Credit: Deborah Jones
End the culinary-rich evening with one of the restaurant's indulgent desserts, like the K+M Chocolate Layer Cake, which pays homage to the Blackout cake developed in World War II at Brooklyn's Ebinger Bakery, or a classic New York-style Cheesecake.
TAK Room is exceptional in every way, from the cuisine to the atmosphere, service and entertainment—leaving guests with a one-of-a-kind dining experience that will deliver consistency each time upon return.
The restaurant is located on the fifth floor of Hudson Yards at 20 Hudson Yards, New York, NY 10001. For more information on TAK Room or to make a reservation, please visit https://www.takroomnyc.com/.
MERCADO LITTLE SPAIN BY JOSÉ ANDRÉS
Photo Credit: Mercado Little Spain
Chef José Andrés and ThinkFoodGroup's Mercado Little Spain at Hudson Yards marks the group's largest project yet, introducing Andrés' signature Spanish-tapas-style cuisine to Manhattan. The massive, 35,000 square-foot dining destination offers three full-service restaurants, 15 dining and retail kiosks and two dedicated bars where guests will be able to taste the greatest flavors of his home country, Spain. Andrés has tapped acclaimed chefs Ferran and Albert Adrià to help curate the mega dining concept.
Photo Credit: Mercado Little Spain
As of March 15th, Mercado has opened the first of its offerings with the cocktail-focused Bar Celona, the Colmado, a retail shop for Spanish dry goods, canned seafood and cookbooks, and a preview of some of its food kiosks. Mercado Little Spain will offer something for everyone and introduce its guests to the heritage and culture of Spain. Kiosks will include crunchy and savory Bocatas & Empanadas (breads, sandwiches and tarts), including the signature Pan con Tomate; Bravas—fried potatoes with a variety of sauces (Spanish French fry heaven); authentic sweet and crisp churros; Cocas aka Catalan flatbreads; Granja—a coffee bar offering light pastries and sandwiches; Tortilla de Patatas y Otros Huevos—Spanish omelette and more eggs; Jamón & Queso—everyone's favorite—a platter of Spanish ham, cheese and other cured meats; La Barra, offering signature tapas and cocktails with bar seating; Paella & Carnes; Pasteles & Helados (the go-to dessert destination); Colmado, the retail shop for Spanish dry goods, cookbooks, etc.; Flores; Frutas & Verduras; Kiosko for merchandise and memorabilia; and finally, Pescados offering fresh fish and seafood.
Photo Credit: Mercado Little Spain
And if you thought those mouth-watering concepts couldn't be rivaled, just wait until you enter one of the three full-service restaurants. Each destination will offer a different type of focused cuisine and stunning interiors, graphics and murals to match in classic José Andrés style—creating a whimsical and memorable dining experience where the food is just as beautiful as it is delicious. Mar will be devoted to fish and seafood, offering a menu of the freshest fish served Spanish-style—many of which will be flying in straight from Spain, as well as local/seasonal delicacies. Leña is an ode to live-fire cooking, bringing together the best elements of Spain's favorite grill-focused restaurants, including the asadores and steakhouses of the Basque Country and Asturias. And unique to anything Andrés has ever done before is the Spanish Diner, a familial gathering place offering all-day dining. The diner boasts soaring ceilings, retractable walls and screens that show live Spanish fútbol matches, serving as the ultimate game-day hangout.
Photo Credit: Mercado Little Spain
Mercado Little Spain is the new destination for anyone and everyone, essential for on-the-go food or dining in at any time of the day. It is located at 501 West 30th St. on the ground floor of IO Hudson Yards, New York.
The market is open in preview mode, with doors opening at 4 p.m. Guests can currently experience 12 of the food and retail kiosks and two of the bars. Restaurants Mar and Leña are currently in training, with limited seating available to walk-in guests. They will continue to post updates on social media. For more information, visit www.littlespain.com.
KĀWI BY DAVID CHANG 
Photo Credit: Molly Matalon/Kāwi
David Chang has developed a pristine reputation for his award-winning Asian cuisine, starting with Momofuku Noodle Bar and eventually transforming his brand into a culinary powerhouse—resulting in Momofuku Restaurant Group—which includes 14 restaurants under its belt in key destinations throughout the world. Chang was awarded two Michelin-stars for his Momofuku Ko in 2009 and has retained those stars for its expert consistency ever since. Now, Chang has opened two brand-new culinary concepts in Hudson Yards, Kāwi and Peach Mart.
Kāwi is Chang's full-service concept, helmed by executive chef Eunjo "Jo" Park, who brings her fine-dining expertise to the restaurant. Kāwi centers around Korean cooking, with the name Kāwi stemming from the word Gawi, which translates to scissors in Korean—a tool that is regularly used in Korean cooking and service. The dimly-lit, exotic destination offers two different spaces, highlighted by elegant leather banquets and wood-paneled structural beams, curated by DesignAgency. In total, the space seats 130 guests, including an intimate chef's counter granting open-kitchen views, dining room space, as well as a separate 13-seat lounge and bar. A carefully-curated display of artwork completes the space with a tasteful, creative touch.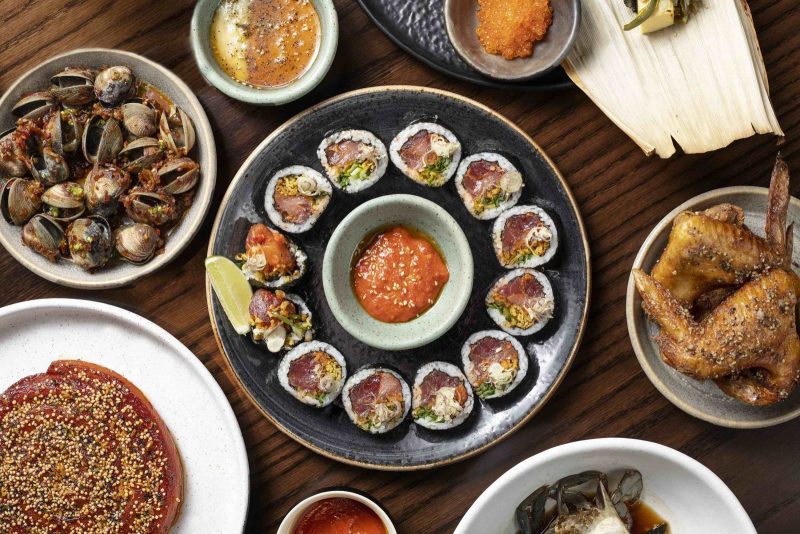 Photo Credit: Andrew Bezek/Kāwi
The restaurant serves both lunch and dinner, as of April 15th. The menu highlights an array of Korean-inspired dishes crafted to perfection in the brand's signature style, starting with "Anju"—Korean snacks that pair delectably with signature cocktails. Light bites range from vegetarian delicacies like Soft Tofu & Caramelized Soy to the mouth-watering, spicy White Pepper Wings brined in ginger, garlic and soy, dusted with a spice rub of Sichuan pepper, white peppercorn and star anise. Next, guests will move to the "raw" section of the menu, featuring dishes like Raw Clams with perfectly balanced spice, tossed in chili and sofrito; a fresh Madai Tartare, served with ginger and perilla; locally-inspired Long Island Cured Fluke, simply finished with lemon dashi and chive; and a Marinated Raw fresh Blue Crab, dressed in soy marinade and deliciously paired with crab rice.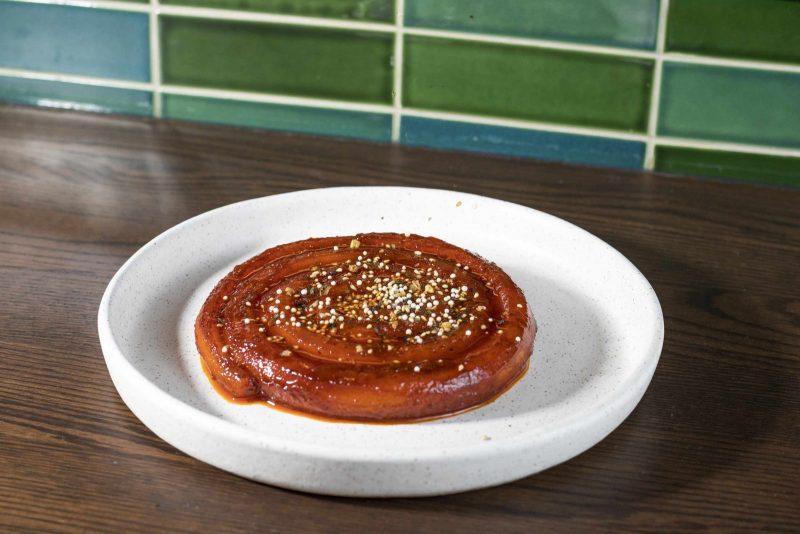 Photo Credit: Andrew Bezek/Kāwi
Guests will continue on the exciting culinary journey with plates that highlight the Korean culture but also add a signature Chang flair, exciting the palette and tantalizing the senses as each dish pops with unexplored spices, flavors and textures and is presented as a work of art.  Another highlight of the menu is Kāwi's signature rice cakes, which are crafted in-house daily and come in two styles: Spicy Roasted and with chili jam and country ham, or the indulgent Wagyu Ragu, created with 28-day dry-aged beef. Some of the heartier dishes utilize rice as the base but add in decadent ingredients to create the authentic Kimbap-style plates, including the Kawibap filled with a sweet, candied anchovy, omelet with uni and trout roe; or the Spicy Bigeye Tuna, seasoned with chili oil and myoga. For a meatier dish, the Grilled Short Rib is a must, complementing the perfectly-done meat with sweet soy and a zesty pickled jalapeño. Guests can also indulge in Chang's vegetarian noodle dish, the Chilled Spicy Noodles.
For a memorable and one-of-a-kind journey, where guests will step outside their comfort zones, shocking and elating the tastebuds, Kāwi is a can't-miss dining experience that will leave guests curious and craving for more each time they return. Kāwi is located at 20 Hudson Yards, 5th Floor, New York, NY, 10001. For more information, please visit https://momofuku.com/. 
Subscribe to discover the best kept secrets in your city