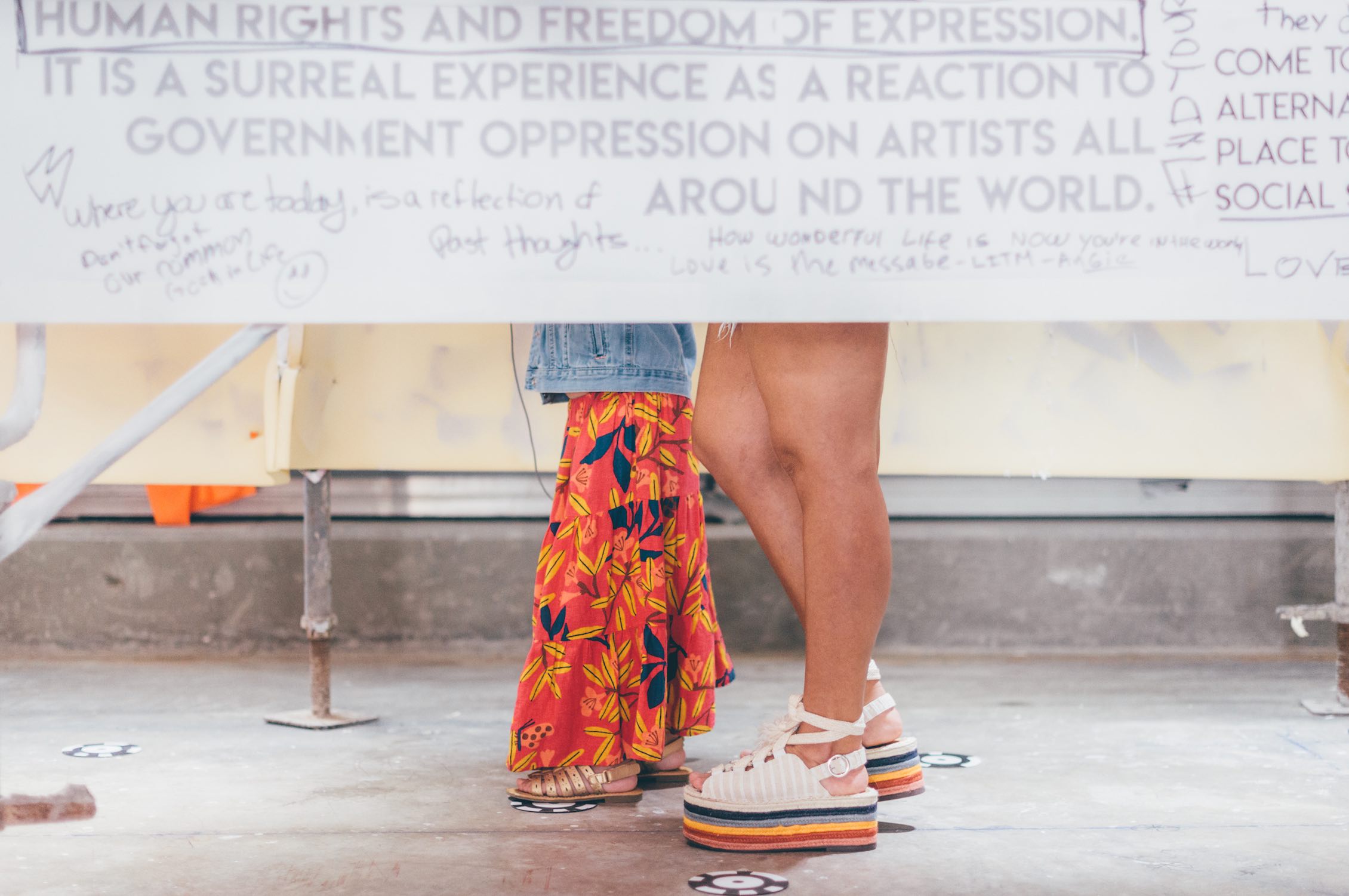 Photo Credit: Javier Sanchez
The RAW POP UP / LAB at Miami's gorgeous downtown Brickell City Centre was a success on many fronts, bringing forth an exciting interactive creative movement to the city for a weekend of art, music, creativity and discovery. Together, the collaborators of RAW POP UP / LAB sourced 30 local and international creators and performers to come together and create an impressive Urban Comfort Pavilion.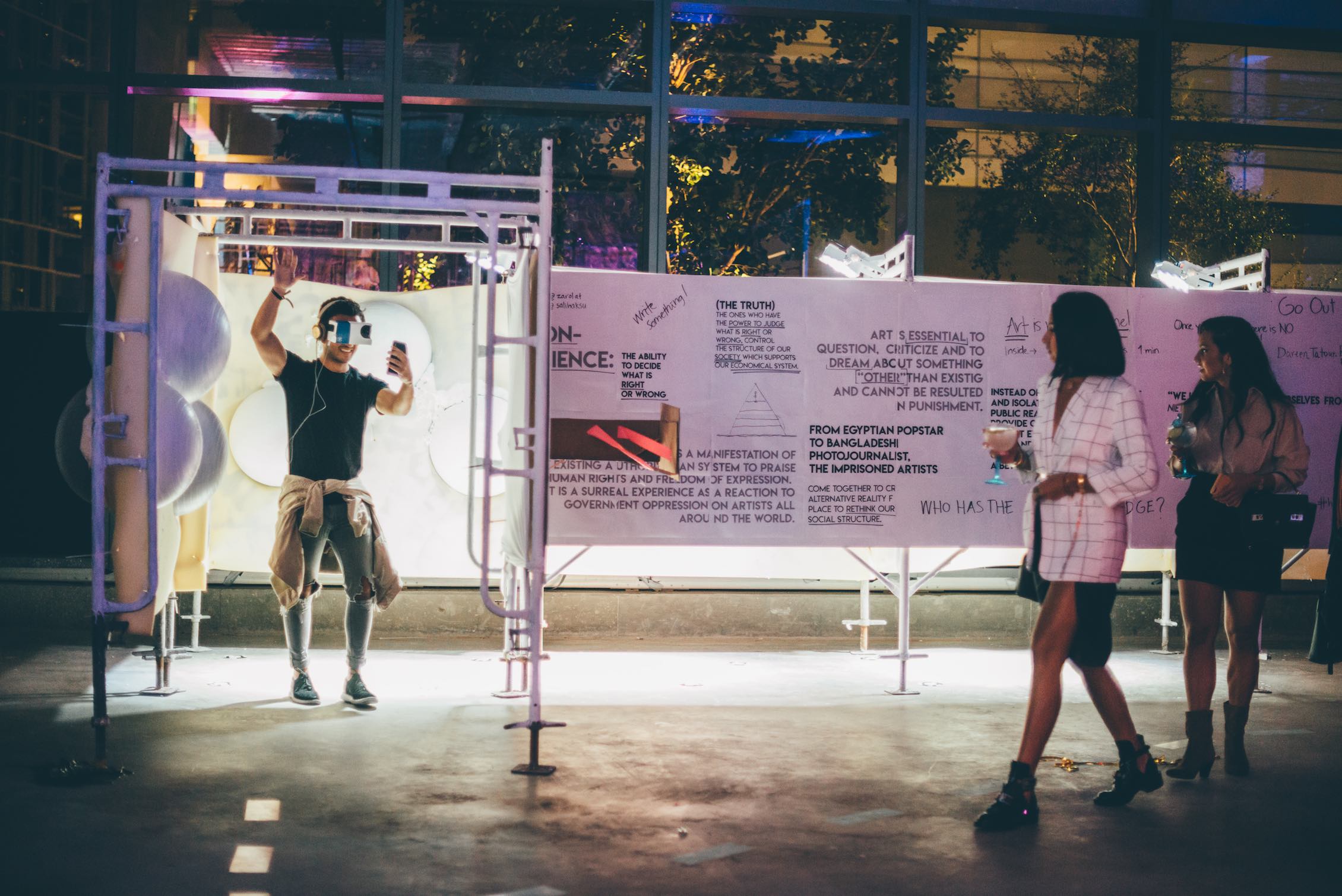 Photo Credit: Javier Sanchez
The Urban Comfort Pavilion showcased the development of the city of Miami as a whole through the use of raw materials like scaffolding throughout the space mixed with soft products. Juxtaposing the hard vs. soft materials and constructing them into different art masterpieces created an entirely amazing and sensory experience, inviting guests to immerse themselves into the impressively transformed space and become one with the artwork. In total, RAW POP UP's head architect Sharit B. Kassab and curator Tam Gryn used 1,400 pieces of raw scaffolding to build out the space with the artists and create the installations. To complement the artwork, performance artists performed alongside and within the installations to bring together poetry, dance, music and art.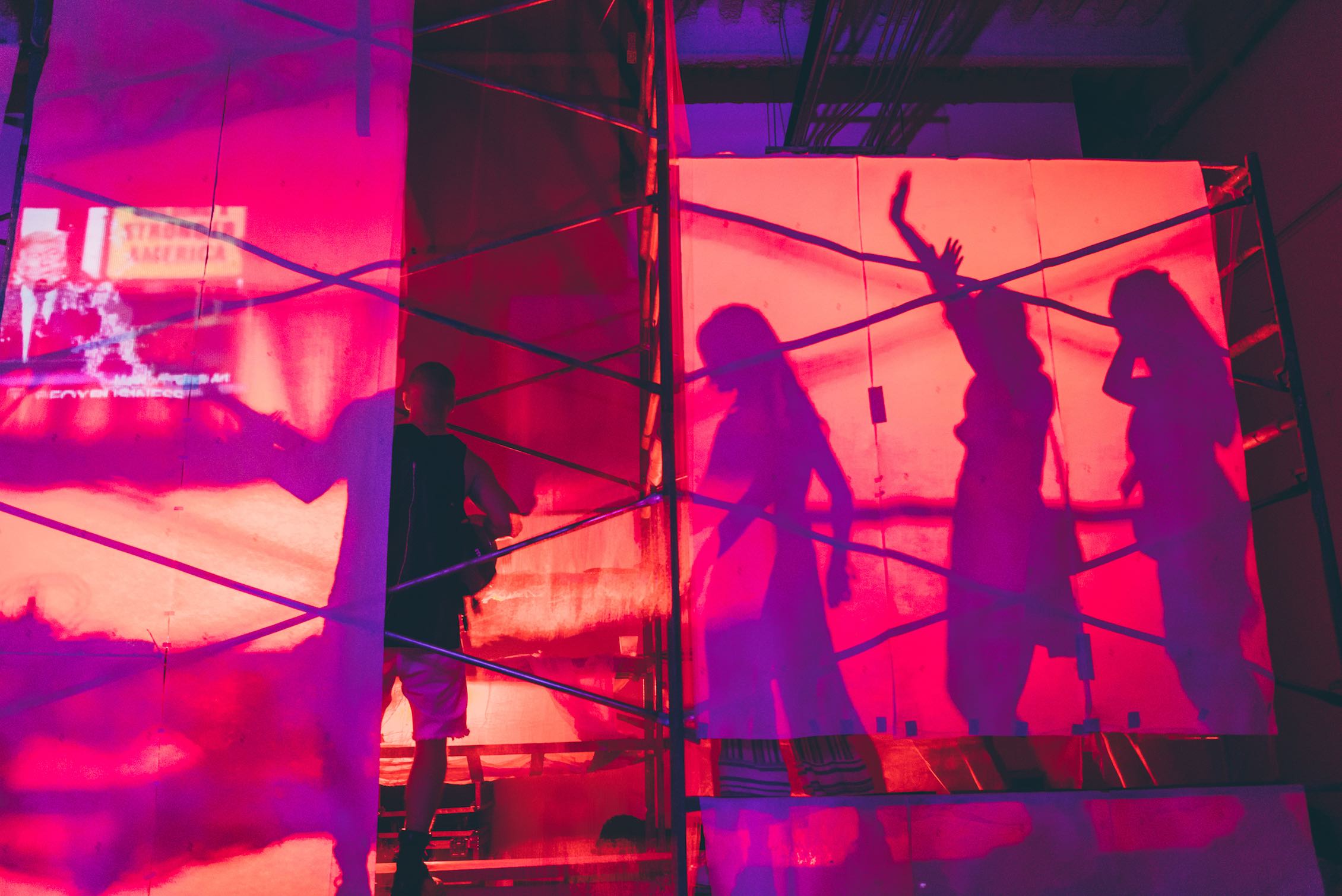 Photo Credit: Javier Sanchez
Coming off of the exciting weekend, we chatted with two of the brains behind the extraordinary project, Tam Gryn, as well as Music Supervisor Anthony Hall, to find out their take on the RAW POP UP / LAB and get a sneak-peek into what their next pop up will entail:
HL: Tell us about the success of the RAW POP UP / LAB at Brickell City Centre?
TG: The success of the RAW POP UP / LAB at Brickell City Centre was proving a new economy for creators. Over 4,000 guests attended, which means that this generation demands artistic experiences. RAW POP UP's guests understand the importance and value of creating a culture that is true and local to Miami's identity, where disciplines are blurred and the relationship between art and audience is flexible. Our guests are patrons to the success of creators who elevate Miami's culture!
AH: RAW POP UP / LAB felt like our most successful event to date. As a creative myself, I found it to be liberating to create an environment (a lab) where creativity and experimentation were not only accepted, but encouraged. This is very important for creative minds. Permission. Permission to make our mark on the culture of Miami. Permission to use our creative resources to redefine a category of events and experiences. Our goal was to synthesize the elements of art, music, and performance. 
Photo Credit: Javier Sanchez
HL: How was the experience interactive for guests?
TG: The interactive experience was accentuated on this edition of RAW POP UP / LAB, especially through the interactive performances. There were impromptu moments in which Performers whispered poetry into a guest's ear or when guests would follow along dancer's choreography, transporting all participants into a magical trance. This is an ephemeral moment in time that cannot be repeated. All the technology in the world cannot replace it. It is truthful human connection and creativity at its best.
AH: I think the mere fact that guests can never know what to expect makes the experience interactive. You truly have to leave your expectations at the door. When you enter RAW POP UP your experience might be interactive because you end up in a deep conversation with a participating artist, or maybe you're standing with your arms folded in the corner and some beautiful girl in a purple unitard covers you with a vail and whispers poetry in your ear. Or maybe you end up hugging some inanimate object with the passion you wish you had in your intimate relationships. The point is… you can't avoid interaction at RAW POP UP. It's something that happens effortlessly. From the moment you arrive, until the moment you leave. 
Photo Credit: Javier Sanchez
HL: How do you plan to make the next RAW POP UP bigger and better?
TG: Our next RAW POP UP will take place at the Historic Burdines Flagship during Art Base Miami. We are taking over 43,000 square feet of the Burdines Flagship, literally four times bigger than the LAB. It will be a guided experience throughout at least 10 different historical environments existing from the 1920s until today. In the context of a department store from a lost era, it will make every single guest question our generational evolution and their personal contributions to society.
The Historic Burdines Flagship used to be called "the store of stores" in Florida from the 1930's to 1960's. The store was decorated with palm trees in the center of the store, painted in pink and blue, and other subtropical colors and motifs. Florida's largest department store chain was an important part of the retail and civil rights history of Downtown Miami. 
President Alfred Daniels was credited with ending segregation at the Miami store by announcing in 1962 that Burdines "would no longer refuse service to black patrons in the dining facilities of the Miami stores." At the time, Florida's Jim Crow laws were firmly ensconced; it would be two more years before the Civil Rights Act of 1964 outlawed separate facilities for black and white customers including those in the Burdines Building. On January 30, 2004, it was renamed Burdines-Macy's. It closed its doors in 2016 and has been empty since.
Photo Credit: Javier Sanchez
Subscribe to discover the best kept secrets in your city