Photo Credit: Courtesy Inspire Napa Valley
Napa Valley welcomed two new kids on the fundraising block in May, and what a dazzling debut it was for both Inspire Napa Valley's Inaugural Wine Weekend and ¡Salud! A Celebration of Ole Health.
Wine industry tastemaker Kerrin Laz was motivated to establish Inspire Napa Valley (INV) to raise critical funds and awareness for Alzheimer's after her mother was diagnosed with younger-onset Alzheimer's disease in 2014. Kerrin set out to create a three-day affair that "would be like no other event you've been to–and I've been to every event," she told me, without a hint of braggadocio.
Photo Credit: Bob Mcclenahan
Anyone who knows her K. Laz Wine Collection in Yountville knows that Kerrin has access to cult wines that oenophiles dream about having in their cellar. At INV's primary event on May 5, it was quite impressive to see–and sip–the wines poured at the walk-around tasting which preceded an elegant, seated dinner and a live auction led by Ursula Hermacinski at The Culinary Institute of America at Greystone. Screaming Eagle, Harlan, Bond, Lokoya, Dalla Valle, Ovid, Bryant, Dana Estates, Hourglass, Staglin, Maybach, and Sinegal were just some of the 40 wines available to wine enthusiasts who marveled at the magnitude of the offerings.
Photo Credit: Inspire Napa Valley
It's no wonder that Kerrin exceeded her fundraising goal of $1 million for the weekend, which benefitted the national Alzheimer's Association. She enthused to me about how giving the people of Napa Valley are, but I think the success of Wine Weekend is a testament to what the residents think of her. Vintner David Abreu went deep into his cellar to pull library wines for an intimate VIP dinner at Abreu Las Posadas Vineyard on Howell Mountain. Vinous founder Antonio Galloni moderated a VIP wine seminar and tasting with distinguished wine industry panelists at Press Restaurant in St. Helena, where Maria Carrillo, chief science officer of the Alzheimer's Association, also presented a research update. Three-Michelin-starred chef Thomas Keller donated a scrumptious fried chicken and waffles VIP farewell brunch, complete with a Bloody Mary and Mimosa bar.
Photo Credit: Bob Mcclenahan
I mingled with people who flew in from Texas, Utah, North Carolina, Chicago, St. Louis, and New York for the event. A Chicago couple summed up what Wine Weekend is about. The wife had lost her mother to Alzheimer's, and the husband subscribes to Galloni's Vinous. The combination of a desire to eliminate a disease that is the sixth-leading cause of death in the United States and a love for fine wine certainly made for a powerful potion. Mark your calendar for the next Wine Weekend, set for April 25-28, 2019.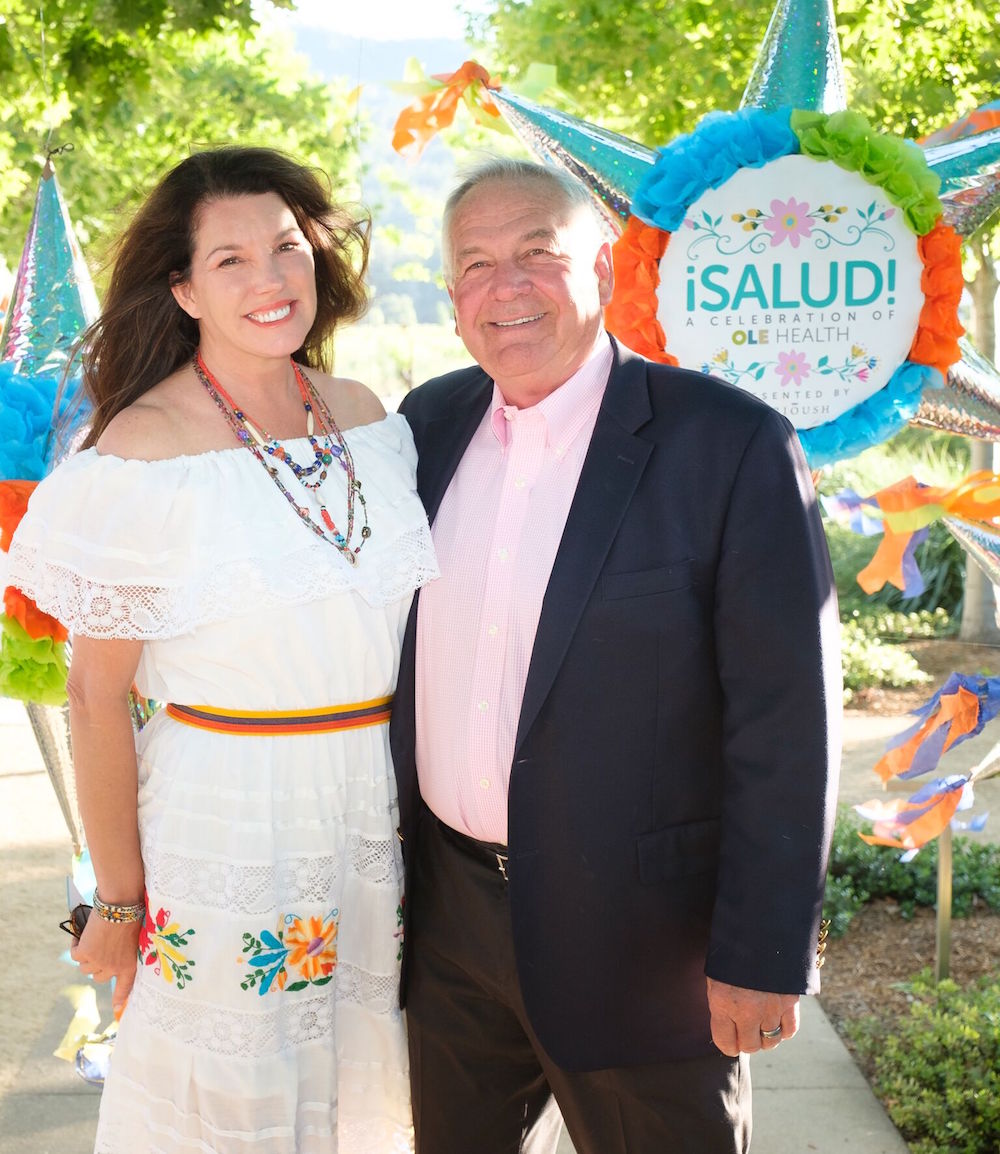 Photo Credit: Bob McclenahanWhile you're at it, circle May 4, 2019, on your calendar as well because you won't want to miss ¡Salud! A Celebration of Ole Health. The inaugural gala, held at Hall Wines on May 11, was truly exciting and raised nearly $600,000 for Ole Health. Founded in 1972 to provide healthcare to low-income, uninsured, Spanish-speaking farmworkers, Ole Health is now the valley's second-largest health-care provider, serving 35,000 patients annually from all walks of life at seven locations throughout the county.
Photo Credit: Bob Mcclenahan
The festive evening, presented by Darioush, began with a colorful reception where a mariachi band entertained, Mexican fare from local restaurants was enjoyed, and two mojigangas (giant puppets) walked the decked-out grounds, which were decorated with piñatas, sombreros, and faux donkeys. Following a beautiful dinner by Elaine Bell Catering, Ole Health honored Napa Valley Vintners (NVV). Since 1984, NVV has given Ole Health more than $40 million, including an unprecedented $6 million gift for its 30,000 square-foot facility expected to open in South Napa early next year.
Photo Credit: Bob McclenahanUpon accepting the award, NVV vice chair and Alpha Omega vintner Robin Baggett paraphrased Dr. Martin Luther King Jr. and asked attendees, "What have you done for someone else today?" After a passionate speech by Ole Health CEO Alicia Hardy, fund-a-need with a twist took place. The guest with their hand up last would take home a magnum of Schrader Beckstoffer To Kalon. The marathon bidding session went on for what seemed like 15 minutes before Sonja Hoel Perkins finally won. Auctioneer Franco Finn exclaimed, "I do a lot of auctions, but this was a lot of fun."  Indeed, it was–and all for a healthy cause!
Photo Credit: Bob McClenahan
Subscribe to discover the best kept secrets in your city