Photo Credit: FashionStock.com:Shutterstock
Delta Air Lines debuted a whole new look on Tuesday, all thanks to Zac Posen. The fashion designer—whose name is synonymous with the red carpet, and whose designs have been worn by the creme de la creme of celebrities, including Michelle Obama, Katie Holmes, Reese Witherspoon, Claire Danes and Rihanna, unveiled the new collection yesterday during a runway show at the Wallis Annenberg Center for Performing Arts in Beverly Hills.
This collection, created in collaboration with Land's End, makes a strong brand statement, elevating Delta from the look of a traditional U.S. carrier and introducing glamour and sophistication while offering the ease of machine-washable care for the airline's always on-the-go employees. Delta's last uniform update was in 2006 for above-wing employees (Delta Sky Club, ticketing and gate agents, Red Coats and flight attendants) and in 2000 for below-wing employees (aircraft maintenance professionals, ramp and cargo agents, and ground service equipment mechanics).
The uniform collection reflects employee input at each step of the design process. For three months, 1,000 Delta people in diverse roles around the globe tested the uniforms to ensure the final designs would support a variety of job functions, climates and body types. The Zac Posen and Lands' End design teams conducted hundreds of focus groups, job-shadowed employees and gathered recommendations from more than 30,000 surveys. All of this and more feedback led to more than 170 changes. These included incorporating innovative fabrics with ripstop, high-stretch, wrinkle-and-stain-resistant, water repellant and waterproof, deodorizing, windproof, anti-static and moisture-wicking properties and technologies. and introducing unexpected, signature details like the collar of the women's blouse inspired by the wing of an airplane, and functional touches based on employee suggestions like passport and pen pockets.
The color "Passport Plum" marks the new, regal collection. For 30 years, Delta's uniforms have been navy and red, blending in with other U.S. carriers. Now, thanks to Posen—who also serves as a judge on "Project Runway" and acts as Brooks Brothers' Creative Director—there are five wholly reimagined hues—Passport Plum, Cruising Cardinal, Groundspeed Graphite, Traveling Thistle and Skyline Slate—that allow the airline to stand out.
As the collection debuted around the world on 64,000 employees on Tuesday, we chatted with Posen about his inspiration for the new uniforms, his carry-on travel essentials and his favorite destinations around the world.
---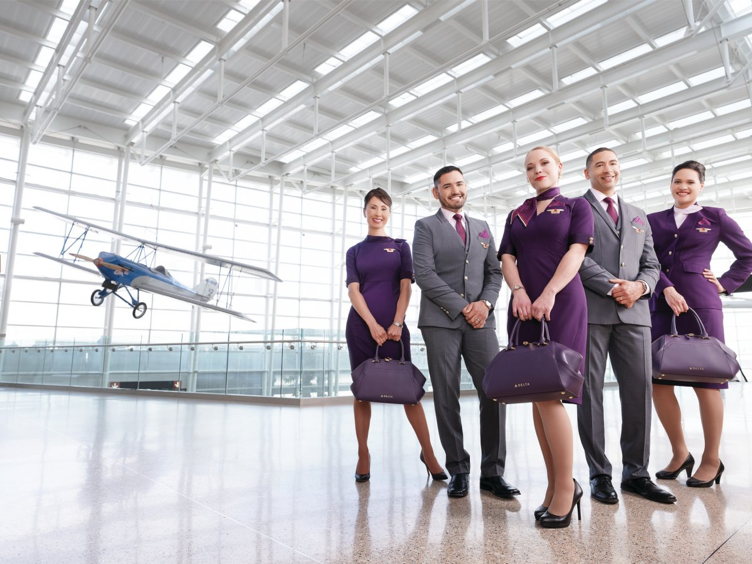 Photo Credit: Delta Air Lines
What was your inspiration for the new uniforms?
I drew inspiration from the inside of the planes as well as the architectural elements throughout aviation.
What do airline uniforms lack that you've added?
Timelessness, a sense of functionally and proper fabrics that travels and last for their employees.
What is something you always have in your carry on when you're traveling?
A blanket , headphones and a face mask.
What's your favorite travel destination and why?
Japan because I love everything about Japan. And Los Angles because it is my happy place.
Do you have a go-to hotel whenever you're in Los Angeles? What is it and why?
I always stay with friends, this is the best hotel because I get to properly spend time with them.
What was the most impactful trip you've ever had and where was it to?
It is hard to say as each place had its own special attributes and were impactful and formative in different ways.
What is the best, most stylish yet comfortable travel possible? 
A Brooks Brothers PJ for overnight flights for both men and women or jeans/pants and a cable knit sweater. It is all about ease.
Photo Credit: Delta Air Lines