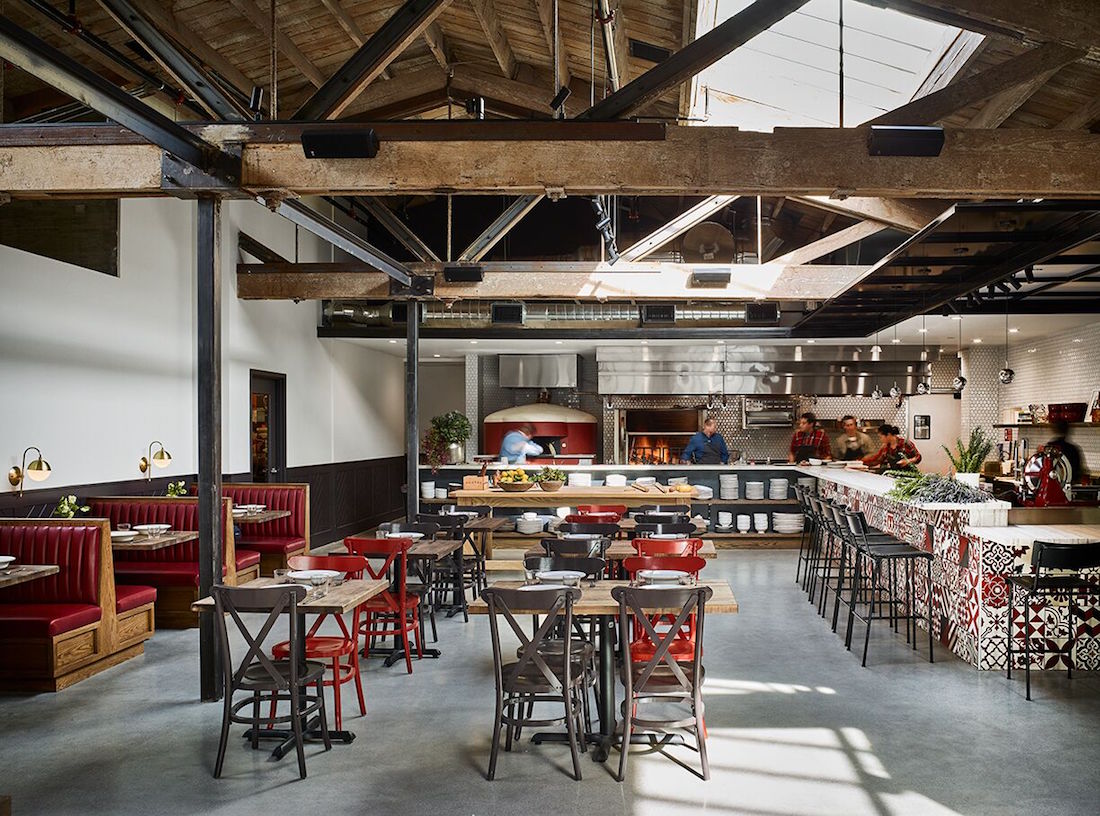 Photo Credit: Douglas Friedman
New restaurants open in San Francisco on a daily basis but rarely does one attract as much attention as the recently debuted Che Fico. The Divisadero Street Italian eatery is currently the hottest spot in the entire city. It's been open for less than a month but already counts Anderson Cooper and Gwyneth Paltrow amongst its biggest fans.
So what makes Che Fico so unique? Well, everything. Chef and owner David Nayfeld—along with chef Angela Pinkerton and business partner Matt Brewer—have created a highly-anticipated restaurant that serves comforting rustic cuisine in an Instagrammable atmosphere. It's the sort of whole package eatery that only comes along once in awhile.
Photo Credit: Douglas Friedman
Che Fico was three years in the making. Located on the second floor of a two-story building that used to house an auto body shop, Che Fico has an open kitchen with a pizza oven. A room dedicated to aging charcuterie sits in the middle of the dining room, which is bright and airy with exposed wood and oversized communal table.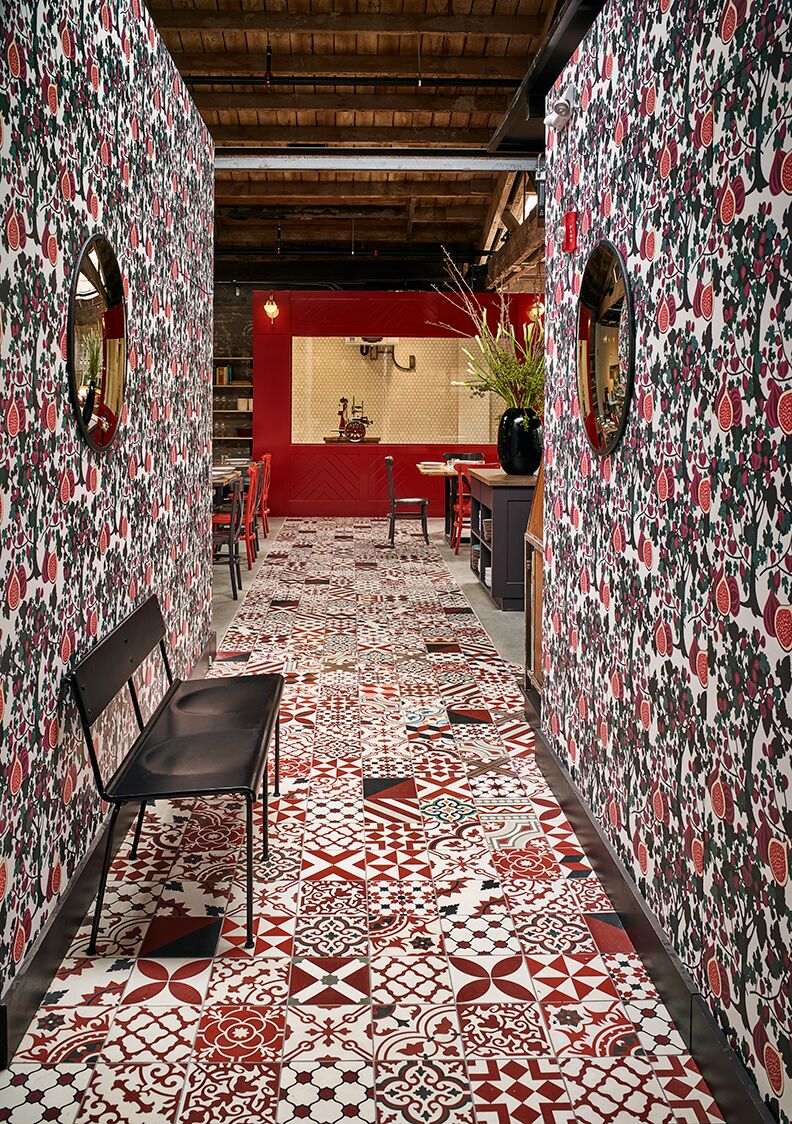 Photo Credit: Douglas Friedman
Orange tile, in a Mediterranean-style print, leads dinners into the restaurant like the Yellow Brick Road. Fig-printed wallpaper covers the entryway. "Part of our goal was to create this feeling of arrival and enticement," Nayfeld told Haute Living in a telephone conversation. "So, when you're walking up the stairs, it should make you feel like, 'Oh, I wanna know what is up the rest of those stairs.' "
Aromas that waft from the kitchen are also enticing. The menu consists of an assortment of housemade pasta, pizza, larger dishes like wood-fired chicken, sides, and Jewish-Italian-inspired snacks such as chopped duck liver. The supplí, oval-shaped fried rice balls filled with melted provolone, are to die for. Nayfeld's three favorite dishes? "The tagliatelle ragu. It's all brown and yellow; we don't put herbs on it or anything like that. I love the hearts and gizzards dish, we cover it with crispy chicken skin, and the mushroom pizza is one of my favorite things."
Photo Credit: Douglas Friedman Nayfeld developed a particular technique for the pizza dough that features local ingredients. The resulting pizza has a sourdough-like quality to it—it's crispy and incredibly enjoyable. It's the sort of pizza that dreams are made of—a pizza that you will crave and think about days after consuming it. The chef made over 600 pizzas before they perfected the recipe.
"We were sitting here every day, tasting a bite of pizza, spitting it out, tasting a bite of pizza, spitting it out," Nayfeld explains. "Just figuring out what the hydration level was; how the fermentation should be; what flours we wanted to use; what was important to us from a textural and consistency basis; what temperature the oven should be; how much oven spring we wanted; how long it would bake; what we wanted to dust the crust with; what the mixture of doughs would be." A pizza obsessive, Nayfeld could go on and on in a way that only the most passionate of chefs could relate to.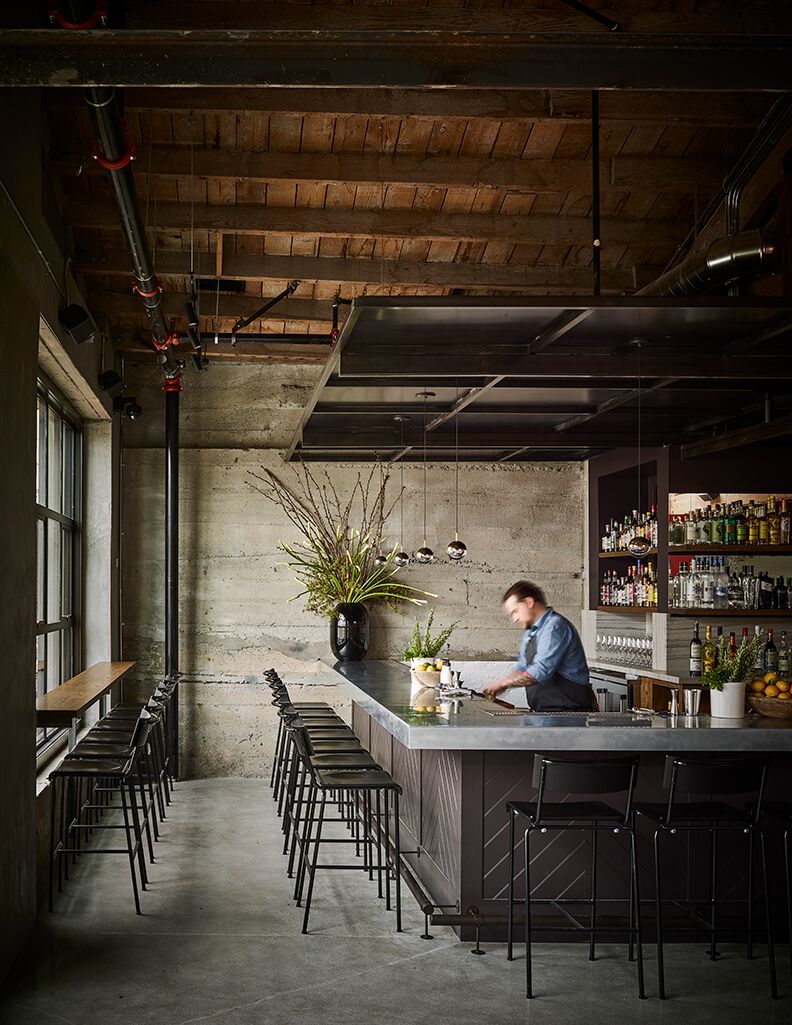 Photo Credit: Douglas Friedman
That's just one aspect of the menu. The team also put a lot of thought into the hand-made pasta, craft cocktails, desserts, and Italian-heavy wine list. Although Che Fico has been an instant sensation, Nayfeld hopes that the restaurant becomes a part of the fabric of the city. "Not one single thing is going to sustain your business. You need to be the full package. And the full package starts and ends with quality on the plate and quality service, quality drinks, right?" he says. "All these things need to work in tandem together for them to be successful."