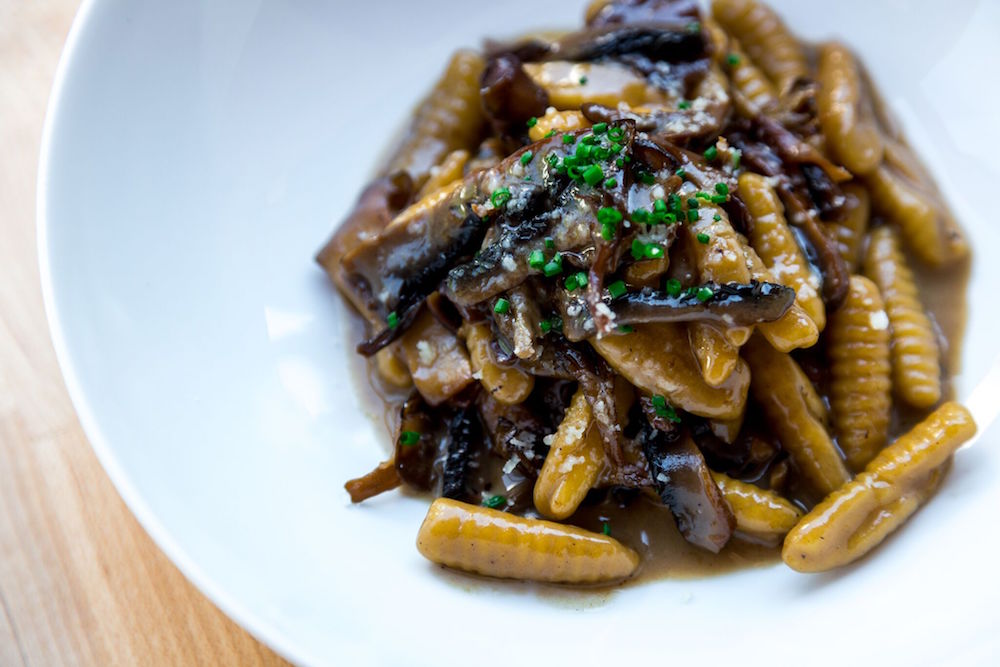 Although Saratoga can be a trek to get to on a weeknight for dinner, the restaurant Plumed Horse is worth the drive. Chef and co-owner Peter Armellino is one of the Bay's most brilliant culinary minds. Along with his team—which includes partner Josh Weeks and sommelier Jeffrey Perisho—Armellino has 10 consecutive years of Michelin stars to prove his prowess. Armellino is a hands on sort of guy who does everything from breaking down whole hogs to harvesting his own caviar. In fact, he's the only chef in the country to touch every caviar egg that is labeled his own. But that's a whole different story.
Photo Credit: Rick Camargo
Earlier this week, the Plumed Horse staff opened two new concepts in Saratoga. The first is a fine casual eatery, Pasta Armellino, and the second is Plumed Horse Chocolaterie, a sensational chocolate shop. Both are located directly across the street from the flagship restaurant.
Photo Credit: Rick Camargo
At Pasta Armellino, the chef is serving high quality, housemade, seasonal pasta dishes. At the packed opening party last week, the crowd could not get enough of the housemade tubes of rigatoni with spicy red pepper sauce, thick chunks of fatty guanciale, and smoked mozzarella. Another fan favorite was the gnochetti with creamy mushroom sauce and a generous dusting of fresh black truffles.
Photo Credit: Rick Camargo
While the food is upscale and delicious, the setting at Pasta Armellino is relaxed and informal. Original work commissioned by graffiti artist Chris Kondo takes center stage in the dining room. The open kitchen is actually a repurposed old barn. Perisho oversees the beverage program which features a variety of Italian and domestic wines. Most notably the newly release Plumed Horse Collection wines made in partnership with Brooks Friedeman (the Chardonnay) and Testarossa (the Pinot Noir).
Next door to Pasta Armellino is the charming chocolate shop which serves a wide variety of extraordinary chocolate truffles. All of the chocolates are handmade and painted by Angelica, a spritely soft-spoken woman who is a breath of fresh air and chocolate genius. She creates chocolates that are as delicious as they are beautiful.
Photo Credit: Rick Camargo
The Plumed Horse Chocolaterie opened in December and has consistently sold out of its daily selection of artisnal bonbons which come in a wide variety of flavors including Bailey's Irish cream, coconut lime, hazelnut, passion fruit, sea salt caramel, peanut butter loves jelly, Bengal chai, and many more. Unlike some modern confections which have esoteric flavors, Angelica's chocolates are decadent, perfectly executed classics.
Photo Credit: Rick Camargo
At the opening, Weeks told Haute Living that the Chocolaterie might be the Plumed Horse Collection's most prolific venture yet—and we couldn't agree more—the chocolates are to die for. With these exciting new openings, it's hard not to think that Saratoga is turning into the South Bay's Yountville. Armellino is following in the footsteps of Thomas Kellar, but instead of a French bistro and bakery, he's betting on a pasta joint and chocolate shop. A combination that we'd put money on.
Pasta Armellino and Plumed Horse Chocolaterie are now open on Big Basin Way in Saratoga.