Photo Credit: Michelle Min
The restaurant scene in San Francisco is constantly changing with openings and closures happening so quickly that it's hard to keep up. An eatery that endures, becoming a beloved part of a neighborhood, deserves celebration and recognition. Such is the case with Serpentine, the Dogpatch's most iconic restaurant, which recently turned 10. To commemorate the occasion, Serpentine has made several exciting new updates.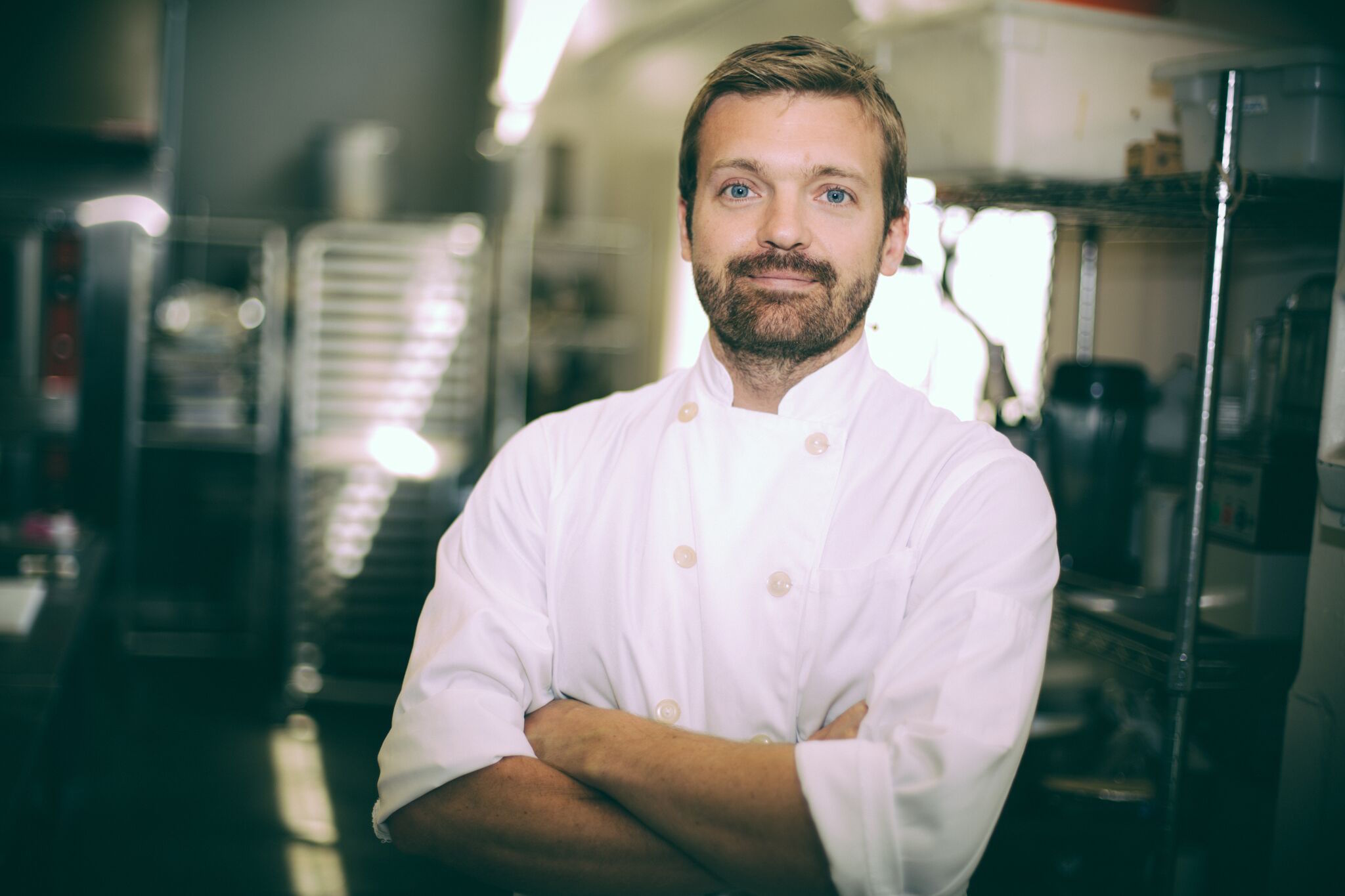 Photo Credit: Michelle Min
First, the farm-to-table restaurant got a makeover. During the month of August 2017, executive chef and owner Tommy Halvorson closed Serpentine's doors to refresh the interiors. Windows were added, the dining room was opened up, and the bar and kitchen were expanded, A stylish grey-green color palette, taken from the rock serpentinite that resembles snakeskin and is what the restaurant is named for, inspired Halvorson. The resulting space is industrial, but incredibly chic with an open inviting floor plan that enhances the lively bustle of the always-packed eatery. He tapped local talent to help him with the remodel. "When I started talking about remodeling, I had a lot of local folks reach out to be a part of the process," Halvorson said in a statement. "Our neighbors are artisans here in the Dogpatch, and many loved the idea of helping out and putting their stamp on Serpentine."
Photo Credit: Angela DeCenzo
Halvorson took over Serpentine in December 2016—he was hand-picked by founder Erin Rooney to continue the legacy of the neighborhood restaurant—but he didn't update the menu until the renovation was complete. He drew on his Southern background to enhance the offerings, adding a sensational spiced-honey fried chicken, succulent grilled pork chop, and smoky pan-seared scallops to the menu.
Photo Credit: Michelle Min
Just before the holiday break, Halvorson announced he was launching an entirely new brunch menu with extended service. Brunch is now available at Serpentine, Thursday through Sunday from 10 a.m. to 2:30 p.m. The delicious menu debuts tomorrow, Saturday, January 6, and includes dishes inspired by the South and Mexico. Some of the offerings? Hushpuppies, enchilada ranchera frittata, breakfast sliders, and maple custard French toast.
Also new at Serpentine in 2018? Sunday Suppers—something Halvorson has been wanting to do since he took over the restaurant. The supper series begins on February 11, but going forward they will be every first Sunday of the month—with hopes of the dinners becoming a weekly feature in the future. These meals will allow Halvorson to experiment in the kitchen with different cuisines and larger formats.
Photo Credit: Michelle Min
The first dinner will be inspired by Louisiana and includes oysters Rockefeller, blackened shrimp and grits, crawfish boil, and rabbit gumbo. The three-course meal will cost $35-40 per person with supplemental special courses. Diners get to choose their appetizers, sides, and desserts, but the entree is served family-style. Note that tickets for the first supper are now on sale. Although the success of these changes won't be immediately apparent, here's to another ten years of prosperity for this classic and treasured neighborhood restaurant.