Photo Credit: Andrew Werner
On Friday, September 8th Michael Costello debuted his Spring / Summer 2018 collection during a presentation at Robert Miller Gallery, for the first time showing his couture and bridal collections together. The lineup included a diverse range of models inclusive of all shapes, sizes and ages – representing the true beauty and sensuality of all women.
Photo Credit: Andrew Werner
"Our clients spoke out and we listened. Our clients are our number one priority when it comes to our business. It's important for us to listen when our clients say 'they can't imagine themselves wearing this'. So we wanted to use women who are not only real and relatable, but also feel confident in their own skin and want to show off their curves," Michael Costello on the use of plus size models within his presentation.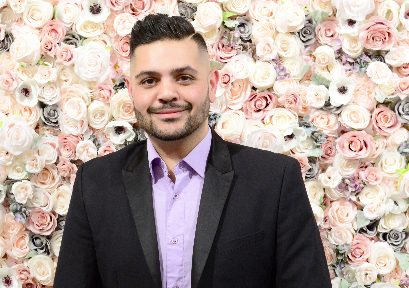 Photo Credit: Andrew Werner
The Spring / Summer 2018 collection invites women to step into an enchanting secret garden where humanity and nature entwine, which is conceptualized through soft treated organza, exquisite embroideries and lace overlays.
Michael Costello also introduced his first seasonal bridal collection which showcases an array of styles from ball gowns and cocktail dresses to more playful pieces, such as a lace embroidered body suit paired with a full silk skirt.

Photo Credit: Andrew Werner
Prior to the show we were lucky enough to speak to Michael himself about the collection and his life as a fashion designer.
What is your favorite part about your job?
"Waking up in the morning and going to work. It never feels like a job when you love what you do."
What has been the most challenging thing you've experienced in your career?
"Oh wow, that's a good one, I have to think about it. Just the day to day tasks at hand, you know. Running the backend of the business and trying to wear multiple hats and do everything and sometimes I say if you want something done you have to do it yourself, I agree with that, but if you want something done right you need a good team."

Photo Credit: Andrew Werner
What are you looking forward to most within the next year?
"Ready to wear. I want to really get into ready to wear and give women an opportunity to wear Michael Costello dresses in all sizes for different price points, like a great cocktail dress for $250-300."
What is your proudest accomplishment this year?
This year, my standing presentation! Opening up our retail space in downtown Los Angeles, I think that would definitely be my proudest accomplishment. Women can come in and if they don't want a custom made dress or wait 4-6 weeks they can come in and pick something up off the rack, I can alter it for them too. 

Photo Credit: Andrew Werner
What is your favorite piece of clothing that you've ever designed?
"There are so many they are like my small children. And sometimes when it's a couture gown and someone buys it, yeah the money is great, but I hate to see it leave, is that weird? I'm like nooo don't go, call me from Dubai. I have to say it was a dress I made for Keisha, I really loved it. She wore it for the American Music Awards, I called it the Barcelona dress. It was a one shoulder, silk georgette gown with a super high slit and I just thought it was so beautiful."
If you could give yourself advice 5 years ago what would it be?
"Don't change anything, you're going in the right direction."

Photo Credit: Andrew Werner
What is the craziest thing you've experienced in the industry?
"My clients! They ask me the craziest things! I ask them first if I can post it on Instagram and they get a kick out of it."
Tell us something interesting about yourself that no one would guess:
"I'm an exotic dancer…no, no, just kidding. I have two biological children that I made from scratch and then 3 step kids. I don't think anyone really knows that about me. And my oldest kid is 24. I have all of their birthdays tattooed on my arms too.
Also (points to arm) that's me and Beyonce's special day of the Grammys tattooed on my arm, the first time she wore my dress. I thought that was something I'd always want to remember."
Photo Credit: Andrew Werner
Subscribe to discover the best kept secrets in your city