The Bay Area has no shortage of powerful females in influential leadership roles. Names like Sheryl Sandberg, Meg Whitman, Nancy Pelosi, and Dianne Feinstein instantly come to mind. Oakland native Kamala Harris—who has become a star in the recent Senate hearings—is another woman who we respect and admire. In terms of food and philanthropy, you've probably heard of Dominique Crenn, the only female chef in the nation whose restaurant has two Michelin stars, and Dede Wilsey, SF's patron saint who helped rebuild the Fine Art Museums. But who are the wonder women you might not be as familiar with? Who are the tastemakers and dealmakers defining and changing the Bay Area right now, at this very moment? Allow us to introduce you to them. The following ten ladies, listed in alphabetical order, are behind the scenes making stuff happen. Get to know them here and prepare to see their names everywhere in the near future.
Allison Speer, 

The PR Maven 
Photo Credit: Drew Altizer
"Do work that is rewarding and follow your instinct."
When luxury fashion houses and international designers need to throw an event in San Francisco, they turn to public relations guru, Allison Speer. In SF, her carefully curated guest list, which is filled with tech titans and old school billionaires (many of whom are her close friends), is the creme de la creme. Speer worked as Giorgio Armani's West Coast director of events before starting her own company 16 years ago. She hasn't looked back and has enjoyed meeting amazing people along the way. "Last year I got to work with Domenico Dolce," Speer says. "Meeting an iconic designer like that makes any challenge on a project well worth the experience." The Presidio Heights resident and mother to two adorable mini dachshunds says that running your own business is challenging. That's why it's crucial to have "great women who work for me that support me in every way possible." Speer is an advocate for the community and has been a trustee at California Pacific Medical Center Hospital for the last five years, where she is working hard to help fundraise for the new campus which is set to open on Van Ness in 2020. 
Ayesha Curry, 

The Culinary Ingenue
"I've made it a point to be transparent on my social media and in everything that I present. I never want anyone to think that I'm too fluffy or too perfect. It's not the kind of message I'm sending out."
Thanks to his legendary shooting skills, Warriors point guard Stephen Curry is a name that's known in most places now. Although she's not a sports star, his wife, Ayesha, is well on her way to becoming a household name too. The 28-year old East Bay resident is cooking up a career in the food industry. The mother of two has a cookbook, The Seasoned Life, an instructional cooking show where she teaches viewers recipes while giving them a glimpse of her glamorous life on the Food Network—it's called Ayesha's Home Kitchen, and she recently appeared as a culinary star at BottleRock Napa Valley. Her pop-up restaurant, International Smoke, in collaboration with chef Michael Mina and the Mina Test Kitchen will become its own stand alone concept. International Smoke is taking over the RN74 space in the Millennium Tower later this year. Curry also makes olive oil, promotes a line of ready-made soups, and has her own meal kit delivery service, Homemade, that focuses on fast and easy family dinners.
Claudia Altman-Siegel, 

The Art Impresario
Photo Credit: Joseph Antonetti
"You don't always have to know everything. I take it as a reminder to listen."
In 2007, Claudia Altman-Siegel quit her job in New York, broke up with her boyfriend, put everything she owned in storage, and headed to San Francisco. She slept on the floor in her sister's apartment for nine months before finding her own place. A year later, in 2009, she opened her namesake gallery, where she shows some of the best contemporary artists around, and got engaged in the same weekend. She explains the experience like this: "I knew that my life before wasn't going in the direction I wanted it to, so I gave up everything and started over. That exercise in having nothing allowed me to rebuild my life from scratch in a way that is healthier and more productive than anything I had before." Now less than ten years later, she is one of the most inspiring gallery owners in the Bay Area. Last fall, she moved from 49 Geary Street—an address known for being home to many famous galleries—to the newly built Minnesota Street Project, into a 5,000-square-foot space that she designed herself. "When I opened the gallery in 2009, I imagined being in a space like this some day and I managed to accomplish it much faster than I anticipated," she says. Not only is she a champion of contemporary art—two of her artists (Liam Everett and KRM Mooney) have solo shows at SFMOMA this summer—she's also a champion of the SF art community. "It's a small scene so we have to be supportive of it. The more we are excited about it locally, the more the rest of the world will start to pay attention."
Dr. Carolyn Chang, 

The Miracle Worker
Photo Credit: Kathleen Harrison
"Jump every hurdle, even the ones that seem impossible, and never give up."
Dr. Carolyn Chang believes that inner beauty comes from outer beauty. As one of San Francisco's most sought-after plastic surgeons, she's made it her life's work to help women feel better about themselves. Chang specializes in cosmetic surgery and is currently the vice chairman of plastic surgery at California Pacific Medical Center (CPMC). "Sometimes inner beauty can come from outer beauty," Chang explains. "What I mean is that when we take pride in our appearance, we are taking care of ourselves. We feel good about ourselves and are more confident and positive." Chang has overcome many challenges to get where she is today—both professionally and personally. "When I was in residency and in the early part of my career, most plastic surgeons, and certainly most surgeons in general were men," she says of being a female in a male-driven profession. "Being taken seriously, and garnering respect from my peers and mentors, was always in the back of my mind. Learning to negotiate gender dynamics was important to my success." After her first daughter died of a rare cancer at age two, she recommitted herself to supporting the children's programs and services at CPMC and the UCSF Benioff Children's Hospital. "I am championing this cause and am seeing positive programs being developed in these institutions."
Erin Sawyer, 

The STEM Warrior
Photo Credit: Josh Hittleman
"Don't be afraid to ask for more responsibility, ask for a promotion, take on new roles, change companies, relocate, start your own business, etc.  It's up to you to be your own advocate and be proactive about what you want!"
With a statuesque frame, long blonde hair, and megawatt smile, Erin Sawyer could be mistaken for a movie star. However, she's not an actress, she's a mechanical engineer—one who is single-handedly changing the way female engineers are seen in society. "My motto is #ILookLikeAnEngineer," she says. "The hashtag, originally coined by Isis Wenger in 2015, helped to redefine our awareness of diversity in tech. By adopting this motto, I am shattering the outdated idea of what an engineer should look like. It's hugely important to show young women that not only can you be a female engineer, but you can also be feminine and beautiful." Referring to the acronym for science, technology, engineering, and math, Sawyer says, "I embody the modern face of STEM and prove that women can be beautiful, smart leaders [in these fields]." The automotive and technology executive held a senior position at Telsa for two years before she took on her current role as the vice president of supply chain at Wrightspeed. When she's not working to reduce areas of highly concentrated energy consumption and pollution, she serves as a role model to the younger generation. Sawyer is on the board of Kids' Vision, a non-profit that empowers 3rd to 6th grade girls by showing them how Silicon Valley's tech companies use math and science.
Jennifer Siebel Newsom, 

The Good Wife
"We're in the business of changing culture, of shifting hearts and minds out of behaviors—that's no small task."
In her late 20s, Jennifer Siebel Newsom wanted to be an actress. After she was told to lie about her age and dumb down her Stanford education when auditioning, she realized firsthand how Hollywood misrepresents women. Siebel Newsom, whose husband is the Lieutenant Governor of California, Gavin Newsom, decided to further investigate the subject. The result was her 2011 documentary, Miss Representation, which explores how the mainstream media portrays women in limited and often disparaging ways. "The media and our culture largely undercuts women leaders," Siebel Newsom says, "telling us in ways both large and small that our value predominantly lies in our youth, our beauty, and our sexuality, and not in our capacity to lead." The film turned into a movement and sparked Siebel Newsom to create her nonprofit, The Representation Project, an organization with the goal of a world free of social injustices and gender stereotypes. The Representation Project seeks to represent everyone —no matter their race, sex, religion, or background. Through documentary films, such as Miss Representation and her second movie, The Mask You Live In, Siebel Newsom and her team are breaking down barriers and putting a spotlight on the narratives that limit boys and girls from reaching their full potential.
Marissa Mayer, 

The Unemployed CEO
Photo Credit: Drew Altizer
"I think there is too much judgment involved from other women and I think you have to have respect for everyone and the fact that they are going to do it their own way."
Five years ago, Marissa Mayer left Google to become the CEO of Yahoo. She was faced with the difficult task of turning around the floundering internet company. The challenge was virtually impossible, even for the formidable and smart Mayer, and earlier this summer, she resigned from her position. Yahoo was sold to Verizon and Mayer walked away with a $23 million severance package. "It was a long road to get the company to that point but we're overall happy and excited about it," she explains. Mayer spent a lot of time focusing on that important transition, saying "there's been so many twists and turns and curve balls on the way." It was crucial "to make sure we get it over the threshold." After everything with the deal was finalized, Mayer summed up her time at both Yahoo and Google, "I've been really lucky to be a part of two companies that have changed the world." At the time of press, her next move remains unknown. 
Mary Gonsalves Kinney, 

The Fashion Powerhouse
Photo Credit: Drew Altizer
"Rise above. Never listen to the peanut gallery—always follow your instincts and if you're talented at what you do and you're kind, you will succeed." ­
Mary Gonsalves Kinney is the Bay Area's most hard-working stylist and one to whom many important women (including some on this list!) look for wardrobe decisions. "I work with some amazing people, but I don't like to talk about it and frankly, can't a lot of the time," Gonsalves Kinney says. "I'm proud of the relationship I have developed with each of them and the reputation I have earned as a stylist not only in San Francisco, but beyond. Someone the other day called me the 'private stylist.' I like that there's a bit of mystery in what I do. I usher in the chicness, discreetly." The mother of three is actually a Sacramento resident, but bases her business in SF. She commutes on a daily basis. "I feel it is important to show my children the passion and dedication I have to my work. I love what I do and they can see that when I get up and go to work everyday (in another city, no less!)." Gonsalves Kinney helps promote local designers like Tokyo Gamine and can often be seen hosting fashionable events with designer brands, such as Giorgio Armani and Stella McCartney,  boutiques, like Pia the Store, and publications, namely Vogue.
Shelly Kapoor Collins, 

The Savvy VC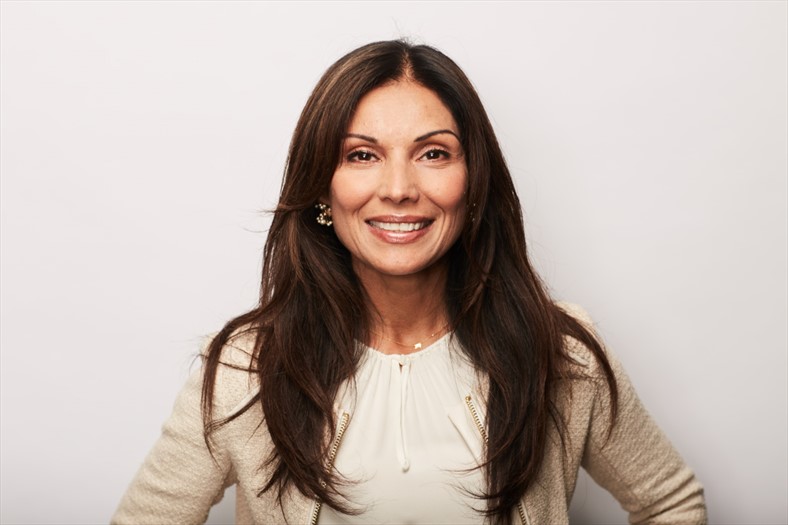 "Be willing to pay it forward without worrying about how something benefits you. Believe that when you pay it forward, your karma will be its own reward."
"There are three areas that I am super passionate about: technology, mentoring women, and public service," venture capitalist Shelly Kapoor Collins says. "I have been lucky enough to fulfill my passion for all of these areas under one umbrella, the Shatter Fund, which I founded to invest in technology companies started by female entrepreneurs to drive innovation in our country and spur gains for our economy." Kapoor Collins served on Barack Obama's President's Council for Women in Business, which allowed her to understand why the country benefits when more women are leaders in business and in technology. In May, Kapoor Collins hosted the inaugural Shatter Summit, a daylong networking extravaganza filled with several discussion panels, lunch, and a rooftop cocktail party. Kara Goldin, Dave Morin, Linnea Roberts, and Tamara Mellon were some of the people who shared their stories at the event, which Kapoor Collins plans to make a quarterly affair. Being authentic is incredibly important to Kapoor Collins, as is giving back. "Don't forget those who helped you along the way. Remember to give back, if not to a person who helped you, then to someone else who needs it."
Tina Sharkey, 

The Empire Builder
Photo Credit: Brandless
"Take feedback seriously, not personally. Never get too comfortable. That helps you separate the feedback and hold the understanding that it's not personal."

Tina Sharkey is a serial entrepreneur and web disruptor. She cofounded iVillage, was a senior vice president at AOL, created BabyCenter, and started her own global platform, Sherpa Foundry. She is also a mentor and advisor to many start-ups including at Brit + Co., The League, and Pinrose. "I'm proud of the fact that, through whatever happy accident, I ended up as a role model," Sharkey says. "While I'm incredibly grateful for the impact I've been able to have on the industry, whether it's venture, women in business, or otherwise, what I'm most proud of is the role model I've been able to be for my family, especially my two sons. I take the role very seriously and hope I've instilled in them the values we've signed up for as a family." Her latest project is a new company, called Brandless, which hopes to bring quality products to the masses at affordable prices. Sharkey believes that values like non-GMO, organic, and sustainable products shouldn't cost more, and has set out to change the status quo. "I'm especially supportive of organizations that focus on engaging the next generation, developing our youth into global citizens with the social muscle required to move our society forward," she says. "And not just social muscle, but also the understanding that success is not the only thing that matters—it needs to be carefully balanced with social impact on both a local and global scale."
Subscribe to discover the best kept secrets in your city