Miami Spice has officially begun and the greatest restaurants throughout the city are offering up specially-curated, discounted prix-fixe menus through September 30th to celebrate. Each menu highlights some of the spot's signature dishes, and showcases the chef's expertise at its finest—even better? All menus are discounted to $23 for lunch/brunch and $39 for dinner. So, if you've been trying to limit your splurge-worthy meals all summer long, now's your chance to enjoy a three-course meal of five-star cuisine at as much as half the price. Here's a look at some of our favorite menus that are true can't-miss destinations during Miami Spice:
BYBLOS
Photo Credit: ByblosIf variety is the spice of your life, then Byblos will be your top pick to enjoy the prix fixe menu at its finest. With a diverse menu offering the spot's favorites, Byblos allows you to choose two appetizers, one entree, one side and one dessert per person for the meal. Serving smaller portions of the renowned plates, Byblos gives you a little taste of everything on their inventive Eastern European menu.
Highlights: Lamb Ribs with dukkah + buttermilk sauce + carob molasses + red chili chuq; Black Truffle Pide with buffalo mozzarella + halloumi + tartufata; Baked Hummus with wagyu + jalapeño schug + toum + hawaiij spice; Yogurt Baked Hake with toasted bread crumbs + walnuts + brown butter; and the Local Snapper with chraime sauce + persian lime. Be sure to pair your meal with the spot's refreshing signature cocktail, the Marrakesh Garden.
Miami Spice menu runs all week.
FI'LIA 
By: Antonia DeBianchi
Chef Michael Schwartz knows how to whip a gourmet, home-cooked Italian meal. Since the restaurant's inception last fall, it has become a hit in the SLS Brickell. Now, you can enjoy the Italian delicacies at a discounted price. When you come to Fi'lia, make sure you're hungry because in true Italian style, there will be decadent plate after plate. 
Highlights: Romanesco with marcona almonds and parsley sauce that takes broccoli to a whole new level. Fi'lia's pasta exceeds all expectations; the homemade rotini with pesto and sundried tomatoes will have you scraping your plate in hopes of any leftover bites. For dessert, the eatery takes the authentic route with Fresh Bing Cherry Semifreddo and Summer Peach Panna Cotta made with goat's milk and fig balsamic sauce that makes for a just-sweet-enough treat.
Miami Spice menu runs Sunday-Thursday
BAZAAR MAR BY JOSÉ ANDRÉS
Photo Credit: sbeBy: Antonia DeBianchi
Next door at the SLS Brickell, Chef José Andrés' first seafood locale has also crafted up a tasty Miami Spice menu. With the scent of fresh food wafting as you walk into Bazaar Mar, along with white and blue wall accents, you know you're in for a unique dining experience. The menu is vast, offering a variety of delicious options sure to please the most devout seafood enthusiast.
Highlights: The California "Funnel Cake,"—it's the seafood creation you never knew you needed. It's base is a seaweed funnel cake that is topped with avocado, blue crab, tobiko, mayo and cucumber. Snagging the prize for most mouth-watering plate of the menu is the Po Boy Jose! under the "Seductive Little Snacks" section. Desserts include a chocolate soufflé—the perfect bite to top off a decadent meal.
Miami Spice menu runs Monday-Friday.
LEYNIA 
Photo Credit: sbeBy: Antonia DeBianchi
The towering pillars and billowing curtains that guide you through the Delano lobby and into Leynia, the recently opened Japanese and Argentinian-influenced restaurant, are a sign that Leynia offers more than a top-notch culinary experience.
HIGHLIGHTS: 
Executive Chef Jose Icardi and Chef de Cuisine Guillermo Eleicegui have curated a sure-to-impress menu with standouts including a truffle-infused short rib ravioli, assorted empanadas and to-die-for ceviche that is arguably the best on South Beach. At Leynia, presentation almost tops taste: mouth-watering branzino is expertly plated while salmon cones are placed uniquely atop an elevated plate that is the shape of an animal's hoof. 
Miami Spice menu runs Monday-Saturday for Lunch and Sunday-Thursday for dinner.
SCARPETTA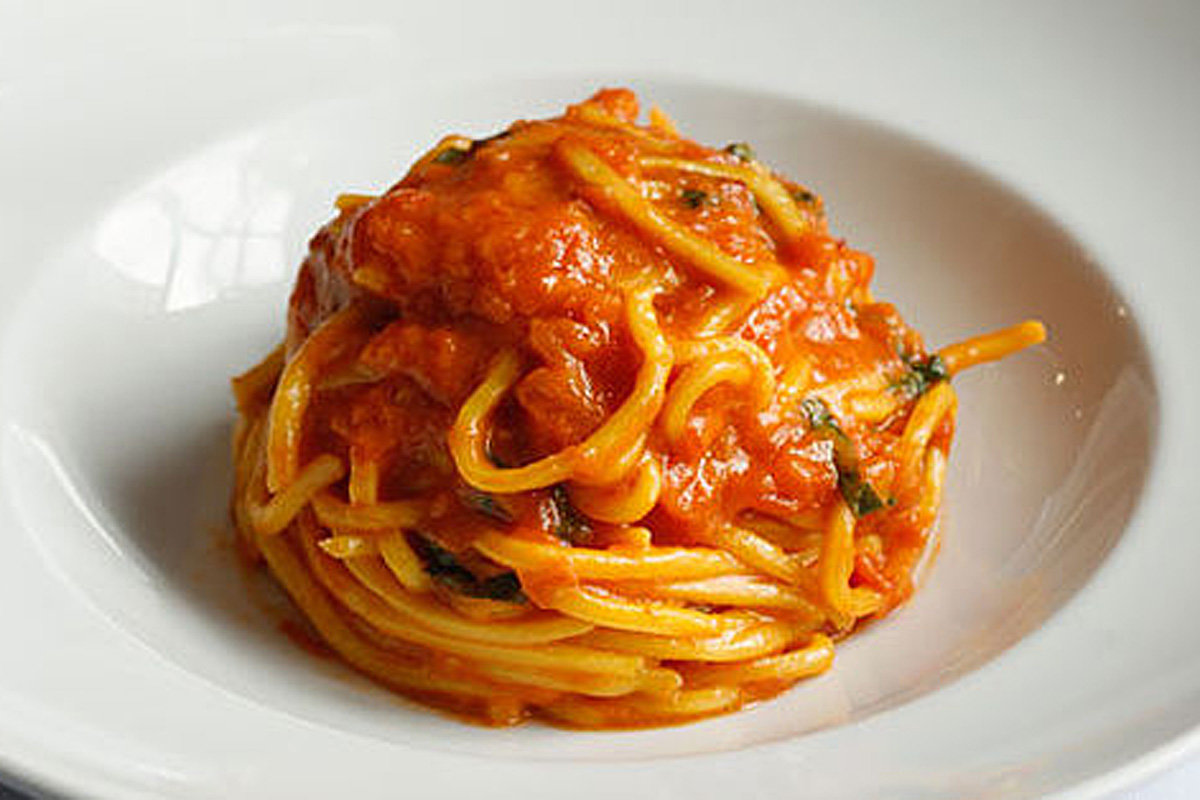 Photo Credit: LDV Hospitality
James Beard Award-winning chef Scott Contant's Scarpetta at the Fontainebleau Miami Beach has long been a staple for renowned Italian cuisine in the Magic City. During Miami Spice, you can overload on your favorite spaghetti dish and more for just $39 for a romantic evening at one of South Beach's hottest destinations.
HIGHLIGHTS:
The Mediterranean Octopus is the perfect way to start your meal, expertly prepared with a side of potatoes and smoked crema. Next, pair it with the classic Tomato-Basil Spaghetti, the spot's signature pasta dish, which takes a classic pasta dish to the highest level, resulting in an inimitable vibrant, rich flavor that can only be tasted at Scarpetta.
Miami Spice menu runs all week for dinner.
HAKKASAN
Photo Credit: Fontainebleau Miami Beach

 
If you're looking to fill up on delectable Asian dim dum in a killer atmosphere, then head over to the Fontainebleau's other haute dining destination, Hakkasan.
HIGHLIGHTS:
Hakkassan has become famous world-wide for its authentic Asian cuisine, particularly its dim sum specialties. Get your fix of the best version of the cuisine in the Magic City and order up the Dim Sum Basket, a steaming platter of dumplings in a variety of flavors with a side of delectable sauces.
STRIPSTEAK BY MICHAEL MINA
Photo Credit: Instagram @stripsteakmia
To truly get your bang for your buck, there's no better way to take advantage of Miami Spice menus than head to one of the city's top steakhouses and order a hearty meal. Stripsteak by Michael Mina at the Fontainebleau has you covered.
HIGHLIGHTS:
The Prime Bone-in NY Stripsteak—need we say more? This plate of perfection bursts with just the right flavor, enjoyed at its finest with a glass of red wine. The savory dish would normally cost you $48, but during Miami Spice, you can get this and even more for just $39 for dinner.
Miami Spice menu available all week for dinner.
MATADOR ROOM
Photo Credit: Romain Maurice/Getty Images
A three-course Jean-Georges Vongerichten meal for $39? Sign us up! Head to Matador Room as they introduce, for the first time ever, their delectable Miami Spice menu at the glamorous, Spanish-inspired eatery in the Miami Beach EDITION.
HIGHLIGHTS:
As can be expected, everything at the fine dining destination is impeccable. But in the celebration of the foodie-centric two-month special, Matador Room has prepared a menu highlighting some of their all-time favorite dishes, like the Charred Octopus with crispy potatoes, smoked paprika and herbs—which is perhaps our favorite in the city—as well as the Arroz con Pollo, which will give your generations-passed-down family recipe a run for its money. Of course, the Jean-Georges-favorite Warm Valrhona Chocolate Cake is a hit for dessert.
Miami Spice menu runs Monday-Thursday, Sunday for dinner. 
CECCONI'S 
Photo Credit: Cecconi's Miami Beach
Head to the exclusive Soho Beach House for a cozy meal at Cecconi's. While the romantic date night spot is always a top choice for Miamians whether it be for Sunday brunch, lunch or dinner, now guests have even more reason to go and enjoy the prix-fixe Miami Spice menu, which features some of the Italian eatery's most beloved dishes.
HIGHLIGHTS:
For starters, the creamy burrata and the light and refreshing Gem Lettuce salad are a must. Follow up with the Bucatini Vongole, a light yet flavorful bowl of pasta with fresh clams, seasoned with bottarga or the grilled Branzino with cherry tomatoes. For dessert, the vegan chocolate cake steals the show—it's nearly impossible to tell that this rich, chocolate delight is this delicious and guilt-free.
Miami Spice menu runs Monday-Friday for lunch and Monday-Thurs, Sunday for dinner.
SEASPICE
Photo Credit: Seaspice
The stunning riverfront dining destination has remained one of Miami's most revered restaurants since its inception—and it's more than the waterfront views that keep guests returning for more. The cuisine served here is of the highest quality, with a variety of rich, fresh ingredients used to elevate simple dishes with bold flavors to become uniquely their own. Miami Spice is the perfect time to try out the spot, as its menu incorporates a diverse range of inventive plates that highlight the chef's expertise at its finest.
HIGHLIGHTS: 
To start, the menu offers a selection of healthy, flavorful dishes that incorporate fresh vegetables—the yellow tomato gazpacho is a standout, seasoned with just enough flavor for a memorable kick, as well as the watercress salad with roasted corn and cucumber vinaigrette. The squash blossom tempura is also a must, deliciously stuffed on the inside with fresh king crab meat. For mains, you can't go wrong with the classic petit filet mignon cooked to a perfect medium rare, which comes with a tasty crispy oyster on the side, or for something lighter, the grouper over black rice and vegetables is simple perfection. To end with something sweet, the signature peaches & champagne is a beautiful combination of flavors, as well as the summer mango dish, which is heightened by the incorporation of fresh basil for a nice touch of flavor.
Miami Spice menu runs Saturday and Sunday for brunch, Tuesday-Saturday for lunch and Tuesday-Friday for dinner.
EL TUCÁN
The Brickell spot famous for its nightly shows is offering something different for Miami spice—this time, a three-course dinner menu paired with a live cabaret show, including musicians like multi-Grammy winner Marlow Rosado, dancers, contortionists and performers. The venue is offering the $39 Miami Spice dinner menu on Friday and Saturday night for both the 8:00 p.m. and 10:30 p.m. show time. Since the dinner and show packages typically run at $85/person, this is a can't-miss deal.
On Friday, August 11th at 7:30 p.m., guests can enjoy a specially-curated evening including a delectable three-course meal that highlights the spice menu, as well as a live cabaret show in partnership with GMCVB for $55/person. Highlights include complimentary beverages from Miami Spice sponsors Stella Artois, Ketel One Vodka, Don Julio Tequila, Bulleit Bourbon, Zacapa Rum, Chandon California, Terrazas de los Andes and FIJI Water.
Subscribe to discover the best kept secrets in your city