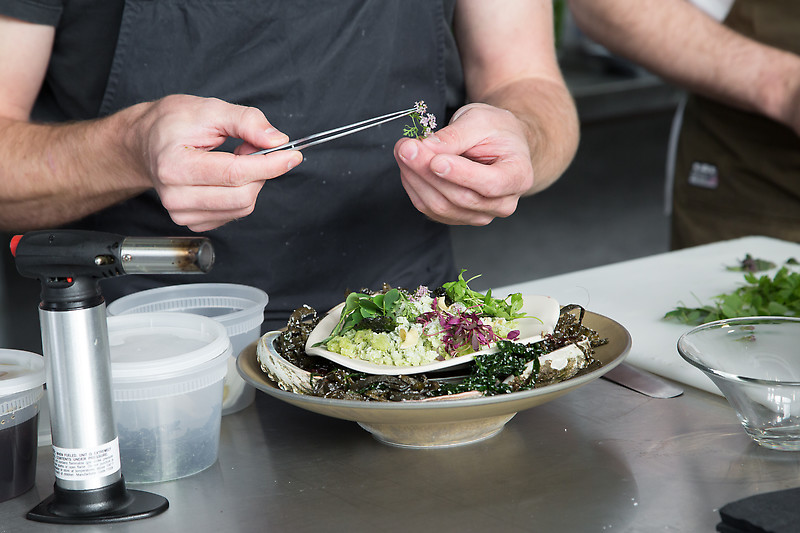 In advance of StarChefs 12th Annual International Chefs Congress, which will take place October 22nd to 24th at the Brooklyn Expo Center in New York, I spoke with Antoinette Bruno, CEO & Editor-in-Chief of StarChefs.com. We discussed the founding of the congress, the story behind this year's theme, key trends facing the industry and much more. The culinary symposium and exhibition's theme this year will be "Cook Your Culture". Presentations, discussions, demos and workshops with over 150 top chefs, including Albert Adrià, José Andrés and Wylie Dufresne, will be framed around the values, culture and influences that have permeated their work.
Tell me a little bit about the origins and founding of the StarChefs Annual International Chefs Congress.
In 2003, we were inspired by the first Lo Mejor de la Gastronomía in San Sebastián, Spain, where we tagged along with José Andrés. Ferran Adrià debuted his apple caviar at that historic event. Then we went on to attend Madrid Fusión. Three years later in 2006, we gathered for the very first StarChefs Congress. It was a humble beginning with lofty aspirations. It took place in the gym and theater at the Covenant House in Manhattan. Presenters included Daniel Boulud, Eric Ripert, and Anthony Bourdain. Today, the StarChefs Congress remains the event for chefs and industry professionals to network, build relationships, learn techniques, and pick-up trends. Now at the Brooklyn Expo Center in Greenpoint, Brooklyn, the 2017 presenters include Wylie Dufresne, Pierre Herme, Albert Adrià, and José Andrés.
Now in its 12th year, how did this year's theme — Cook Your Culture — come about? And why is it so important?
The restaurant industry is made up of people from all backgrounds and all walks of life who work together toward a common goal. It's built on merit and mutual respect. Hospitality people embrace all cultures and appreciate all roles from the dishwasher on up to executive chef. In light of the current divisive political climate, we wanted to make the StarChefs Congress personal this year, asking all the presenters and participants to "Cook Your Culture." The theme is a celebration as much as an opportunity to learn about and appreciate all the different influences and perspectives that make up our industry.
What are you seeing as some of the trends, ideas, challenges or opportunities facing the culinary industry today?
The most talked about challenge of the last few years has been the cook shortage and how to attract and retain a staff made up largely of millennials, who have different expectations for a career in food than those cooks who started out just a decade ago. Trends we're seeing this year include: all-day restaurants, the use of koji in fermentation, the impact of Instagram, chicken wings (we're having our first-ever Wing Battle this year), plating in bowls, and 90s nostalgia.
When you look back over the years of the Chefs Congress, what were we talking about 5 or 10 years ago, and how have those issues changed over the years?
Over the past 10 years we've seen the rise of the chef as celebrity, food trucks (our theme in 2009) and pop-ups, more casual everything, sous-vide cooking (demonstrated on the Congress main stage in 2007), communal dining and small plates (our theme in 2008), Middle Eastern flavors and ingredients (our theme in 2015), and vegetable-centric cooking.
Rahim Kanani is the author of critically-acclaimed hotel management book and hospitality management book A Wealth of Insight: The World's Best Luxury Hoteliers on Leadership, Management and the Future of 5-Star Hospitality.
Subscribe to discover the best kept secrets in your city