Photo Credit: Photos Andrew Jorgensen And Tom Tomkinso
Outside Lands Music and Arts Festival has always been a truly SF affair. Last year over 210,000 people flooded Golden Gate Park for the three-day music, comedy, food, and beverage extravaganza. More than 80 different artists performed on five stages. 75 local Bay Area food vendors, 30 breweries, and 40 wineries served the massive crowd delectable eats and drinks including grilled cheese sandwiches, steamed bao, pork belly burgers, Edna Valley Chardonnay, and watermelon Hefeweizen. 4800 bottles of wine were consumed and 8000 oysters shucked. From these numbers, it's apparent that Outside Lands isn't your typical music festival. Food and drink play a tremendous part in the experience—and so does giving back to the community. 91 percent of the waste created from Outside Lands was recycled. 683 local jobs were created and a large portion of the revenue ($17 million in the past nine years) is donated to the park to ensure that native flora and fauna flourish after the event. It's one of the few festivals that takes place in the heart of an urban city where the average temperature high is a chilly 65°F. Come Friday-Sunday, August 11-13, 2017, the event returns to the park for its 10th anniversary and it promises to be its biggest and best festival yet.
Since its inception in 2008, Outside Lands has become one the nation's most popular and profitable festivals with the food and drink curation changing the face of festivals as we know it. "We knew that San Francisco and the Bay Area had a very particular taste. We are spoiled. We have great food all around us," Danielle Madeira, the vice president of Another Planet Entertainment, the independent locally-owned concert production company that puts on the event, recently told Haute Living. "We knew that we couldn't just throw hot dogs and hamburgers at the people." Madeira and the Another Planet team reached out to their favorite local restaurants to see if they were interested in participating in the event. "We'd say use that one item that everybody loves that's from your restaurant. Your favorite item. Then, do that item, and come, make it for 65,000 people." Pacific Catch, a restaurant that's been a fixture at Outside Lands since the first year, continues to serve delicious Hawaiian ahi poke—and festival goers have come to love and crave this specific dish. While the food and drink promises to be an exciting and tasty experience, the music also guarantees a thrilling good time. Headliners this year include Metallica, The Who, Gorillaz, Lorde, A Tribe Called Quest, and Solange.
Photo Credit: Andrew Jorgensen And Tom Tomkinso
"Right after the festival ends, the challenge is to get the headliners for next year, because there are not that many headliners," Madeira explains. "There's only a certain amount of headliners that you can pull from, and there's a lot of different festivals pulling them. It's challenging to make sure that two bands who have similar audiences aren't playing at the same time. You're always gonna have a little bit of crossover, so you have to be very thoughtful in the programming, as well as just the booking." On her wishlist of future performers? Beyonce, Lady Gaga, and Rihanna. "Rihanna would rock it. She doesn't really do festivals. She's done a couple of them, and she doesn't tour that much. So, I'd love to see her," she says.
The festival was started by Another Planet and Superfly, the team behind Nashville's Bonnaroo. "We were interested in expanding what we were doing. We had always thought that it was peculiar that San Francisco didn't have a great, big music festival that was kind of in the ilk of what a New Orleans Jazz & Heritage Festival was, something where we brought together all the different creative elements that existed in the city," Rick Farman, co-founder of Superfly says. "Particularly because some of the most, I think, important American musical happenings came out of the Bay Area. We thought 'hey, seems like a good place to do a festival' because it's a great music market and there's a lot of people that we felt would be into what we do." Another Planet does the programing for AT&T Park, the Greek Theatre at UC Berkeley, the Fox Theater in Oakland, and several other venues. The group also had experience producing and promoting major outdoor concerts in Golden Gate Park. "We figured if we would join efforts it could be a real potential thing," Madeira remembers. "They had kind of the Bonnaroo experience that was pretty famous and we have the local connections in the city. It took a few years before it actually came to fruition. The process, permits, everything, and it took a little while."
Photo Credit: Andrew Jorgensen
One thing that took some negotiating was the name of the festival. "There was an idea that we wanted something that was not obvious, but something that would in a way have a reference point or a tie to the Bay Area and in the case of what we came up with, something specific to the property that we were using," Farman says. They wanted the name to be simple, but memorable and something that highlighted the culture and history of San Francisco. Although some people weren't fans of the Outside Lands name initially, after researching it, the team warmed to the idea. In the 1800s, Outside Lands was the name of the area that is presently known as the Richmond and Sunset Districts. The people in the center of the city, which would have been downtown, called it Outside Lands, because it was all desolate sand dunes. This all changed in the 1870s when Golden Gate Park was created and people began to visit the area by the thousands. Madeira admits now that it was a genius decision to name the festival Outside Lands because "of all the things you can do with it" from a marketing standpoint. Farman elaborates: "At the beginning, we really didn't look at it this way, but it ended up having some interesting marketing elements to it because you were able to sort of play off this 'lands' concept in a way that allowed us to extend the brand to different elements and activities." Beer Lands, Wine Lands, Cheese Lands—the festival has countless specific areas whose names are a play on Outside Lands.
Over the past nine years, the festival has grown to become an indulgent experience for all types of people. "It went from music, food, and wine, to more elaborate, extravagant. You have Choco Lands where you have these amazing desserts. Everything has become a little bit more extreme from where it started. It's like a good idea, and then, it became an amazing experience, overall," Madeira says. Where else can you twerk to Odesza and then go get a fresh-fried beignet and a glass of Sonoma rosé? Comedy has become a larger addition to Outside Lands with a bigger comedy tent being added for this August's event. Also new this year: restaurateur Anna Weinberg (Marlowe, Park Tavern) has been tapped to curate the food lineup. "She's helping manage—just with her insight in the restaurant business that we don't have, her knowledge and her relationships. We really wanted her to oversee. And her taste, she has the most outstanding taste when it comes to food, and knowing food that's up and coming," Madeira says of the partnership. "We basically asked her to jump on board to be able to oversee and create this fresh exchange of ideas when it comes to how the restaurants get involved, and how they're involved even outside of the festival ground. Like how they support Outside Lands, and how we make this cohesive, fun experience with the restaurants that we work with."
Photo Credit: Andrew Jorgensen
New restaurants include Alba Ray's, Cheese Steak Shop, Tartine Manufactory, Izakaya Sozai, Little Star Pizza, and Weinberg's Marlowe. The culinary aspect is what makes Outside Lands a destination for foodies and sets it apart from other fests like Coachella—and even the VIP section, which quickly sells out each year, features its own special food vendors. "We started the second wave of festivals that came along. A lot of the festivals didn't make it. So, we feel very blessed for doing well and selling out," Madeira says. "It takes a while to get there, but I think that people and promoters definitely see that this is what people want. They want to go to some place where they can get the best of the best.  Whether they can get the wine, or go see a famous comedian, and then, just have laughs because there's some crazy mixologist or have a sampling of all these different kinds of bacon, which is what we do. We take it to another level."
Continuing to have a heritage band, like this year's The Who to attract an older crowd, is another thing that makes Outside Lands distinctive. Previous vintage acts include Paul McCartney, Elton John, and Stevie Wonder. The goal is to carry the festival on, growing it, for the next ten years—and to make it an integral part of San Francisco's fabric. "The idea is that we basically formed something that's going to be ingrained in the San Francisco Bay Area community and is something that people get excited for and want to be a part of every year," Madeira pauses before elaborating. "Our focus is on the attendees, and the bands, and the experience that we provide. That's first and foremost. Just to see people have so much fun. Having all these amazing artists in one place. It's a very energetic crowd that's really happy to be there—that's why it's a favorite weekend."
Not-to-Be-Missed Culinary Delights
Photo Credit: Cameron Neilson
More than 10 food trucks will be on hand serving everything from lamb sliders to fresh cracked Thai coconuts. The original Del Popolo, a shipping container transformed into an impressive pizza oven and kitchen, is serving Margherita pizzas and salumi pizzas.
Photo Credit: Cameron Neilson
Woodhouse Fish Co. returns for its seventh year in a row with a dedicated area devoted to all things seafood. Order raw and barbecued oysters, lobster rolls, and clam chowder bread bowls.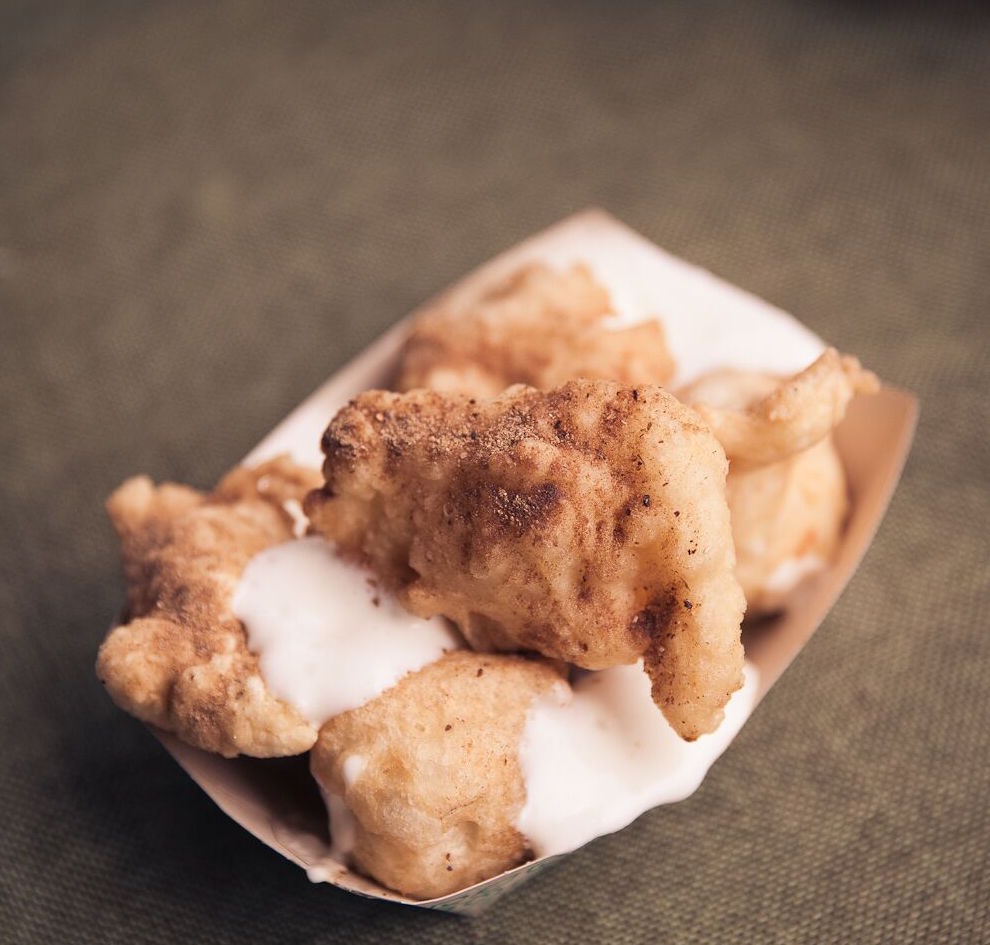 Photo Credit: Cameron Neilson
Perhaps, the most buzzed-about dish is Rich Table's porcini doughnuts with Raclette cheese, now in its fifth year. "It's crazy to be able to dance with Metallica and Lorde while eating porcini doughnuts from Rich Table, but that's exactly what we'll be doing at Outside Lands," Weinberg says.
Photo Credit: Andrew Jorgensen
GastroMagic is a smaller stage that will bring together food, music, and entertainment. Local chefs will perform demonstrations and food-related competitions. Cocktail Magic features five celebrated cocktail bars mixing drinks in an area near the culinary stage. At the time of publication, the lineup for these two experiences is to be announced, but rest assured they will be delectable.
Photo Credit: Andrew Jorgensen
Tips for Navigating Outside Lands
Parking around Golden Gate Park is incredibly limited and public transportation is recommended for getting to and from the festival. A free bike valet is open from 10 a.m. to midnight, and free shuttle buses back downtown/to Civic Center Plaza line up along Fulton Street each night.
Every day the gates open at 11 a.m. with musical acts starting at 12 noon. The music ends around 10 p.m.
Tickets are wristbands that can be preloaded with money for purchasing alcohol and food at the event.
Outside Lands has its own mobile app where festival goers can plan out their days and access a map of the different experiences.
San Francisco can be very chilly in August. Warm layers are recommended.
Refillable water stations are located throughout the festival and at Eco Lands, the social conscious community within the festival that provides an education forum for sustainability. It also has a farmers' market!
Save
Subscribe to discover the best kept secrets in your city