Photo Credit: Michael Pisarri
As Brickell and the Downtown area are becoming more and more populated with the new presence of the long-awaited Brickell City Centre, it's tough to pick and choose where to go as a plethora of new spots are popping up each week. We decided to hone in on this neighborhood, which is extra haute right now, and round up some of our favorite spots, old and new, of the neighborhood that are each perfect for a different occasion. Here's everything you need to know about planning your meals in Brickell:
WHAT'S NEW AND HAUTE
Photo Credit: sbe
For lunch: Bachour Bakery is the perfect destination for a gourmet breakfast and doesn't call for too much time out of your day. Diners can enjoy an assortment of fresh pastries from the famed chef Antonio Bachour, or some of the delicious toasts, like the crowd-favorite Avocado Toast or the decadent BB Bolognese Toast.
For brunch: The stunning new José Andrés hotspot in the SLS Brickell, Bazaar Mar, has just launched a serious brunch program that is poised to become one of the newest go-to spots for a boozy and delicious brunch. With three menu tiers starting at $95/person "Marinero" which includes unlimited Moët champagne, a caviar platter, a delicious entree and endless selections from the famed chefs authentic Spanish seafood favorites; the next tier "The First Mate," is priced at $195/person and includes the same but upgraded with bottomless Ruinart Blanc de Blancs Champagne; the final is "El Capitán," for the extra-special experience, priced at $295/person and includes all of the above except bottomless Dom Pérignon Champagne. With free-flowing champagne, a rich caviar platter and an all-you-can-eat selection of the best Spanish tapas in the city, Bazaar Mar ensures you have to look no further for your new favorite Sunday brunch.
For on-the-go: If you're craving seafood, then the New York-famous Luke's Lobster is your spot, offering delicious Lobster, Shrimp and Crab Rolls, which are their specialty. If you're feeling healthier, opt for a fresh-pressed juice from Dr. Smood or a farm-to-table bowl of chicken, rice and fresh vegetables from American Harvest. 
For drinks and a scene: The swanky EAST, Miami's rooftop bar Sugar is the perfect place to unwind after a day of work and sip on delicious cocktails with light bites of fine Asian cuisine as you take in views of the entire city.
For dinner: La Petite Maison is the area's new haute dining destination offering exquisite French cuisine. Tucked away from the craziness of the City Centre, the cozy restaurant sits right across from the bay on Brickell Bay Drive between 13th and 14th Street. The menu incorporates all of the favorites from the original London locale, with luxe standouts including a caviar-topped Tuna Tartare, or the fresh Duraude. Be sure to top it off with their famous cheesecake, which is quite possibly the best in the city.
ALWAYS IN STYLE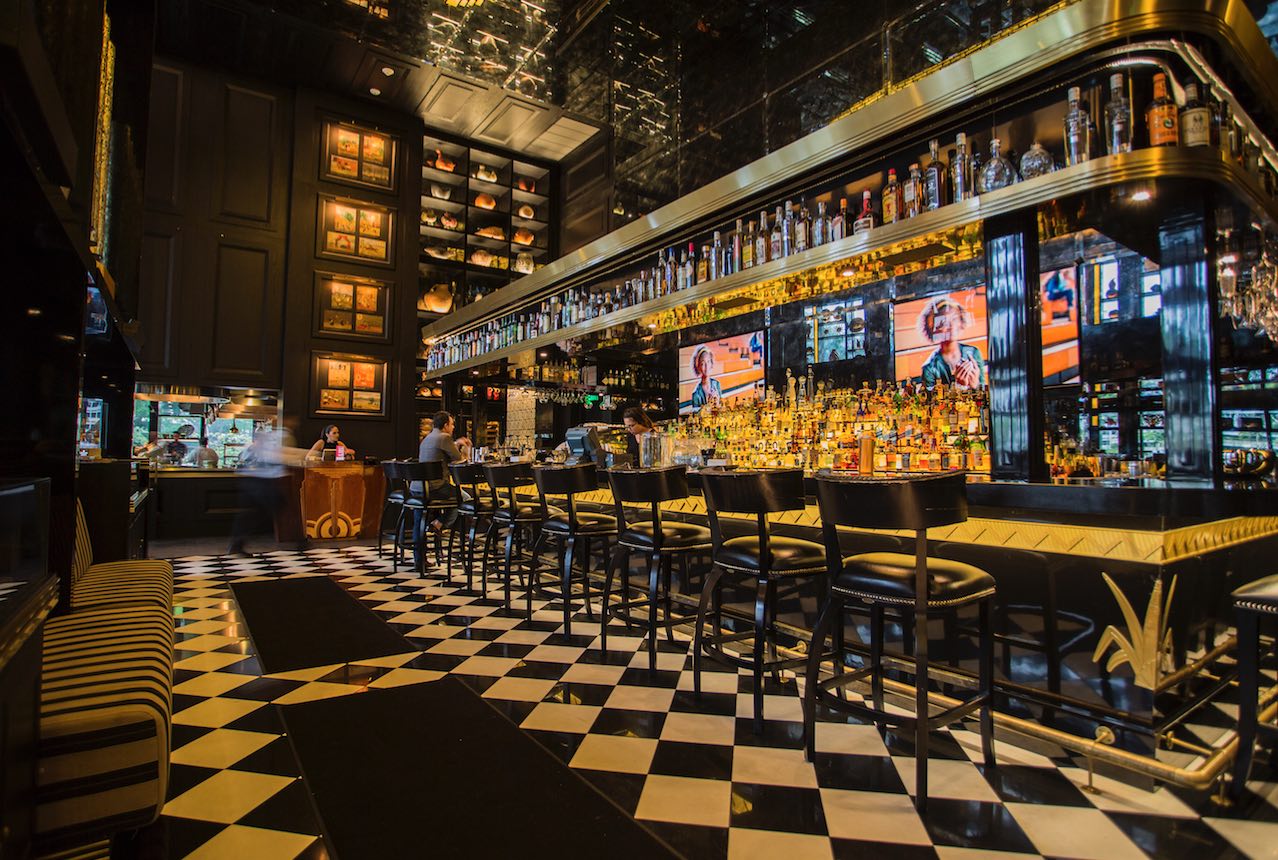 Photo Credit: Cantina la Veinte
ZUMA
Zuma is perhaps one of Miami's longest-standing, prized restaurants that never fails to bring in a beautiful crowd, no matter what day, or time, of the week. Whether you're heading over for a power lunch, a romantic waterfront dinner or the spot's famous weekend brunch, you can guarantee that a selection of Miami's most elite will be there as well indulging in some of the best Japanese cuisine in the city.
CIPRIANI
Another classic in Brickell is the Miami outpost of the world-renowned Cipriani restaurant. Nestled along the Bay in the heart of Downtown Miami, Cipriani offers stunning views of the Miami skyline in an classically elegant environment with authentic Italian food that can't be beat. Look out for Spring menu highlights including the Insalata con fave, indivia e pecorino, a risotto or pasta with "piselli freschi e capesante", or a flavourful Risotto con stracchino and radicchio. To make it even more special, make sure to try the mozzarella di bufala and the stracchino, which are now truly Made in Cipriani, in the family-owned factory in Italy, flown in to the U.S. a few times per week.
CANTINA LA VEINTE 
Right across from Cipriani rests another classic Miami restaurant, Cantina La Veinte. The upscale Mexican restaurant is striking from the moment you walk through the door, with a dark interior complimented by highlights of gold finishings throughout the restaurant, creating a sexy, Gatsby-esque, 1920s theme. You can find authentic Spanish memorabilia throughout the restaurant if you look close enough, such as an original Spanish bull-fighting costume. Another spot which is guaranteed to be packed on any given day of the week, guests can enjoy a variety of different experiences, from watching sports games on the restaurant's projected screens upstairs, to live music from the mariachi bands downstairs—and you can guarantee no matter what the occasion, the food and drinks will surpass all of your expectations. Favorites include the classic Mexican Margarita, paired perfectly with Chicharron De Rib Eye, the Huachinago Al Gusto, or the Short Rib Braseada, and of course the churros for a sweet dessert.
Subscribe to discover the best kept secrets in your city