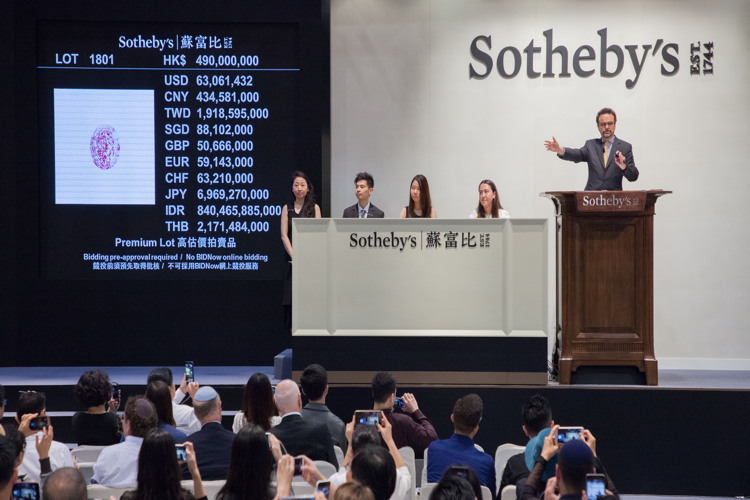 On Monday, we reported that the Pink Star, a 59.60-carat oval mixed-cut Fancy Vivid Pink internally flawless diamond, would be auctioned by Sotheby's this week and likely set a record price for a gem sale. Well it was, and it has! On April 4, a new auction record was reached when the Pink Star went for HK$553 million / US$71.2 million. The previous auction record for any diamond or gemstone was held by the Oppenheimer Blue, sold by Christie's Geneva in May 2016 for US$57.5 million. The previous auction record for any Fancy Vivid Pink Diamond was The Unique Pink, a 15.38-carat Pear-Shaped Fancy Vivid Pink Diamond sold at Sotheby's Geneva in May 2016 for US$31,561,200.
And who is the lucky new owner? The gorgeous bauble was purchased by well-known jeweler Chow Tai Fook and was immediately renamed the CTF Pink in memory of the late Dr. Cheng Yu-Tung, father of the current chairman and founder of Chow Tai Fook, and commemorates the brand's 88th anniversary.
The CTF Pink joins a number of outstanding stones in Chow Tai Fook 's collection, including the Aurora Green, a 5.03-carat vivid green diamond acquired in 2016 for HK$130 million / US$16.8 million, an auction record for a green diamond, and the Cullinan Heritage, an exceptionally rare 507-carat rough diamond acquired for HK$275 million / US$35.3 million in 2010.  It was cut and polished over three years to create A Heritage in Bloom, a widely regarded masterpiece of diamond jewelry.
"It is fitting that the owner of the most prestigious jeweler in Greater China should today break the record for the most valuable item ever sold in Asia as well as the most valuable diamond ever sold at auction, now appropriately named the CTF Pink," said Sotheby's President and CEO Tad Smith."And Sotheby's has been honored and thrilled to serve this very discerning client for many years."