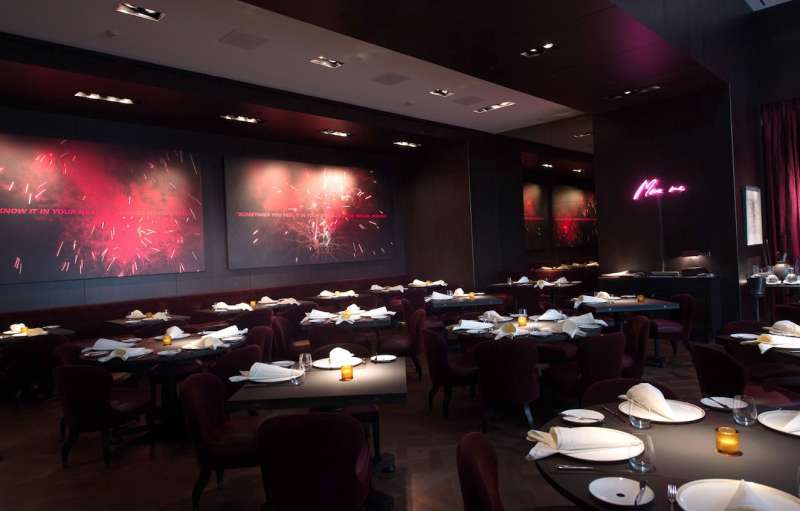 Photo Credit: Donnelly Marks
For star chefs, New York is the ultimate stage, populated by some of the biggest names and talents in the restaurant business. It is also the culinary world's most competitive arena, where dining spots come and go like Broadway shows, thanks to a local crowd that's among the most knowing, discerning, and demanding group of diners in the world.
So it was natural that Wolfgang Puck—the megawatt chef and hospitality mogul who conquered L.A., London, Dubai, and other major cities with his "American through a global lens" take on modern cooking—would set his sights on New York. He had—for many years. But knowing what's at stake in the Big Apple, Puck took his time. "A lot of factors came into play," says Puck about his decision to open a restaurant here. "You have to have the principals in place—the right chef, pastry chef, manager—as well as the right location. If you don't have them, or one of them, you don't have a deal." In the past when he'd contemplated a New York spot, he'd have some of the necessary elements but not the others. Finally everything came together when the Four Seasons Hotels and Resorts group decided to open an outpost near the Financial District. "The project started four years ago," says Puck, who admits he'd always imagined that his first New York foray would involve a Midtown property. "But Downtown has changed so much. It's a completely different story now."
Indeed it is. Cut, located in the Robert A.M. Stern limestone tower that houses the Four Seasons Hotel New York Downtown, lies one block from the World Trade Center, in a now bustling 24/7 area whose residential population has doubled since rebuilding began after the 9/11 attacks. Condé Nast, Time Inc., and other major companies moved to the district in the last few years, and the influx of TAMI businesses (tech, advertising, media, information) continues. The mega-shopping complex the Westfield World Trade Center opened in late summer, and Brookfield Place, which debuted in 2015 and is the site of many luxury brands, flourishes nearby, guaranteeing even more visitors to the neighborhood.
Photo Credit: Greg Gorman
Puck not only had his location, one very much on the up and up, but also a dream team ready to lead his kitchen: Raymond Weber, who has helmed a number of Puck's restaurants in the U.S. and abroad, was appointed executive chef; and Zairah Molina, who worked at Puck properties in Los Angeles, became executive pastry chef. As all the right pieces fell into place, Puck set out to make the New York edition of Cut different from its sister properties—it's the only spot that serves three meals (the others are open just for dinner). And although Cut as a brand made its initial mark as a luxe steakhouse, Puck knows full well how dining habits have changed in the decade since he opened the first one in Beverly Hills. He organized his menu to offer not only great Japanese and American meats (like Japanese Wagyu beef, grass-fed Angus from the Finger Lakes, and llinois corn-fed, dry-aged USDA Prime) cooked in the signature Puck manner (over hardwoods and charcoal and finished in a broiler), but also sophisticated seafood options like pan-roasted lobster with black truffle sabayon, Atlantic salmon with Asian flavorings, and scallop carpaccio.
The finance crowd may come to his New York spot for the Wagyu, but Puck has to keep his other constituencies, like the hotel's guests and neighborhood diners, happy too. "People eat lighter than they used to," says Puck, who has had a front-row seat at his celebrity-magnet Spago to witness how Hollywood machers power-dine their way to constant thin-dom. "Today they go for smaller steaks, combo salads, and fish," says Puck. Sampling several appetizers (like bigeye tuna tartare and handmade tortellini with corn and mascarpone) or selections from a  bounty of sides that range from caramelized cauliflower and truffle French fries to "mac and cheese"
(cavatappi-style pasta and aged cheddar) are popular options at a restaurant that's been filled to the last seat the two times I've been there.
What's been gratifying to Puck and his New York Cut team is how the restaurant has become a neighborhood boîte, as well as a Downtown hangout for execs from Condé and Goldman Sachs. "We had only been open a month, and there was already a repeat local customer," says Puck. "A lot of the regulars come in for a quick bite and eat at the bar. We're very well known for our mini burgers."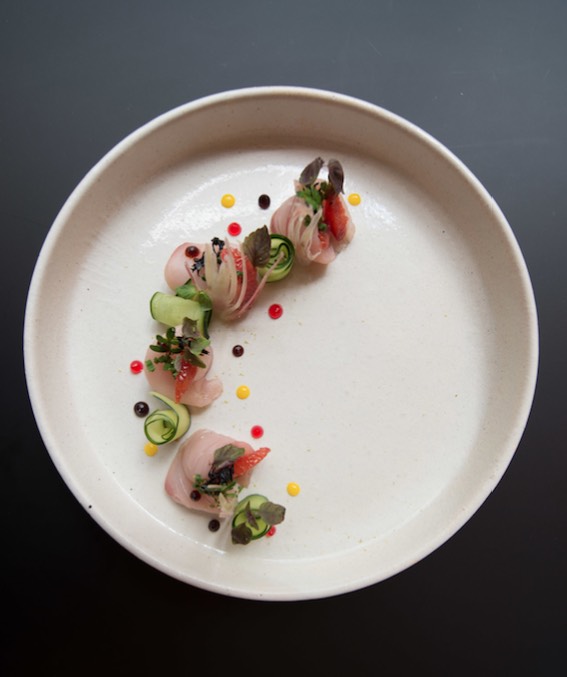 Photo Credit: Donnelly Marks
New Yorkers may be hypervigilant when it comes to their red meat, carbs, salt, and calorie intake, but they're far less willing, judging from Cut's stats, to restrict their sweets intake. "We sell dessert to 75 percent of our customers," says Puck, sounding a little surprised at the figure. When he describes one of his own favorites, the Passion Fruit Baked Alaska (made with passion fruit ice cream and pastry), you can see why dietary caution is thrown to the wind at Cut. Puck says another restaurant distinction is the wine list, which is sourced from lesser-known European vintners and locales. "Anybody can have a Lafite or a Petrus. What's much harder is offering great wine at under $100 a bottle in a luxury restaurant," Puck says. He challenged his sommelier, David Morris, to find them, which Morris did in lesser-known wine areas like Sardinia and Sicily. Since Puck's empire is rooted in California, there are many wines from that state, too, "but not just big-ticket items. And we offer great vintages by the glass," he says. As for cocktails, Puck likes them barrel-aged. "The taste difference is like night and day," he says, explaining how one popular item, the Negroni, is aged for a month with good gin from Brooklyn and a 50-year-old vermouth [along with the Aperol]. Beyond the Brooklyn gin Puck is sourcing for New York Cut in the Empire State, going beyond the local farmers markets to partner with Cornell's College of Agriculture and Life Sciences to cultivate produce for the restaurant.
The Cut mise-en-scène matches the menu in its sophistication. Puck and his wife, Gelila Assefa, worked with the noted French designer Jacques Garcia on the Euro-meets-modern decor. For example, the bar area is designed like a classic library, although one with neon lighting (inspired by the Louvre's Pyramid Claude Leveque). The art is impressive, curated by Assefa, with pieces by Julie Mehretu, Tracey Emin, and Alex Israel.
With Cut immediately becoming such a happening spot, will there be other Puck New York offerings in the future? Very likely, but they will happen only if Puck finds all the pieces for his dazzling culinary puzzle ready to fall into place again. Cut, 9 Church Street; for reservations, visit wolfgangpuck.com or call 646-880-1995.