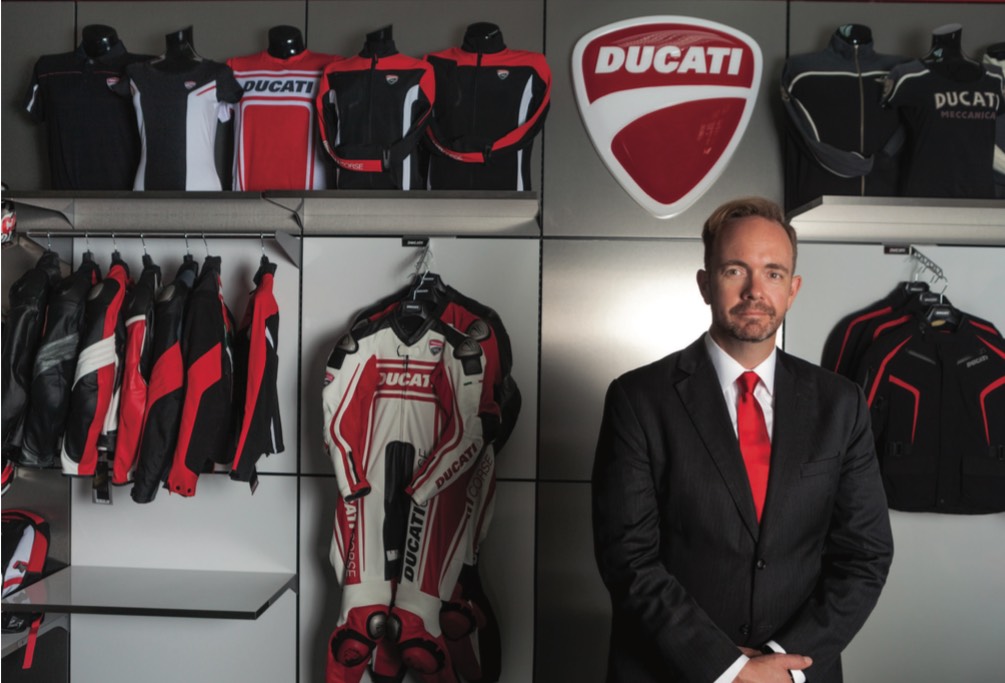 Photo Credit: Sarah Hummert
Right now, we're having a chat about luxury with Jason Chinnock, the recently-appointed CEO of Ducati North America. He shares why more of these haute Italian motorcycles are purchased in Los Angeles than anywhere else in the country, why the brand decided to launch three of its newest models in Southern California—including the Scrambler (Palm Springs, 2014) the Scrambler Sixty2 (Venice Beach, 2016) and the XDi-avel (San Diego, 2016)—and how Hollywood has gotten hot for these haute rides.
What is the most expensive bike you sell?
The most expensive motorcycle we have recently sold was the 1199 Superleggera Superbike. This motorcycle was developed with a special request to our engineers to build the best of the best and do everything they ever dreamed of with our Superbike. So they utilized the nest performance materials of carbon ber, magnesium and titanium to create an experience that is unrivaled. With a 200 horsepower, only 366 pounds and a race-derived electronics suite, this $65,000 Ducati quickly sold out and was limited to only 500 units in the world.
What Ducati model do you personally ride?
I'm currently riding both the new XDiavel S and the Multistrada 1200 Enduro on a regular basis. The XDiavel S is our interpretation of a cruiser, yet with all of the refinement and performance you'd expect from a Ducati. The Multistrada 1200 Enduro is the motorcycle for the adventure-seeking enthusiast who believes the journey begins when the pavement ends.
What business achievement are you proudest of since coming to Ducati?
I'm most proud of having an opportunity to influence models that bring new clients to our brand. Much of the inspiration for the new XDiavel came from my time spent in Los Angeles, riding motorcycles up the PCH with a group of designers.
What made you choose Southern California as the place to launch three of your newest models?
When we launch a motorcycle, it's more than just the machine we are introducing—it's the lifestyle that is associated with the ownership. The atmosphere in Southern California embodies this lifestyle in a natural way, allowing the story to be told with ease.
Can you describe the perfect way to experience a Ducati in Southern California?
I'd meet up with a couple of friends on a Sunday morning for a quick breakfast at Hedley's, then head out to the PCH for a run to Point Dume. We'd grab a photo opp, then get lost in Malibu Canyon for the morning, eventually finding a lunch spot where we all regroup, talk about the ride, then go our own ways with the afternoon to spare.