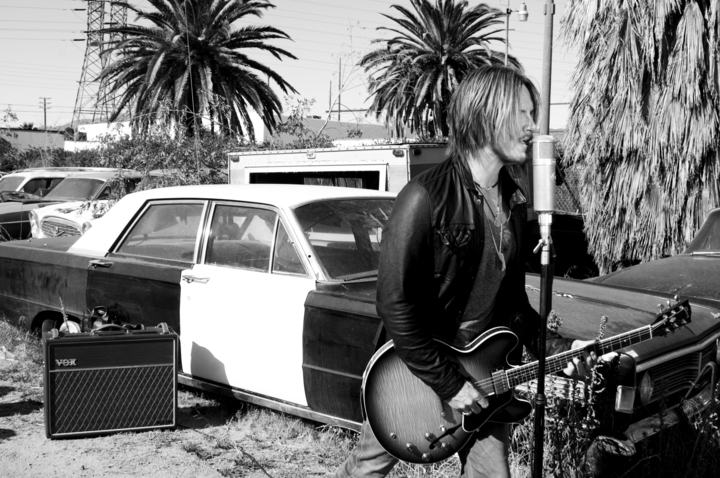 If you haven't heard of Aaron Hendra, it's only a matter of time. Long before the Australian-born singer, songwriter and guitarist traveled to the US, he wrote a single entitled, "Don't Let It End," which was featured on the multi-platinum album Romeo's Heart for Aussie superstar John Farnham. Having a taste of success and motivated to make his mark in the industry, Hendra made a pivotal decision in his career and traveled to the US for meetings with record labels hoping to push his band SUPERNATURAL.
It wasn't long before the young band, composed of, bassist and sibling Russell Hendra and well-known guitarist, Ben Carey captured the attention of A&R for Hollywood Records producer Rob Cavallo, who immediately offered them a deal. Shortly after, the band packed their belongings and moved to Los Angeles to complete a nine track demo CD both written and produced by Hendra. Gaining attention from other executives at the label, the group began to feel the impending climb to stardom within their grasps but due to an unfortunate onset of unlikely events, they were left with an unfinished album and no label.
Filled with disappointment, from 2002 to 2003 the band went on to rebrand themselves under the new name of OCIANIC. They continued to look for opportunities in LA while booking gigs and even released a limited pressing of their indie CD entitled "U" before going their separate ways.
In 2004, a new chapter in Hendra's life began when he married TV Host and Actress, Tiffany Bolton. Never losing sight of his passion for music and with the loving support of his wife, Hendra decided to continue pursing a career as a solo artist. Working a construction job to pay the bills often tested him, but it was his childhood belief that he would one day write hit songs that kept him on his path.
Hendra's luck began to change in 2007 when he was introduced to renown entrepreneur, Rick St. George and formed Give Records. With his new partner's backing, he went on to finish the album he had begun years before at a new state of the art studio in Beverly Hills, which became both their new home and headquarters during the recording process.
Hendra took this opportunity to reconnect with former band mates, Ben Cary and Gigi Gonaway, a veteran drummer whose impressive career includes a sixteen year stint with Mariah Carey's band. Having a mutual respect for one another, Gonaway and Hendra went on to collaborate in what would become a musical odyssey titled, The Aaron Hendra Project (AHP).
In 2010, Hendra's life would be transformed forever due to a visit from Sam Childers, the main character that the movie MACHINE GUN PREACHER was written about. Hearing about the transformation Childers underwent from being a criminal to becoming a heroic figure and about the horrific accounts of malicious acts committed by Joseph Kony, Hendra found his inspiration for his song "One Man's War." Feeling a deep connection to Childer's mission to rescue these forgotten children, Hendra felt compelled to go to Africa to capture their voices on the recording. He and Gigi Gonaway traveled to South Sudan and were able to add 300 children singing the end chorus to "One Man's War." Today the song is an anthem for AHP and as the band goes on tour; it has become their goal to get a million people from all over the world to download it.
Hendra's deep love for humankind led him to continue his ongoing collaboration with Childers and shortly after the Light Up Tomorrow Project was born. By building state of the art, off-grid solar power systems at all of the facilities built and run my Childers in East Africa it would give these areas, that would otherwise never have the opportunity, power for lights, refrigeration and other necessities.
After spending 13 years in Los Angeles, Hendra felt it was time to embark on his next journey in life and to reciprocate the unconditional support his wife had shown him. So in 2014, the couple moved to Texas to begin a new chapter in their lives. Becoming a year of second chances, Hendra released his long awaited debut solo album OCTOBERSONG, featuring 11 tracks all written and produced by him on his own independent label, Give Records. Then later that year, his wife Tiffany was cast in Bravo's new Real Housewives of Dallas, where viewers will get an intimate look into the lives of the Hendra's as they settle into their new life in Dallas.
Forever humble and with a heart of gold, the world will not only know Aaron Hendra for his amazing musical talents but for his bountiful legacy of giving.
"Every cent, every purchase will go to directly support the 300 children that sing on the end of this song, and many more like them," Hendra says.
How did you begin your career in music? I submitted a song to my hero, one of the biggest artists in Australian music, John Farnham. He personally called me 6 weeks later saying he loved the song and wanted to record it. The song "Don't Let It End" was included on his multiplatinum album Romeo's Heart in 1996.
How would you describe/classify your genre of music? Singer/Songwriter
Who are your favorite musicians? Stevie Ray Vaughan, Tommy Emmanuel, Joe Bonamassa, John Mayer
What do you think has influenced your career the most? Love. It's the greatest motivator. For God, for my wife & love for making music
If you could collaborate with any well singer, who would it be and why? John Mayer. He's a genius and one of the most soulful people in the music biz today.
What do you think your biggest challenge in your career? As a foreigner, not having the support of a hometown and family.
How do you think Dallas' music industry differs from other places and how do you see yourself growing your brand here?Dallas isn't a traditional ultra saturated music city like LA & Nashville, so it's actually easier to get paying gigs here. Being on a National TV show defiantly helps in growing a brand, and it's definitely creating a lot of momentum for me at the moment. Getting my band on the national touring circuit is the goal, and Dallas is a great home base to work from.
Do you have any mentors and if so; who are they and what did you take away from them? Honestly, God is my biggest mentor. To survive for as long as I have in the music business without major success takes a mountain of Faith. I read the Bible every day and draw wisdom & strength from the characters in it that faced impossible situations and won!
What's your favorite song? Yesterday (The Beatles)
Where does your inspiration come from? God, My wife Tiffany, My love for writing songs and making music & using it to make a positive difference in this world.
Working on any new projects? Future plans? I want to make 5 albums in the next 7 years.
Do you work with any non-profits or benefits? My mission song One Man's War was inspired by the life story and mission of Sam Childers a.k.a. the Machine Gun Preacher. I went to S Sudan to record the actual Children he has rescued sing on the song. My next project is to fund and build solar farms at all of Sam's facilities in East Africa, providing off-grid electricity and a better life for the children in his care.
What's the key to your success? Faith
Do you have a mantra or phrase you live by? Never Give Up
What advice would you give to aspiring musicians? Work harder and longer than anyone else and believe in yourself!
What instruments do you play? Anything with 6 strings.
What would be your dream venue to play in? I would love to play the American Airline Center in Dallas (hint, hint)
Have you ever thought about what you would say when receiving your first Grammy? Yes, I think every songwriter/musician dreams about that… I have a long list of people to thank!
Do you write your own songs? Yes, I wrote all the songs on my album. I love writing with other talented writers but I write solo most of the time.
Follow Aaron Hendra On:
For further inquiries regarding Light Up Tomorrow please send an email to ahpmusic@gmail.com
Subscribe to discover the best kept secrets in your city