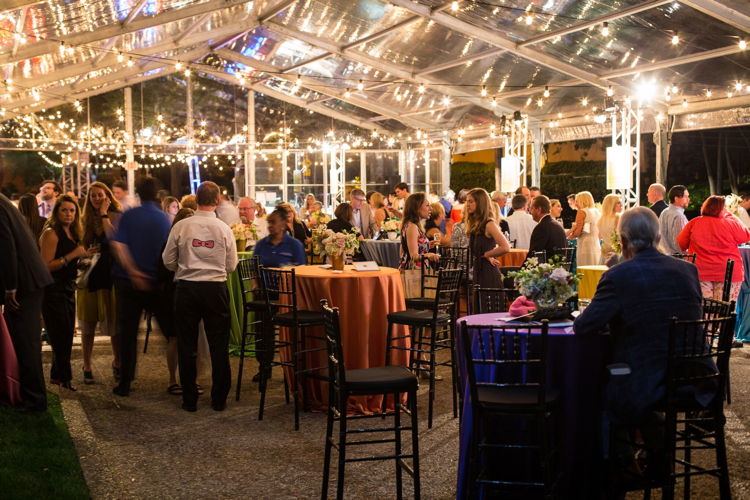 On May 6, 2015, the Tenth Anniversary TACA Lexus Party took place at the luxurious Rosewood Mansion on Turtle Creek Dallas, TX. The event benefitting TACA's grant awards, programs and services for the local performing arts community was chaired my Tierney Kaufman Hutchins and title sponsored by Lexus.
TACA (The Arts Community Alliance) was formed in 1967 and since its inception has held an essential role in encouraging excellence, collaboration and innovation for North Texas performing arts organizations. It has distributed more than $24 million in financial support to emerging and established institutions with budgets ranging from $27,000 to as much as $30 million.
At Party on the Green, guests indulged on signature dishes by renowned local and international chefs. A total of 22 chefs representing 25 local restaurants and international Rosewood properties participated in the event all with anticipation of winning the coveted Golden Skillet Award.
It was Lisa Garza-Selcer, owner of Sissy's Southern Kitchen and Bar and the Lisa Garza Taste Studio, that walked away with the prize for her signature dish of sassafras braised lamb shank with blue corn cake, poached quail eggs, and pickled ramps rye cracker. The winning dish was selected by 2016 Golden Skillet Award judges Leslie Brenner, restaurant critic at The Dallas Morning News; Catherine Downs, online dining editor at D Magazine; and Kristie Ramirez, the Texas Group Editor of Modern Luxury.
A new category was introduced this year which allowed guests to vote for their favorite dishes of the evening. Among those recognized were Brian Luscher, owner and executive chef of The Grape and Luscher's Red Hots, for his spiced pork rillettes, pickled grapes, grainy mustard, and pumpernickel toast.
Fidel Baeza, pastry chef at Rosewood Mayakoba in Playa del Carmen, and Stephen Rogers, owner and executive chef of local Gemma, both earned honorable mentions.
Featuring 22 exclusive travel and food related experiences for silent auction, Party on the Green has become a favorite for locals and is an essential fundraiser in fulfilling TACA's mission. Guests were also invited to show their support by purchasing raffle tickets with the chance of winning a new 2016 Lexus RX 350, generously donated by The Dallas-Fort Worth Lexus Dealers.
The evening ended with guests being invited out to the lawn and patio to watch a private firework display making the perfect ending to a magical night.
Nick Amoriello, Kitchen LTO
Fidel Baeza, Rosewood Mayakoba
Edgar Beas, Rosewood Inn of the Anasazi
Blythe Beck, Pink Magnolia
Nicolas Blouin, Rosewood Mansion on Turtle Creek
Matt Dallman and Scott Gottlich, 18th and Vine
Graham Dodds, Wayward Sons
Enrico Figliuolo, Rosewood Castiglion del Bosco
Mervin Friday, Rosewood Crescent
Lisa Garza-Selcer, Sissy's Southern Kitchen and Bar and Lisa Garza Taste Studio Jared Harms, Rosewood Mansion on Turtle Creek
Mathew Ingersoll, The Capital Grille
Brian Luscher, The Grape and Luscher's Red Hots
Matt McCallister, FT33 and Filament
Danyele McPherson, Remedy and HG Sply Co.
Victor Palma, Rosewood San Miguel de Allende
Stephen Rogers, Gemma
Peter Rudolph, Rosewood Sand Hill
Abraham Salum, Salum
Michael Scott, Rosewood Ranches Wagyu Beef
Braden and Yasmin Wages, Malai Kitchen
Devadip Zahar, Rosewood Las Ventanas
For more information about TACA, please call : 214-520-3930 
Connect with TACA:
Subscribe to discover the best kept secrets in your city