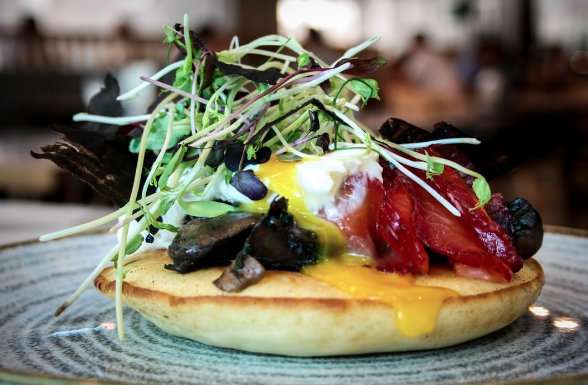 It's said that breakfast is the most important meal of the day. Why settle for anything less than the most fabulous? If you're searching for the best breakfasts in Dubai, look no further.
SOPHIE'S CAFÉ
With over 120 wholesome and healthy dishes on their menu, Sophie's Cafe serves up savory eats for even the most discerning palates.
Their breakfast menu, created by Head Chef Rashid, features fresh and nutritious ingredients, sourcing whole, local and organic produce whenever possible. Sophie's also serves its own range of freshly made juices and smoothies as well as organic coffee and tea from leading homegrown brands, which act as a perfect complement to the range of breakfast options.
Be certain to try Sophie's famous Avocado Toasties, which come in three delicious selections: Avocado with Smoked Salmon, Cucumber and Sauteed Mushroom, Avocado with Tomato Salsa and Avocado with Sweet Corn Salsa, allserved on toasted Three Seed Multigrain Bread.
CLINTON STREET BAKING CO.
An international sensation, Clinton Street Baking Co. began in New York City, but it wasn't long before their popular omelets, sandwiches and soups gained a cult following that followed them as they made the leap across the pond to Dubai.
Though Clinton Street boasts a menu full of health-conscious and low calorie breakfast items, possibly one of their most popular breakfasts is their pancakes. Their hotcakes are so delicious, in fact, that they have an entire month each year that is dedicated to them with new mouthwatering recipes served up for throngs of Clinton Street fans.
THE SUM OF US
At The Sum of Us in Dubai guests can find a bustling bakery, a gourmet cafe and a coffee roastery all in one fabulous location. Owners Tom Arnel and Sergio Lopez have created a booming business with their knowledge of gourmet coffee and penchant for the most wholesome ingredients used in their recipes.
The Sum of Us offers diners an entire world of fabulous coffees and foods right at their doorstep. Be sure not to miss their stellar breakfast menu.
Subscribe to discover the best kept secrets in your city