Photo Credit: Donnelly Marks
A glamorous slew of multimillion-dollar apartments and homes in North America, Asia, Europe, Mexico, and beyond, the interiors of which are designed for the world's wealthiest, constitute Geoffrey Bradfield's portfolio. A London townhouse, in which he integrated Persian-influenced detailing of marble floors bordered with a lapis-and-ivory Persian mosaic, was designed for a Persian princess in Eaton Square. It is also the cover of his book, Geoffrey Bradfield Ex Arte. Blending contemporary art with global influences, his designs are often conceived in relation to the culture in which a residence resides. "I like to think that I design for our moment in time…but I have an enormous respect for the past," he says. In a Mexico City penthouse, a rare Frida Kahlo self-portrait hangs on a wall in the living room celebrating the artist's continuing legacy. "If you're working in different countries, it's very important to recognize the location," he notes.
The South African-born interior designer recently formed B&T Global LLC with his partner Roric Tobin with the intent of further expanding internationally the Geoffrey Bradfield brand, which is headquartered in New York City. Over the last seven years, he's established a substantial niche for his business in Asia, where the majority of his projects are. Currently, among the seven projects the firm is designing in Asia are: the interior of a penthouse in Tokyo; a villa in Japan's countryside overlooking Mount Fuji; a house in Jakarta; another just outside of Beijing; and a further one in Shanghai; with many more to come.
Early on in his career, while working in Johannesburg during the '70s, Bradfield was stimulated by, and very aware of, trends happening in international architecture and design, as he traveled frequently, visiting fairs in Europe, Israel, and North America. The design studios he worked in at the time represented many revered international designers of the '60s and '70s. One was David Hicks, an English interior designer whose geometric-centric designs dazzled Johannesburg and the rest of the world, stirring a design revolution of bright colors and bold shapes, which certainly didn't bypass New York City, by far one of the most progressive cities in the world, and where Bradfield moved to in 1977.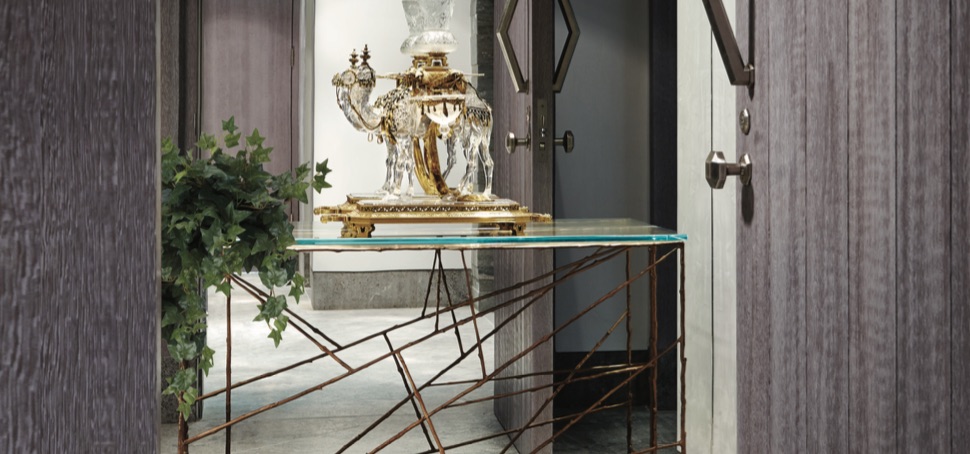 Photo Credit: Kim Sargent
Though it is oceans away, Johannesburg was highly influenced by New York architecture and design in the '70s. "In many ways, Johannesburg was a mini New York," Bradfield says. "It was very forward-thinking, very contemporary." Neither city is restrained by Old-World traditions, he observes. "If we identity with anything in New York, it would probably be the '30s, or certainly post- 1912, when there was this explosion of high-rises." Before the '70s' "a golden age of design," as Bradfield refers to it, interiors in South Africa had been much more defined and restricted by tradition. He adds, "Prior to the advent of air conditioning, interiors were darker out of necessity, windows were more constrained…"
Through the entry door of a 15,000-square-foot high-rise penthouse in Jerusalem is an immaculately detailed crystal camel by Baccarat: "Le Vaisseau du Désert." Around the corner, an ancient manuscript illustrating the holy sites of Jerusalem is framed on the wall, and an impressionistic painting of Jerusalem by acclaimed Israeli artist Mordecai Ardon hangs above a grand fireplace, at the opposite end of the entryway corridor of the exquisite residence at the new Waldorf Astoria (formerly the old Palace Hotel), in which Bradfield embodied Jerusalem's storied history. The home, which is decorated throughout with bold décor referencing biblical antiquity, like a 16th century French marble statue of King David, is the subject of his most recent book, A 21st Century Palace: Jerusalem—an in-depth volume, the second in a series of five—which offers a descriptive tour through photographs, of the exceptionally embellished penthouse. Historic antiques and celebrated artwork adorn the interiors of Bradfield's projects, each one designed with globally sourced fabrics, stonework, and assorted materials derived from a particular region as it relates to a residence's aesthetic.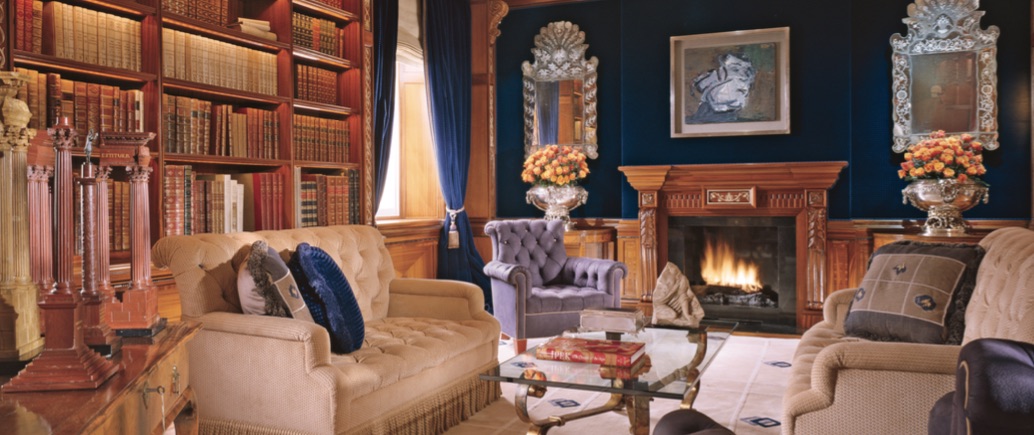 Photo Credit: Durston Saylor
His designs are defined by lavishness and luxury, but growing up, it was never about that, explains Bradfield, who grew up in rural South Africa on a farm overlooking the Indian Ocean in the Eastern Cape. Old photographs of his childhood home depict the simplicity of where he came from, a place that was luxurious without the excess of material extravagance. "It was a privilege to be raised in a background of sunshine," he says.
DESIGNING A HOME INTERIOR: HIGH-RISES VS. HOUSES
Q & A WITH GEOFFREY BRADFIELD
He's dabbled in luxury hotels, designing a 200-room Starwood Luxury Collection hotel in Vermont, a couple of corporate hotels in Asia and Mexico, among a few others. But Geoffrey Brad eld has always been recognized for his residential reputation, designing elaborate mansions, luxurious villas and townhouses, and glass-walled high-rise apartments for which every ornamentation and décor detail is thoughtfully integrated.
How do you approach the design of a residence, compared with how you would approach the design of, say a private jet or yacht, which are meant to have a very different feel and look than that of a home?
If it's a small apartment, you want cohesion. Like a jet or a yacht, you don't want every area to be a contrast. You want a seamless transition: You want them to ow and have some cohesion. When you walk from one space to another, it ought not be broken up with too many ideas. But in a sizeable house, you should have different character in different rooms. I think that there is a wonderful opportunity in a house to be more expressive and more creative on a larger scale. In a small apartment, you have to be equally creative, but it's more challenging.
In designing the interior of a high-rise apartment or penthouse versus a townhouse or mansion, which factors do you consider and what are the differences in the design of each?
The signature would be the same. I think that a country house would de nitely relate more to the exterior. A high-rise here [in New York City] would re ect the cityscape, and the scale might be different. It depends. Sometimes the apartments are so colossal, so there is more freedom for shared vision.