Joy Ghossoub boasts a keen mind when it comes to all that is luxury within the Middle East. Currently a proud partner in the Jas Group, he is tasked with taking concept development to the next level by incorporating traditional notions with a twist. He and his partners are also responsible for bringing Fume Neighborhood Eatery and Qbara Restaurant Lounge & Bar into the world.
Joy's background in marketing, real estate and media affords him significant expertise in developing and delivering fresh, unique and diverse concepts from luxury fine dining and casual eateries to nightlife hot spots. His meticulous attention to detail, along with his strong intuition for the hospitality industry are two major factors to his outstanding success.
His dedication and passion for achievement, along with partnerships with a group of professionals, has led Jas Hospitality to astonishing heights in the hospitality industry. Joy spent 4 years at one of the leading exclusive global communications companies, the MenaCom Group, where he acquired his consummate knowledge and passion for the media industry and has never looked back.
He successfully founded and managed his own talent agency in Dubai, where he represented aspiring artists based in the region and was also a prime influence on the night scene. In addition, he co-owned The Palladium, Dubai for over 2 years and was also a silent partner involved in several nightlife venues around the region.
Joy took a moment out of his busy schedule to sit down with our Dr. Nasrine Abushakra and discuss all that is Dubai.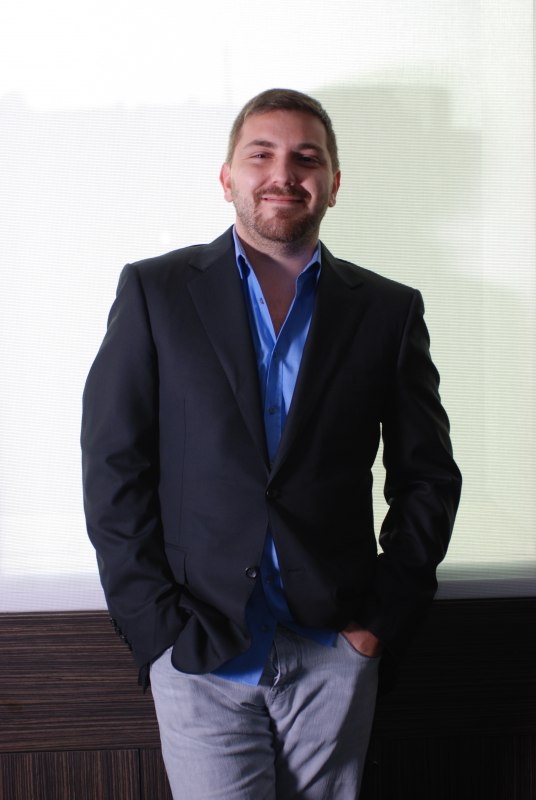 Where were you born? Beirut, Lebanon
Tell us about your personal experience of branching out here in the Middle East and the United Arab Emirates. Since the beginning, my vision has been to create unique hospitality concepts, serve the very best food, have unique entertainment acts and fast, friendly and efficient service. We will further strengthen our already solid reputation in the market by focusing on unique, healthy and exciting dining experiences for all our clients, wherever they choose to eat. New market expansion and further development within our existing markets are also in our sights.
What has been your impression of the local food scene over the years here in the Middle East? Still very reserved; however, there has been some development.
Are you launching any new projects in the near future that you'd like to share with us? In the first quarter of 2016 we are launching an exciting new brand, Beef & Bass. It will be a high energy, high density shabby chic restaurant offering a minimalistic menu that consists of two primarily important ingredients; beef and bass.
How long have you been in the Middle East? 11 years
Neighborhood: Emirates Hills
Occupation: Visionary Entrepreneur with marketing background
Favorite Restaurant: Qbara
Best Sushi: Tomo
Best Italian: Bice
Best Dessert: Snickers at Fume
Best place for a romantic date: Qbara
Best Sunday Friday Brunch: Grosvenor House
Best place for a power business meeting: Fume Downtown & La Serre
If you have out of town guests, which hotel would you recommend? Address Downtown
Favorite shopping venue/boutique: Mall of the Emirates
Best Spa: The Works
Favorite Cultural Event: Celebrations of National Day
Best Steakhouse: Cut
Best Pizza: Buffalo
Best Gym/Athletic Facility: U Energy
Describe your city in three words: Vibrant, Ambitious, Alive
Favorite historic/legendary place to see or explore:  Montezuma
All-around favorite spot in Dubai:   40 Kong
Best Aspect of AD/UAE Dubai/Middle East: Life Development
Subscribe to discover the best kept secrets in your city