Organic Eco-Luxury Beauty has rapidly become a force to be reckoned with in the beauty industry. What was once considered "granola," has become the pinnacle of luxury for women worldwide. There are many absolutely divine products on the market these days, from oils and creams to all natural, organic exfoliators and peels.
Here are the brands that truly stand out in terms of ingredients, effectiveness and scent.
Evolue Skincare: Evolue was birthed by Jean Seo, who started off as the owner of Vogue Paris' Favorite Beauty address in Beverly Hills. Jean's career was defined by her knowledge of products, and ability to find and deliver secret treasures from around the globe. Jean became familiar with the strengths and weaknesses of each of the brands she carried, and with the desires of her clientele. From this unique pairing of expertise she created Evolue Skincare and a sister brand Lué which is the organic answer to Proactiv. Her revolutionary skincare has been gaining notoriety amongst many Elite, globally.
My Must Have's from Evolue Skincare are the Resurfacing Grains, the Reverse Time Serum, and The Royal Jelly peel.
To Stop these products: http://evolue.com/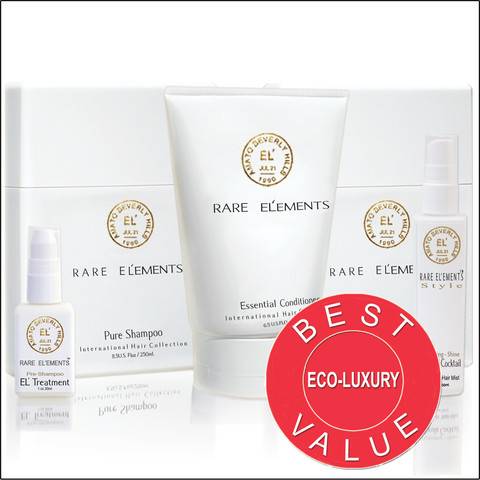 Rare El'Ements Hair Care: John Amato and Teri LaVerne owned an upscale salon in Beverly Hills for 18 years and realized using synthetic ingredients to cover damage done by chemical treatments was becoming antiquated. Instead, they created a luxurious hair care system that is based on healing and nourishing. The effectiveness of their products is far greater than any other hair care system, including my one time favorite Kerastase. Rare El'Ements is an incredible blend of oils that leaves you smelling like the most delicious flower, whilst restoring your hair from the inside out.
My Must Have's from Rare El'Ements are  El Treatment, Pure Shampoo, Essential Conditioner (better for very dry hair like mine) and the Marula Cocktail Leave-In Mist.
To shop these products: http://rare-elements.com/
Royal Botanicals Bath Soaks: Royal Botanicals is a line brought to life by Ariel Dearie (Ariel Dearie Flowers) an ethereal florist who sought to incorporate her love of flowers into three bath soaks comprised of essential oils that each have a unique aromatherapeutic benefit.
My must have from Royal Botanicals is the Rose- Geranium Bath Soak
To Shop these products: http://www.royalbotanicalsnyc.com/
PRITINYC: PRITINYC is an Vegan, Cruelty-Free and Gluten-Free Non-Toxic Nail Varnish Line that is a favorite of Vogue and GOOP. PRITINYC sponsors Fashion Week in New York and Paris, working with designers like The Row, Tory Burch, Tommy Hilfiger, Edun, Sonia Rykeil, Coach and Banana Republic. The brand boasts an impressive collection of colors as well as a 100% natural soy nail-polish remover.
My Must Have's from PRITINYC are the 151-Truly Yours Carnation Lacquer the 142-Pink Jewel Carnation Lacquer and the Soy Nail Polish Remover in Lemongrass scent. They also have Soy Polish remover wipes, which are great for traveling.
To Shop these products: http://www.pritinyc.com/
Subscribe to discover the best kept secrets in your city