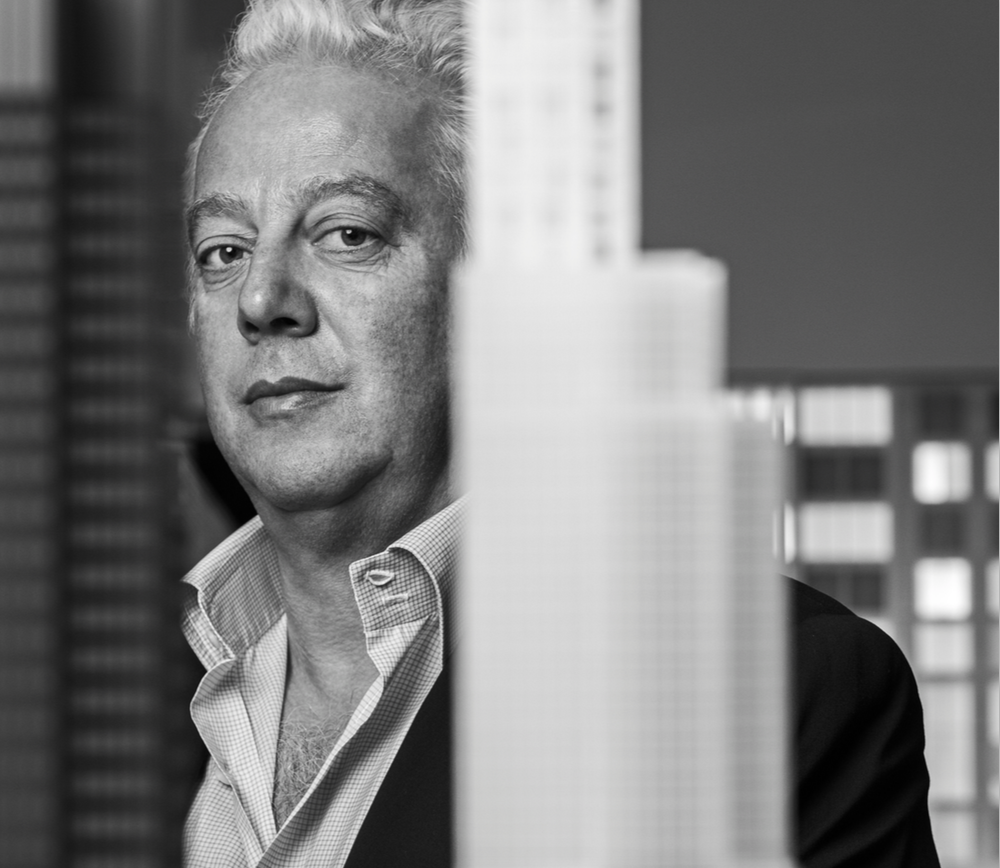 "I love art, period," states Aby Rosen, prosperous real estate baron and intrepid art dealer and collector. He's strategically reimagined and reinvigorated some of the most significant edifices in New York with his partner, Michael Fuchs, with whom he shares a childhood friendship. Their company, RFR Holding, is known for trans- forming the Lever House in 1998 followed by the Seagram Building in 2000 — infusing those properties with his singular appreciation for art and architecture in an unabashed manner.
When the history of 21st century New York is written, Mr. Rosen will no doubt have a chapter. But his empire extends far beyond the confines of New York to include Miami, Las Vegas and Tel Aviv. Worldwide, he owns 71 properties including the W South Beach, W Tel Aviv-Jaffa (opening next year), and The Gramercy in NYC. Rosen's bold acquisitions began with the purchase of The Lever House on Park Avenue. "Basically, it was one of the most beautiful buildings ever made. But it was very dilapidated and run down — we restored it back to its original beauty. It was built in 1952 by architect Gordon Bunshaft and was very ahead of the curve — it didn't last very long because of the materials used. So we redid it, reprogrammed it — and gave the building a different identity," he says blithely. "We brought art, entertainment and food into the building to make it more dynamic." The Lever House Art Collection exhibits art in its lobby with specially commissioned rotating pieces. "This is Park Avenue," he says gesturing around the sales office of RFR with its 360 views, "we brought fun and energy to corporate America. Now, the tenants are great money managers, great art collectors, and they are there because they love what we did and respect the history of the building. It's a belief in modernism and in its founding architect."
Infusing properties with the Rosen brand of style is what this 55-year-old German expat so deftly does. He dreams of how things should be seemingly without misgivings while transforming some of the most iconic structures in Gotham. The take over of the historic Four Seasons restaurant slated for July 2016 has come under much scrutiny by preservationists who are trying to maintain the interior space (it has landmark status), specifically the Picasso curtain fresco that is said to be damaged by a steam pipe and will likely be taken down. "We hired architect Annabelle Selldorf to redo and restore the existing restaurant. The goal is to take the poolroom and make it into a fish restaurant, and the grill room will be an American grill. We will definitely keep the pool," he concedes, contrary to some published reports. "We will keep it more or less the way it is — one has to respect what it is, because it's a landmark. We want to restore it to its former glory with the goal to bring back its history but with a younger, fresher approach — bringing in a new generation of patrons. The current operators ran it well, but most of the patrons were in their 50s, 60s and 70s. We want to widen the audience but still cater to the traditional clientele and bring in a different feel for the food." To that end they have partnered with the hospitality company Major Food Group (MFG), which will oversee the operations along with MFG founder and chef Mario Car- bone. "He is creating new dishes that are part of the new food movement but also reviving the classic dishes like Dover Sole, for example — but with great sides, fantastic plating, the right utensils— we are going very deep into the details," he adds, showing his penchant for style.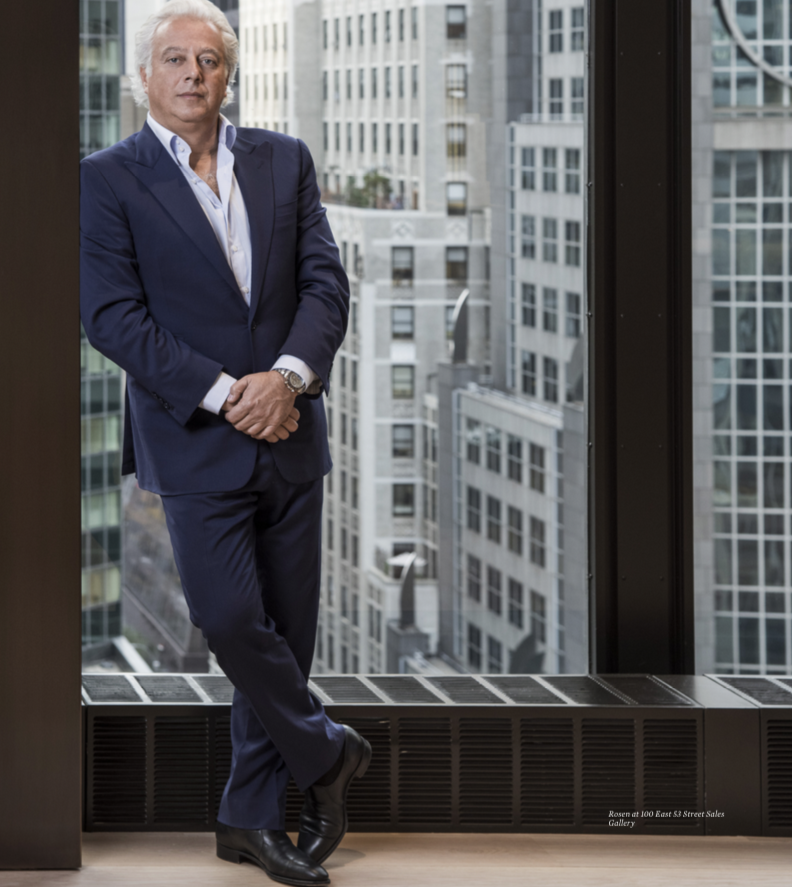 "We are doing something completely different at the Brasserie," Rosen says about the restaurant in the Seagram building adjacent to his condo tower, now under construction at 100 East 53rd St. "This restaurant is not land-marked so we can do what we want," he reveals, alluding to the Four Seasons controversy. "Peter Marino is designing the interiors, and it's the first restaurant for him — he will give it a fun, dynamic feel. We are mixing it up, and that is what we love — taking an old space and giving it a new interpretation."
"Fun" is a word Rosen uses often and is known to say, "Life's a bitch and then you die." To that end, his Art Basel party in Miami is the hottest ticket of the week. The dinner is hosted by Rosen and his accomplished wife,
Samantha Boardman, and they invite a small group of 250 of their closest friends. It just so happens that these friends are well-known in the worlds of architecture, fashion, food, and entertainment, and of course art. "My wife and I host the dinner every year at The Dutch [restaurant] with beautiful food, a great spread and the best wines," he explains. But the after-party is the most coveted, with billionaires said to show bank statements to door security hoping to get in (they don't). Rosen admits that some of the most unlikely people will party the hardest at this Dom Perignon-hosted fête. "People really cut loose and you'll see people getting up and dancing on the table. It's the last event of the year in the art world, and people say good-bye to the season. They get a little rowdy and wild," he says. Owen Wilson, Paris Hilton, Tommy Hilfiger and his wife, Dee Ocleppo, Peter Marino, Vito Schnabel and André Balazs — the list of movers and shakers goes on and on. "It's not about me, it's not about my wife, it's a celebration, and it's about being generous," he says. Rosen is clearly a man who works hard and plays hard, but his magnanimous open spirit is what attracts people to this powerful magnate.
Art Basel is the fondant icing for this patron of the arts who rewards himself for his real estate wins with an acquisition. "I love how art changes a room. I like to rotate it — I sell it, too. I'm not saying I compete with someone like Larry [Gagosian], but I trade pieces in and out, and I get pleasure doing it. Sometimes you make a mistake and you have to rotate that piece out. I'm having a good time with it," he says. Rosen's collection contains 850 pieces including 85 to 90 Warhols. One of his most expensive purchases is a Francis Bacon, for which he paid $15 million. "I get an adrenaline rush buying something and putting it together with another painting — seeing how it changes a room," he muses. "I create a show— an environment, and then I let go of it. Every piece I own is for sale. If you like something I own, make me an offer." He reiterates, "There is a price for everything, and I like that! I like that! As much as I love art I have no problem getting rid of it, and in the end — I enjoy the moment. Art gives me that moment."

He started collecting the first of his moments 29 years ago with a naked corpse photograph by Robert Mapplethorpe. "My second was a Jean-Michel Basquiat drawing and then a Warhol drawing — and then I bought a John Mitchell. Out of those four pieces — I don't know where Mapplethorpe went, I sold the Warhol and the Basquiat, but I still have the Mitchell painting. It is very dear to me, and it's the oldest painting I have," he says of this success symbol. "You need a lot of money to start a collection; I've never seen a good collector who doesn't have money. So when I have it, I buy stuff. Once you start you can't stop, so you have to know what you are getting yourself into," he states firmly. " Mr.Rosen is not ashamed of talking about money or his success. Art pieces are his trophies for wins in the real estate game.
When asked about the recent purchases to his vault he reveals, "I focus a lot on the '60s—artists like Roy Lichtenstein, and I'm a big Warhol fan; I don't make a secret about that," as the RFR sales office can attest with two Warhols strategically hung (also on the walls — a Basquiat and Rachel Feinstein, plus Tom Sachs and Lynda Benglis sculptures). He dabbles in contemporary art, but his soul is in the '60s. "I don't dabble in new artists too much. I respect the galleries I buy from, so sometimes I have to try the newer artists [that they represent]. but I love what I love," he says emphatically. "I like to be as good as I can be in a certain field, and for me, artists like Warhol are as good as it gets." Rosen makes no excuse for spending his well-earned money on high-priced art, and he's propelled by an instinctual desire to be at the top of any game he plays. Art is one of those games he has conquered.
It's not a surprise that Rosen is a confident man, but this tycoon also has a pleas- ant, likable and relaxed manner. We sit in RFR's sales office facing a "Campbell's Soup Cans" by Warhol, with well-appointed fixtures on a modern half-moon sofa. The model condo mimics the ones selling for 3.5 million in his latest building, the Norman Foster tower on 100 East 53rd St. "Any time you build something next to the Seagram Building it's got to be something wow!" he says. "It's gotta be some- thing great! You have to be a certain type of architect who has the 'balls' to build next to the Seagram Building. I mean Mies van der Rohe and Philip Johnson!" (Respectively, they designed the Seagram Building and the Four Seasons.) "To build next to them and create something that is complementary but doesn't compete — that's the trick. The tower is going to be very bright, very white and very tall.
Seagram is dark, and with its anodized bronze, they will play well together. They are going to be neighbors for a long time," he muses. "You have to look ahead 50 years when you are a developer and build toward the future," he attests. "When you go over 20 floors, the building has a certain permanence — it's not going to come down. I have a civic duty to maintain something that has longevity — not just an eye-catcher for today." He continues, "There will be an undulating façade instead of a flat one. We wanted something that when you walk by— you recognize it is a Foster building. Some people get it right, and some get it wrong." Based on past accomplishments, Mr. Rosen has been getting it right for a long time.
Mr. Rosen infuses his properties with the things needed to accentuate a certain lifestyle. To that end, there will be a world-class restaurant on the ground and second floors, pools, gyms, yoga studios and entertainment. "On floors five to nine we will have very cool concrete apartments with a lofty, downtown feel. We're bringing downtown to uptown," he says succinctly. "What we did right for this market is to focus on one and two bedrooms as op- posed to an 8,000-square-foot pied- à-tierres that no one wants anymore. We want to create lavish one and two bedrooms. You'll have a great space to entertain with a counter for displaying food. People can cook or they can order from the restaurant downstairs," taking into account the dizzying pace of a New Yorker's life. "It's going to have a very modern feel." Rosen, an archetypal titan of industry, is securing his place in history with this renowned structure, which is slated for completion in early 2017.
When asked about his pearlized blue dial Rolex that accented his power-broker under- stated elegance, he says," I do like watches. For a man, there are few things that he can wear as an accessory. I don't wear cufflinks anymore — I don't have the time or energy. I don't wear rings — I wear my wed- ding ring around my neck," showing an untraditional nature. "For me, watches are about the movement, and the materials like gold, platinum or titanium. I love high technology while being able to express oneself with a watch. But I do it for myself," he makes clear.
It's crystal clear that his success is rooted in following his own voice and being his authentic self. He's made tough decisions that have an effect on a culture, and he makes no excuses for the seismic changes he's made to the landscape of New York and other global cities. He has a conviction in himself that only can be derived from building a 60-floor tower on East 53rd St. in the world's largest city and taking on a 57-year-old iconic and well-loved restaurant. Aby Rosen lives life with immense gusto — which is likely the reason people scheme to get into his Art Basel soirée. After all, he's the life of the party.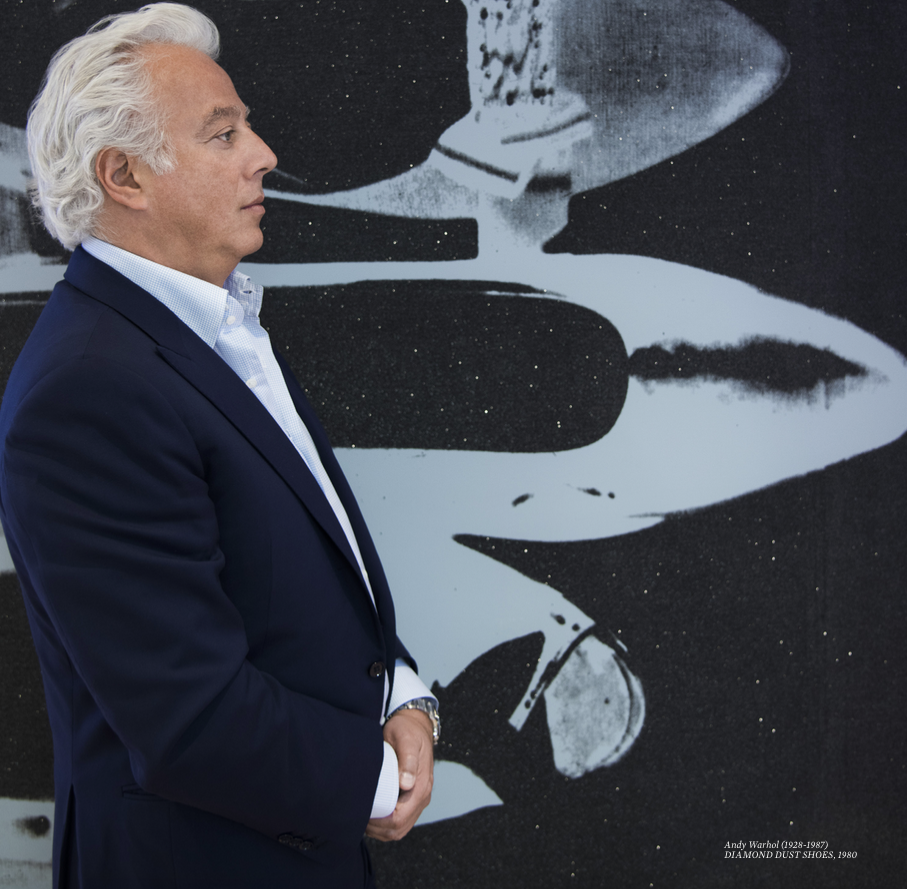 Subscribe to discover the best kept secrets in your city