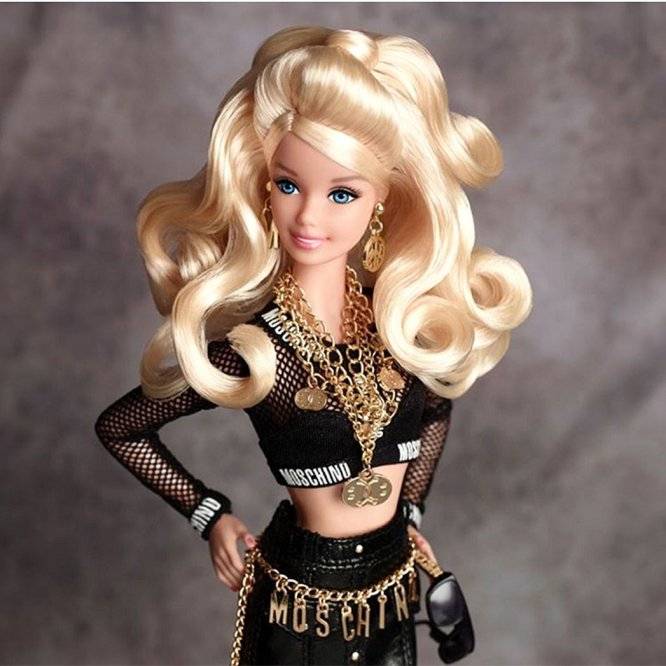 Photo Credit: Jeremy Scott/Instagram
Jeremy Scott's Moschino Barbie is unequivocally a hit—it sold out within an hour!
Scott, the creative director of the Italian luxury label, announced made the announcement on his Instagram account Tuesday. "MOSCHINO BARBIE SOLD OUT IN LESS THAN AN HOUR ! WOW ! BARBIE AND I THANK U FOR ALL THE LOVE !" he wrote.
It might console you some that if you can't actually have Scott's Barbie, you can dress like her. The human-sized spring collection Scott created (identical replicas of Barbie's eight-piece capsule collection) are still available, though of course at a much higher cost. The threads range in price between $225 and $1,595; Barbie, which retailed on Net-a-Porter for $150, was definitely the cheapest part of the Moschino collection.
If you can get your hands on one of Scott's Barbie creations, you'll find that they're clad in Moschino originals including  a slogan T-shirt, mesh leggings, a quilted faux leather bomber jacket, a pencil skirt, mismatched earrings, layered necklaces and a Moschino-emblazoned belt. Additional accessories include a mini quilted cross-body bag, a backpack, a faux leather cap, a motorcycle bag, a shopping bag and sunglasses (because what glamour girl doesn't wear sunglasses?). The dolls also, of course, are wearing Moschino logo-emblazoned heels.
It's fitting that Scott's Barbie would become such a hit, given that the doll was his official inspiration for becoming a fashion designer.
"I wanted to bring all of the Moschino elements to Barbie, as I had done the reverse by bringing all of the Barbie elements to Moschino for the SS15 collection," the designer said in a press release with Net-a-Porter. "The thing I love most about Barbie is that she is the ultimate muse; she's worn every style and design imaginable, and at the same time she's had every possible profession you can dream of."
Subscribe to discover the best kept secrets in your city